Guadalajara
With a population of over 1.5 million, Guadalajara is Mexico's second largest city and the capital of Jalisco. Known as the Mexican Silicon Valley, the city has managed to make tradition and modernity coexist, preserving centenary culture and tradition, while serving as the main producer of technology innovation and software factories. 
Thanks to its exceptional weather, quality of life, knowledge of multiple technologies and mastery of English, big companies have made Jalisco their second home. Guadalajara has 15 large corporations, mainly of American origin, working there for more than 10 years. In addition, there are 600 small and medium-sized companies – many of them startups – that export 70% of the materials and content they produce. 
This city is close to the USA, with a short four and a half hour flight from San Francisco and just a five hour flight from New York. Also, it's located in the North American Central Time Zone (CST), making working relationships with the states easy and timely.
Our Guadalajara studio is conveniently located among hotels, restaurants and shopping, and is under an hour's drive from the closest major airport.
Contact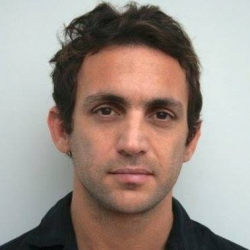 Gonzalo Vazquez
Studio Manager