What is Studio eXPerience?
Our human-centric concept for the future of work, and our new normal for clients and talent.
Studio eXPerience is Cognizant Softvision's new operations framework, born out of a post-Covid working reality, that brings together the right technology with the right cultural mindset that ensures a successful work experience for everyone as well as the best outcomes for our Clients. The framework is designed to help our organization, and soon our clients, to sustain and maximize optionality, while showcasing our supportive business culture.
For Softvisioners, optionality means flexibility via a hybrid working model that enables employees to determine where and when they work, redesigned studios and facilities that offer a more collaborative environment, and proprietary software that empowers employees to customize the experience they need and want while working.
Studio eXPerience for Softvisioners
At Cognizant Softvision, our studios are home for our people, our clients, and our community. Three distinct areas make studios a hub for modern delivery techniques, product engineering leadership, and innovative problem solving:
Client Hub
Co-creation space. Consistently deliver projects through Podification.
Community Hub
A home for our people. Discovery, sharing and innovation born out of gathering and multidisciplinary abilities and talents from Communities.
"Digital" Culture
Guardian of the Digital Brand. Enhance brand awareness and foster brand exposure internally and externally.
Studio Go: our eXPerience booking app
Through Studio eXPerience, our Talent has control!
When you need to gather in teams to plan for a software engineering sprint, you can access an easy-to-use mobile app, called StudioGo, and reserve a creative space meant to enhance your productivity.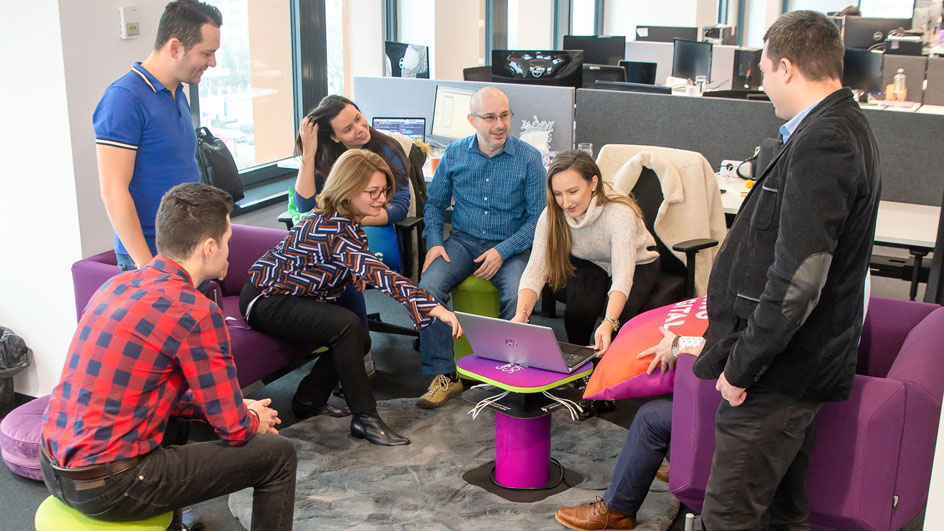 Companies that want to win the war for talent need to embrace optionality by creating an environment that supports both heads-up and heads-down work, whether in the office or remotely. Through Studio eXPerience, we can do both and continually surprise and delight our colleagues and our partners!