Softvision Attracts New Talent with Training Programs
Our Studios in Romania Train Potential New Softvisioners and Nurture Current Talent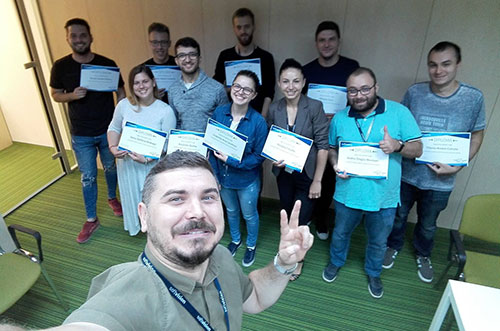 ROMANIA, Summer 2018 – In a continued effort to grow the company, Softvision aims to attract and retain talent. With this in mind, each year our Studios in Romania train and develop individuals with high potential via our Pre-Employment and Training on the Job programs.  
This summer our Softvisioners in Romania have conducted nine training programs across four Studios, including Cluj-Napoca QA Automation Pre-Employment Training, Cluj-Napoca QA Training on the Job, Cluj-Napoca Java Pre-Employment Training, Iasi Java Pre-Employment Training, Iasi JavaScript Pre-Employment Training, Cluj-Napoca JavaScript Training on the Job, Cluj-Napoca Android Training on the Job, Baia Mare Android Training on the Job, and Timisoara Web Ruby Training on the Job.
Our Cluj-Napoca Studio has been conducting these training sessions for the past six years, with high success rates. The students range from individuals with no work experience, to developers who want to try something else, to professionals in various domains that are interested in a career change to IT.

The nine training courses have yielded a total of 60 graduates across Quality Engineering, Web, Enterprise and Mobile communities, and have proven highly successful in educating and forming our professionals.
Congratulations to all the new graduates!