December 2, 2019 – How can we digitally transform our core business for today's all-digital environment? That seems to be the million dollar question. Over 1,000 readers have already downloaded Transforming While Performing: How To Create A Culture of Innovation With Partners since it's official launch on October 2nd at Cognizant Softvision studio in Hudson Yards, New York in search for the answer. 
"Digitally transforming your business for tomorrow doesn't mean you need to bring business to a halt and stop performing for today," says author, and CEO of Cognizant Softvision, Andres Angelani. Angelani's book is meant to be a guide for any reader at any business level, digital and non-digital, for those looking for a partner to help understand what's most important as well as the necessary steps when embarking on a digital transformation journey.
"Being digital requires an entirely new way of doing business and go-to market strategy, with customer and technology at the center," adds Andres, who during 7 chapters and 191 pages helps to establish a foundation and roadmap for what it means to be digital and to embark on this journey. 
Transforming While Performing is told through a partner's mindset, one that can help digitally transform your core business for today's all-digital environment. "True partners continue to innovate to stay relevant. Business must incorporate new products and technologies swiftly and in parallel to ongoing commerce activities," Angelani concludes.
The book is available in paperback and Kindle. For more information and to download a free chapter, click here.
Curious about experts review? Check out these!
"Twenty-five years after the Netscape browser ushered in the era of digital transformation, industry analysts claim only 25 percent of global sales are digital while a mere five percent of firms are "digital leaders". Andres Angelani's Transforming While Performing is a pragmatic, seven-part manifesto that offers keen insight into how business executives must leverage digital technology to meet, and exceed, customer needs. It is a must read for business leaders intent on transforming their firm into digital." ―Gary Beach, Publisher Emeritus of CIO magazine and a columnist for The Wall Street Journal CIO Journal
"Are today's Digital Transformations the twins of the Re-engineering projects of the 90s? Many of today's digital projects run that same risk as they merely replace previous applications with cloud equivalents. They generate lots of noise and require significant investment, but deliver disappointing payback. Impactful digital projects, in contrast, rethink business models, create smarter products and services, truly reshape the customer experience and automate lots of dull, dirty and dangerous tasks. Transforming while Performing focuses on the talent dimension to make you think very differently about the human element – and how to organize it in the book's elements of pods, guilds and co-creation partner relationships. This book will force you to examine your internal and external talent pools and not just pave the old cow paths in your Digital Transformation." ―Vinnie Mirchandani, Advisor, Author, former Gartner Analyst Deal Architect, Inc.
"Can such a spirit of unfettered innovation last in today's data-intensive digital era? Yes, and more so, says Andres Angelani, CEO of Cognizant Softvision. In his forthcoming book, Transforming While Performing: How to Create a Culture of Innovation with Partners, Angelani says digital helps open the gates of rapid, fail-fast type of innovation. He outlines the key elements of innovation: starting with a gamification approach to meeting objectives, along with a design approach to management." ―Joe McKendrick: Forbes Contributor, Independent Author and Analyst
"Transforming While Performing outlines and ties together many of the essential capabilities needed to benefit from digital efforts. The capabilities linked together include: co-creation with diverse mindsets, guilds/communities of talent, staff and effort nurturing as well as ongoing, engaged continuous improvement, customer focused and human connected design, tolerance of failing fast and the need to partner. Executives taking on the digital challenge should compare their enterprise's capabilities and real execution against those suggested in the book as well as consider how well they are linked within their enterprise." ―Bruce J. Rogow, President IT Odyssey & Advisory
"In Transforming While Performing, Angelani writes "The ability to interact with another person or in a group is innately human." While technology continues to develop at a breakneck pace, and companies search for better, more cost-effective ways to build their business, Angelani uniquely understands that companies and brands need to connect with their customers and each other on a human level." ―Dawn Pratt, Tech Up for Women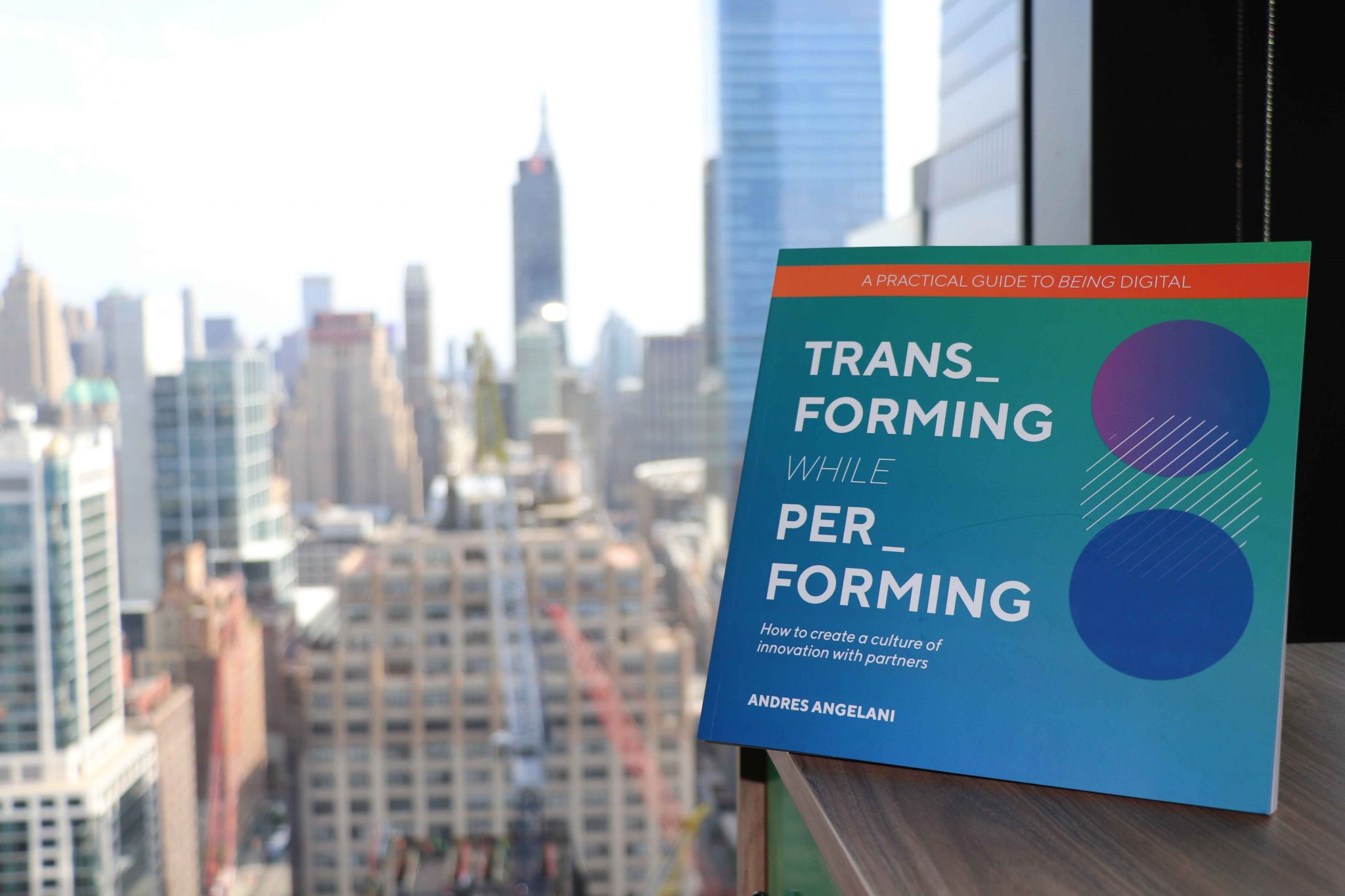 About the author
Andres Angelani is the Chief Executive Officer of Softvision. He has extensive experience building strategic partnerships that create new revenue streams, realizing innovative business models and market offerings through new ways of developing software; building high performance teams and the right culture to bring the best of what design and technology have to offer to industries. Andres is today at the epicenter of the digital economy, leading programs that have reshaped businesses and industries. His passion for music, science and technology helped shape his life and professional career, and has become an integral part of what he brings to his leadership in fostering innovative culture, inspiring and growing talent in new, transformative ways.
Angelani is a frequent speaker and thought leader.
In 2016, he co-authored The Never-Ending Digital Journey: Creating New Consumer Experiences Through Technology. Transforming While Performing is his second book.