Not Your Parents' Automation: Practical Application of Non-Traditional Automation
Cognizant Softvision's Principal Automation Architect, Paul Grizzaffi featured speaker at automation meetup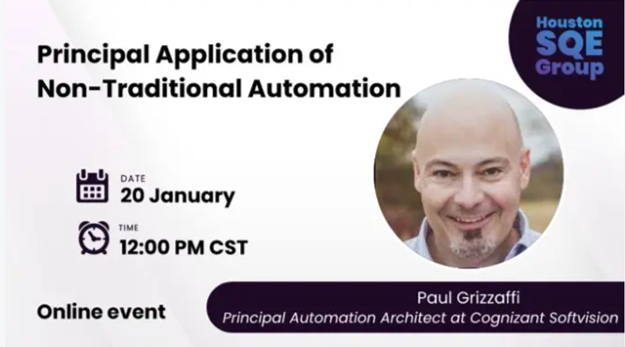 On January 20, 2022, join Cognizant Softvision's Principal Automation Architect, Paul Grizzaffi for an online meetup on non-traditional automation. Organized by Houston Software Quality Engineering Group, a free group for those in the Software Quality Assurance field, the online event will focus on how automation can help IT professionals improve their job skills. 
Often, automation initiatives focus on traditional automation and how many test cases can be automated. But there are other opportunities available that can harness the power of automation. 
During the session, Paul will share real-world examples of non-traditional automation that provide great business value, making special note of cases where the traditional method won't provide the same level of testing.
Not Your Parents' Automation: Practical Application of Non-Traditional Automation
When: Thursday, January 20, 2022 | 1:00 PM to 2:00 PM EST
Where: Online
Learn More & Register
To learn more about this free online event, click here.