How Softvisioners Stay Connected and Have Fun Together While Working Remotely
Cognizant Softvision keeps global colleagues in touch through social media challenges, webinars, virtual workouts, and more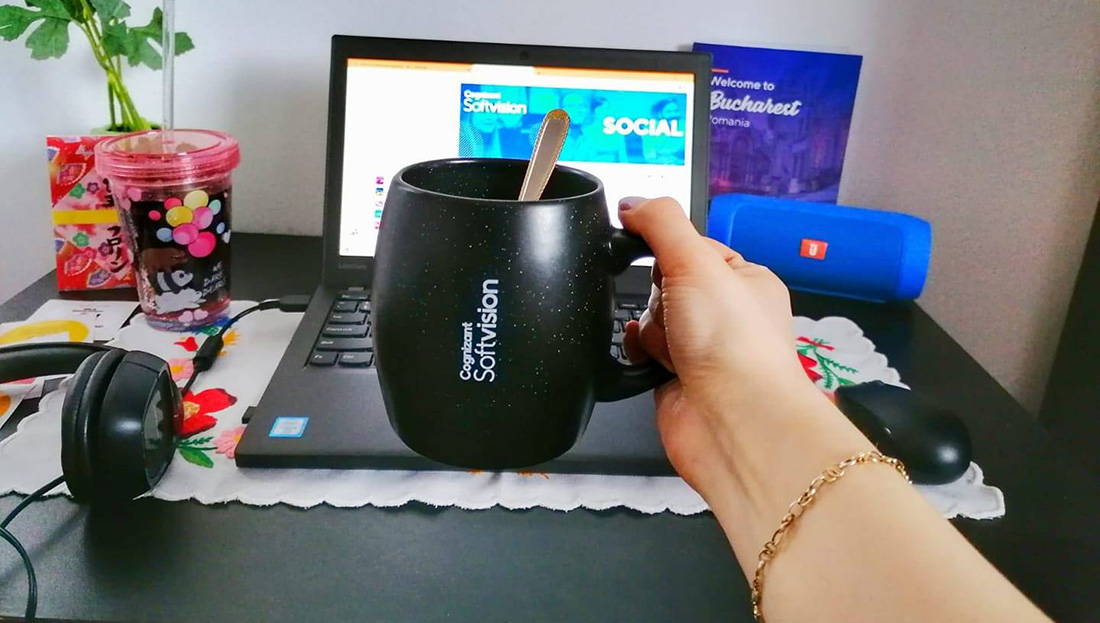 During these times, staying connected is an essential part of working from home. Remaining in touch with our colleagues online on a daily basis helps keep us motivated, happier, and more engaged.
As humans, we are naturally sociable and we are accustomed to mingling with people every day, so losing this connection can have a large impact on our well-being. Since keeping in touch with one another can work wonders for your mood and perspective, we want to help our Softvisioners stay connected, so we launched a series of internal online activities. These activities challenge our colleagues to learn more about each other, enhance communication and engagement, and strengthen our sense of community. Read on to learn more about our virtual activities and bring some inspiration to your team.
Social Media Challenges and Communication 
Cognizant Softvision has over 20 studios across the world. To increase the flow of communication among Softvisioners across the globe, we launched a series of social challenges. These internal social challenges have become a great way to get to know our colleagues from other studios and communities on a deeper level. People from Cognizant Softvision studios around the world are participating, sharing experiences and exchanging ideas, from Romania to Argentina, USA, India, and Australia, making this a truly global bonding experience.
Wash Your Hands Challenge
Our first challenge was #WashYourHands, which encouraged Softvisioners to wash their hands for 20 seconds while listening to or singing their favorite song. The videos were so much fun to watch and make, while reminding us of the importance of good hand hygiene. Everyone "rocked" this challenge and we are so proud of their enthusiasm. Some tunes are still stuck in our heads!
Stay At Home Message
Cognizant Softvision's #WashYourHands social media challenge was followed by our #StayAtHome video, our message to the world. The video follows Softvisioners as they share the many reasons why they're staying at home and working remotely. Watch the video here.
Motivational T-Shirt Challenge
During the #MotivationalTshirt challenge, Softvisioners had the chance to get out of our pajamas and into our favorite T-shirt. Everyone has that one shirt with an interesting saying that they love to wear, so we thought we would share them with our colleagues. 
Over 70 Softvisioners shared their motivational, funny, or creative T-shirts during the #MotivationalTshirt challenge. Check them out on Cognizant Softvision's Facebook and Instagram.  
Work From Home Coffee Challenge
One of our most successful activities was the #WFHCoffeeChallenge. Admittedly, we all miss having coffee with our favorite coworker in the break room, so we posted pictures of our inspirational or funny mugs in our new working environment. From that day forward, nobody drank their coffee alone anymore. 
Work From Home Pets Challenge
Another favorite was the #WFHPetsChallenge, where we bragged about our dogs, cats, fish, turtles and even alligators. The challenge reminded us to appreciate our pet friends, or our new "colleagues," who are always by our side to lift our spirits. We had over 40 pet pictures that helped brighten our days. 
Refrigerator Magnets Competition
Do you happen to have colorful magnets on your refrigerator door? If so, you would have been the perfect candidate for our internal #FridgeMagnets Competition. From vacation magnets purchased from destinations we wish to return to, to funny messages and sentimental pictures, this challenge brought out a range of emotions. 
Webinars and Meetings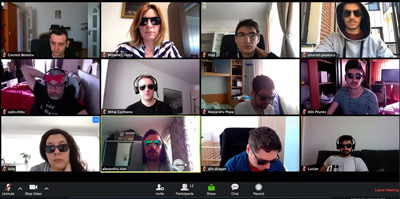 Having some extra time in the evening is the perfect opportunity to learn new skills or improve core ones, and Softvisioners love to keep up with the latest trends and technology. As a result, Cognizant Softvision community experts decided to host internal webinars and online meetups, such as the "Canvas Playground" JavaScript webinar series.

Softvisioners have also been staying connected through virtual meetings. Using services with video, such as Zoom, has kept our teams in touch, and we've even discovered new ways to make things more fun, including incorporating virtual backgrounds. As Softvisioners continue to work remotely, tips and advice for working from home is also available on our blog, such as how to stay motivated and the importance of working together. 
Staying Fit and Healthy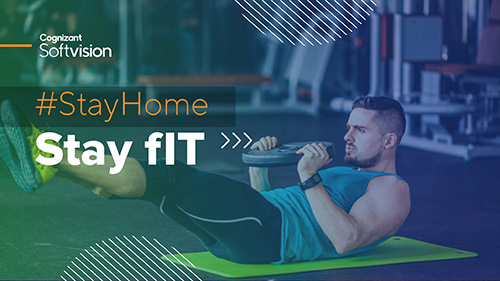 Cognizant Softvision has found great solutions to help Softvisioners #StayHealthy while they #StayConnected from home. Our weekly #StayfIT –  Bodyweight Functional Training makes us feel like we are back in the gym with live-streaming guided workouts held by one of our Enterprise Coffee Community Team Leads, Horatiu Neamtu. Meanwhile, Cognizant Softvision QA Engineer, Clara Guerrero teaches the Online Guided Yoga Classes to help bring balance, calm, and health into our lives. 
Community Polls and Suggestion Lists
With newfound free time, Softvisioners are sharing suggestions and ideas for at-home entertainment. Netflix TV series to watch right now, online game ideas, insightful podcasts, good music, kids activities, and great books are just a few of the lists and polls circulating around our online community. Together, we can pull together hundreds of suggestions and resources that can help everyone have a productive and more pleasant experience at home. 

As we all continue our fight against COVID-19, working from home and staying socially distant, we are reminded of the power of staying connected. We hope that these activities bring you inspiration, motivation, and a feeling of togetherness.