Effective Digital Transformation Strategies: An Interview with Andres Angelani of Softvision
Softvision Featured in MarTech Advisor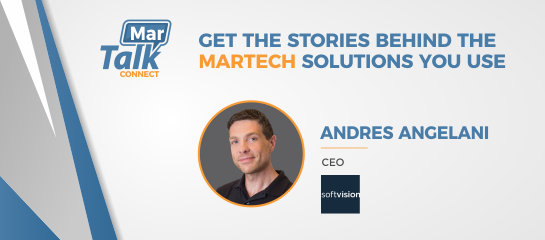 December 10, 2018 – MarTech Advisor, "the world's leading and dedicated source of unbiased research, news, resources and expert commentary on marketing technology," recently interviewed Softvision's CEO, Andres Angelani. The article gathered Andres' insights on digital transformation of marketing and technology (MarTech), CX strategies, and much more.
Read an excerpt from the interview below. For the full article, click here.
—————————————
Q1: Personalization has gained momentum as an important marketing strategy over the years. How does personalization affect the customer experience (CX)? What techniques can marketers employ to make their personalization strategies more effective?
With so much digital noise today, customers need simplicity, personalization and contextualized experiences. Customized digital experiences are the differentiating factor necessary to create memorable moments for customers and provide the right product or service content at the right time.
A customized experience is more than simple personalization. Personalization is when a product or brand understands what a customer is looking for, and delivers on expectations. A customized experience is designed to deliver on a specific interest or preference in a way that the shopper dictates. When designing digital experiences, customization may mean that the application takes outside context from the real world and delivers a unique experience based on that information. If I want a customized retail experience, I'll purchase my latte from Starbucks according to my preferences and specifications (size, strength, flavor, etc.), whereas my Spotify playlist continually streams music to me based on my tastes in music, artists, songs that have been searched and played. At the heart of a successful business strategy is a customer experience that is elegantly simple and positive, where consumers are likely to come away satisfied – and return. This type of experience is designed by understanding the emotion of end users throughout a journey involving the company's products and services. Often, this is brought to life by digital experiences that change based on where the shopper is physically.
Q2: CX is the big thing on CMOs' minds today. How should a CMO approach the challenge of building consistent CX across multiple devices? What are the practical obstacles to that?
In an enterprise environment, typically used by employees internally, we typically recommend a 'design system.' Most organizations have hundreds of internal applications being used by the same audience. These can be homegrown over time, and are often custom applications built for the company's needs, but enabling a different experience depending on who is using it, for what purpose, etc.
Implementing a design system helps define CX/UX requirements, creating more consistencies and providing a universal look and feel and experience, even when used for different purposes. Enterprises are rebuilding their experiences, engineering them for a cloud environment. The design system provides a standard set of guidelines that engineers can leverage easily to provide that consistent experience.
Outside of the enterprise environment, for external users, the same approach and methodology applies. Understanding the end user completely, and the context of their physical as well as their digital environment – are they in a store, on their phone down the street, etc. – is critical when developing the design system.
To continue reading, click here to visit the MarTech website.