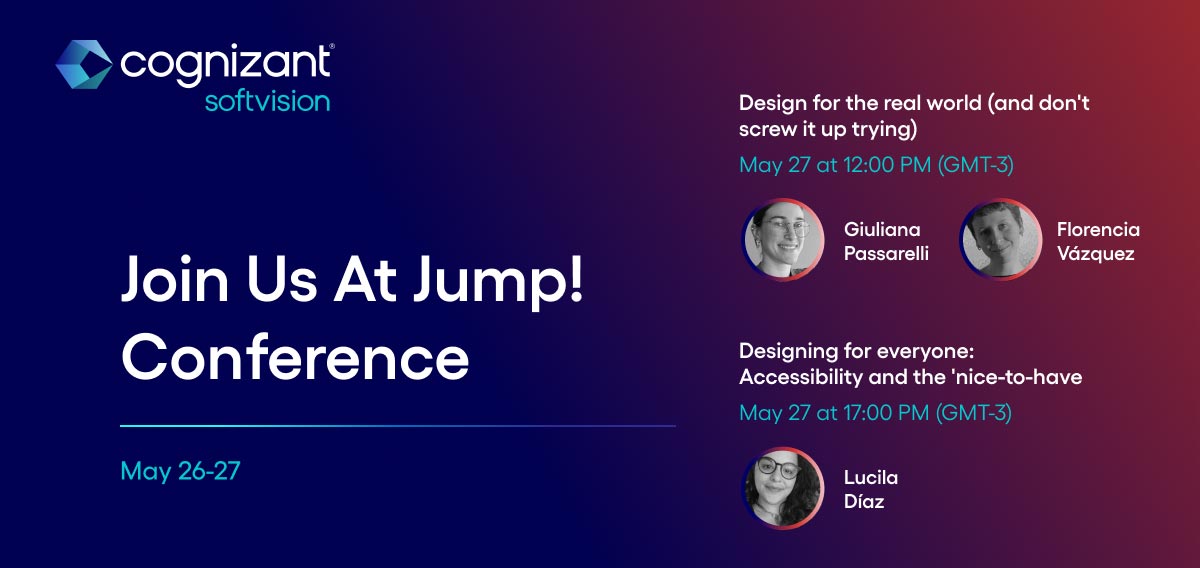 Cognizant Softvision is a proud sponsor of the fourth edition of Jump! Conference, taking place this May 26-27. Organized by Media Chicas, a non-profit organization that promotes diversity in the tech industry, Jump! is the first international technology conference focused on inclusion and diversity in Latin America. The event includes presentations, events, live coding, music, and tech talks.
Cognizant Softvision at Jump! Conference
Special guests Giuliana Passarelli and Florencia Vázquez, Cognizant Softvision UX designers from our Buenos Aires studio, will share their insights in their talk, "Design for the real world (and don't screw it up trying)" on May 27 at 12:00 PM (GMT-3). Attendees will also get a chance to hear from Cognizant Softvision senior UX designer, Lucila Díaz as she discusses "Designing for everyone: Accessibility and the 'nice-to-have'" on May 27 at 5:00 PM (GMT-3).
Jump! Conference
When: Thursday & Friday, May 26-27 | 10AM – 6PM  (GMT-3)
Where: Online  
Cost: Free
Register here
As this is a local event, the sessions will be held in Spanish.
To learn more about Jump! Conference, click here.