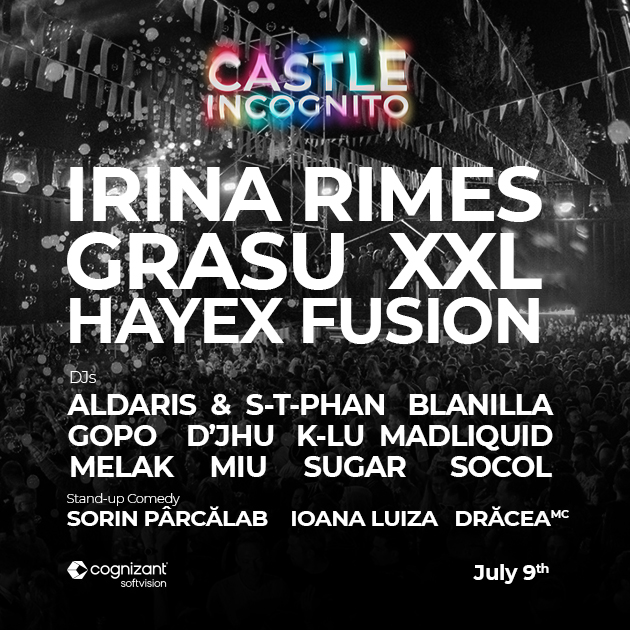 On July 9th, Cognizant Softvision will host a special event dedicated to employees, partners and company alumni. The event, called CASTLE INCOGNITO, combines live music and a festival of customized experiences, and is designed to reinforce the organization's positive culture and sense of belonging. The event is also an ideal setting for people to bond, share experiences, create memories, while also celebrating loyalty and hard working and enhancing team spirit in a unique environment.

CASTLE INCOGNITO will be held at Banffy Castle, just days before the Electric Castle festival opens its doors to the public. The event is an exciting and rare team-building opportunity, created exclusively for the Cognizant Softvision community.

"Cognizant Softvision has always enjoyed a vibrant culture. One of our strengths is the way we manage to adapt to any situation, thanks in large part to our business model, which is focused around Communities. Thus, after two-plus years of the global pandemic, we all felt the need to be together again – to better connect with our technical communities as well as with business partners, collaborators and even former colleagues who stayed close to us. It is a special opportunity to express our authentic culture and share unique experiences, innovation and connections", says Mihai Constandis, Romania Country Manager Cognizant Softvision
Attendees will be in for a dream evening at their very own festival. 
A fabulous brand experience – with premium performances on multiple stages from musicians and DJs such as Irina Rimes, Grasu XXL, Blanilla, K-LU, Madliquid and more. There will also be stand-up comedy shows where comedians Sorin Pârcălab and Ioana Luiza will take the stage. A special, acoustic moment, will be represented by the main stage appearance of Hayex Fusion, a group where Silvia Baciu, the soloist, is also part of the Alumni community of Cognizant Softvision.
An open food and drink area will be available, and other surprises that will be revealed during the event. A select group of content creators and personalities of the Cluj community and beyond who share the company values will also be in attendance. 
The stand-up comedian, online show presenter and podcast creator Bogdan Drăcea will host the event.

"The "Castle Incognito" event was born from the strong willingness to be together again, and a desire to showcase our values. Last year we hired more than 1000 new employees, so we have never had the chance to meet many of our new colleagues in person. What better way to mark a new beginning, than spending a great moment together.
We are sure it will be a night to remember, full of colors, joy, good music, unexpected experiences and surprises", says Raluca Dolan, HR Director Cognizant Softvision

Over 1,500 participants are expected to join Castle Incognito from all the cities in Romania where Cognizant Softvision is present.
Cognizant Softvision is the integrated digital engineering arm of Cognizant (Nasdaq: CTSH), one of the world's leading professional services companies.