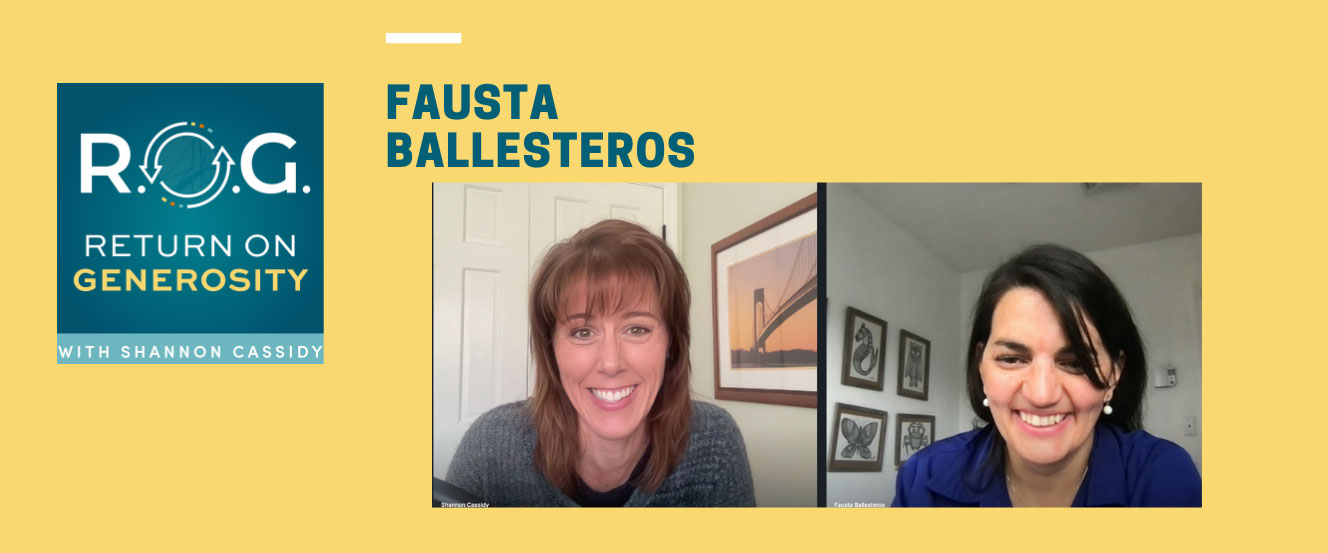 Fausta Ballesteros, Cognizant Softvision VP of Culture Experience, was the featured guest on the R.O.G. Return On Generosity Podcast, which aired on March 29th. The podcast, hosted by Shannon Cassidy, CEO of Bridge Between, Inc. celebrates generosity at work and examines the return on generous leadership and culture.
The March 29th episode, "Communities of Contagious Compassion," wraps up R.O.G.'s month dedicated to women's history and the essential role women play worldwide. Fausta and Shannon discussed work-life integration, mentorship, and how to best support your team and yourself.
Fausta shared her approach to managing such a diverse team, revealing that there's not a "one-size-fits-all approach." 
"When you have a global team…always try to put yourself in others' shoes and listen to other points of view. Adapt and listen to what everyone needs and be human and compassionate about their reality," said Fausta.
Fausta also shared some personal stories, both professional and personal, where she's witnessed the power of sympathy and generosity. For example, throughout the pandemic, she noticed colleagues' compassion toward one another and how they acknowledged each others' mental health and personal situations.
"I'm still surprised at the generosity I see among co-workers. [The pandemic has] made us more humane and more compassionate than before," she said.
There's more to generosity at work, however. Generosity of knowledge, revealed Fausta, is a core part of daily work. In a field where things are constantly changing and evolving, Cognizant Softvision's network of global communities are designed to help team members grow and learn.
"We organize our experts in communities, allowing us to scale craftsmanship. We give them the space to learn from each other, connect and thrive. Technology evolves so fast, so the only way to keep up and keep learning is through the communities. It's nice to see that we've created this culture where people expect to learn from each other."
Fausta also shared that she's had impactful, positive mentorship experiences throughout her career, and has now become one herself. 
"If you've had great mentors, you then become one. You try to keep what's worked for you and give it to others," Fausta shared.
Fausta's mentorship and leadership abilities have positively impacted other women in her industry. 
When it comes to women in leadership in IT, she's put them on the mainstage by sharing their stories, inspiring other females to thrive in their careers. 
Toward the end of the interview, Fausta shared her favorite life mantra– "Let your life not be a sterile life. 'Be useful.' 'Leave it on.' 'Light up.'" 
In other words, said Fausta, "We can all make a difference.. We have that power. It's how we use it for others."
A driving force for women in leadership, Fausta has been working in communication and marketing for 20 years. As VP of Culture Experience for Cognizant Softvision, Fausta manages a global team of over 30 colleagues from across nine countries. 
To listen to the full R.O.G. interview, click here.