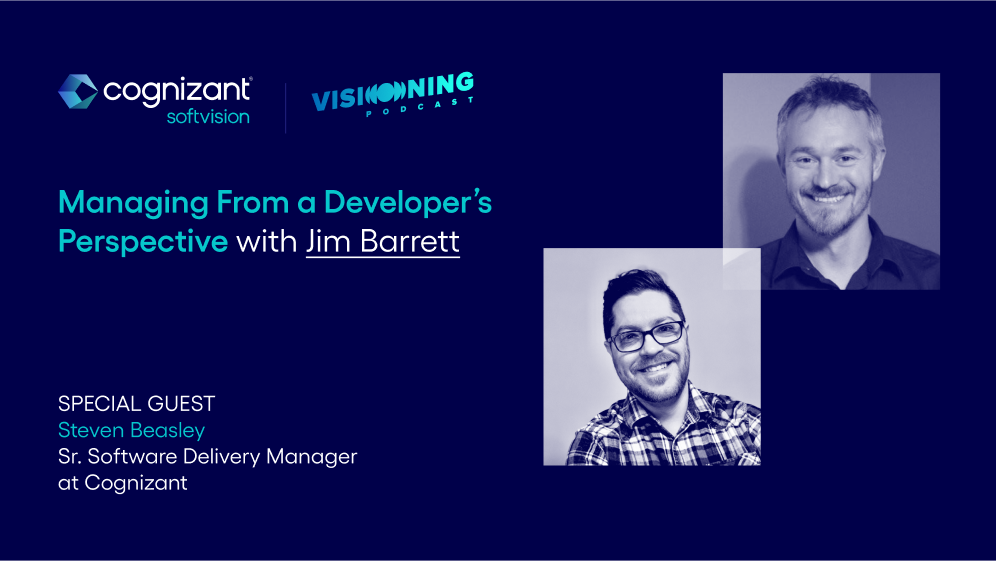 Cognizant Softvision's official podcast, Visioning explores the ins and outs of software product engineering with leaders in design, development, and beyond. Hosted by Cognizant Softvision Senior UX Designer, Jim Barrett, Visioning features a special guest each episode.
The latest episode, "Managing from a Developer's Perspective," features Steven Beasley, Cognizant Senior Software Delivery Manager. Steve shares his journey to management, and the two discuss some of the traits and skills necessary to become a manager.
When looking for advancement, how do you navigate the process? Do you have the right background? Should you get your MBA?  
"For me, getting the MBA, especially if you're in an environment where it's challenging to get into management, having that is kind of like your ticket in" says Steve.
According to Steve, he was concerned whether or not he would be able to communicate effectively with leadership and his team, and his MBA courses helped him hone those soft skills. 
"Those skills weren't my day-to-day…so getting an MBA or a similar course that teaches those softer skills, always a bonus," he continued.
Steve and Jim also discussed the importance of mentorship and building relationships during your career journey. Jim shares that it's critical to find a good mentor who can help you learn how to apply your knowledge to actual use cases. 
As he reflects on his personal mentors, Steve says, "I wouldn't be where I am today without them." 
Jim agrees, revealing that he's appreciative of the culture at Cognizant Softvision– one that cultivates a tightly knit community that supports each other.

"We're all in it together, and we're all trying to build each other up," says Jim.
Hear more from Jim and Steve in the full podcast here, and don't forget to subscribe and leave a review!