On May 21-22, 2019 we attended VoxxedDays Frontend in Bucharest, sharing our expert insights. Our colleagues Alin Turcu, Mobile & AI Community Manager, and Gratian Dicu, Tech Lead, presented the benefits of using new components in a ReactNative app, such as Hooks. Hooks were introduced…
I've always known that there is a shortcut for almost everything in this life. No, that doesn't make me a cheater, but I like to think of me as more of an open minded person. Let me first state that I'm a time-management obsessed person….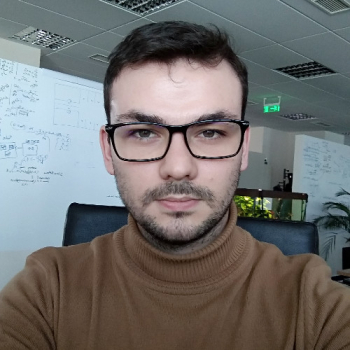 Andrei is a Front-end developer, with 4+ years of experience in the IT industry. He's always looking for new ways to improve his skills, learn and share his knowledge with his colleagues and the community.
Our client is one of the leading retailers of all content, digital media and educational products operating in 50 states throughout the US and as one of the premier e-commerce sites for digital content and multimedia. The company sells over close to 200 million physical…
At Codecamp Cluj this past April, Adrian Vaiesu, QA Team Lead in our Cluj-Napoca Studio was one of seven Softvisioners to present at the event. Adrian led a talk focused on how to handle different types of clients, from the technical to the non-technical, from…
Latest posts by Adrian Vaiesu
This past week I had the opportunity to do presentations about Blazor at a number of community events both locally and internationally. This required me to update the slide deck I had presented previously at the DNN Summit 2019 in Denver, Colorado to include the…
Technical Director and Enterprise Guildmaster
Shaun Walker is the original creator of DotNetNuke, a Web Application Framework for ASP.NET which spawned the largest and most successful Open Source community project native to the Microsoft platform. He has 25+ years professional experience in architecting and implementing enterprise software solutions for private and public organizations. Based on his significant community contributions he has been recognized as a Microsoft Most Valuable Professional (MVP) as well as an ASPInsider for over 10 consecutive years. He was recognized by Business In Vancouver in 2011 as a leading entrepreneur in their Forty Under 40 business awards, and is currently the Chairman of the Advisory Council for Microsoft's .NET Foundation.
Latest posts by Shaun Walker
The Problem There is a requirement to make multiple AJAX calls parallelly to fetch the required data and each successive call depends on the data fetched in its prior call. Since AJAX is asynchronous, one cannot control the order of the calls to be executed….
Anantha has over 7 years of experience in different Microsoft and Web technologies, including Web Forms, Win Forms, MVC Core, Web API Core, HTML5, JavaScript, jQuery, Angular 6, CSS3, Bootstrap 4, and Material Design. He likes to learn and experiment with new technologies and loves to teach others and share his knowledge and expertise.
Latest posts by Anantha Kashyap M D
The focus of this article is to introduce the F# programming language, providing a description and overview of its building blocks. As we go, we will show some code examples to get to know the syntax of F#. What is F#? F# is a mature,…
Nazar Baydalka, Razvan Piticas & Cristian Pique
Latest posts by .Net Community
Binny's is a family-owned leading specialty retailer of wine, spirits, beer and cigars. Founded in 1948, the company is based in Chicago, Illinois and has expanded to 40 locations. At-A-Glance: The Midwest United States' largest wine, spirits and beer superstore 30,000+ products available 40 locations…
As individuals develop and become professionals and experts in their various fields, they start facing situations that will make them step outside of their comfort zone more frequently. This is a natural progression that everyone should go through. To me, this natural progression started happening…

Flaviu is a QA Manager with focus on software testing and team growth at Softvision. He's been a software test engineer for over 7 years now and sees his career as a continuous learning experience. While his transition from software tester to Team Lead to QA Manager happened pretty quickly, his abilities to both understand and test software, as well as manage bigger teams have been constantly evolving during this period, with the end being nowhere in sight. On the technical side, his abilities include mobile, web and backend services and he has the skills and know-how required to tackle each independently or as part of a connected system. At the same time, he's always trying to be both a good leader and a good friend to the people in his teams, constantly looking for that sweet spot where work performance and work satisfaction have a perfect balance.
The advent of robots has impacted retail to a great extent. Their very existence has changed the shopping experience in a positive way. In this article, we will discuss the benefits of robots and how to design and create a software program for robots at…
Senior Programmer Analyst
Balaraman has over 12 years of professional experience in Software Application Design, Development, Testing, Implementing and Production support, and over seven years of retail domain experience.
Latest posts by Balaraman Venkatesan