ReactJS is the JavaScript library for building interactive user interfaces. React Router is the routing library, which is the declarative routing in ReactJS, containing three types of components such as Router, Route and Navigation Components. Before React Router V4, it is static and after V4…
Latest posts by Thiyagaraj Suthagar
BUENOS AIRES, ARGENTINA, July 18, 2019 – Last week, Cognizant Softvision hosted a local Tech Meetup in our new Buenos Aires Studio in Almagro, organized with the Net-baires community. Our Tech Leads, Guillermo Murano & Javier Páez delivered a powerful presentation on SignalR, an open-source...
With 25 Studios across 10 countries, Cognizant Softvision is home to countless individuals with a wide range of expertise. In this series, we sit down with our experts to get to know them better, pick their brains and gain some insights. In this edition, we…
Latest posts by Softvision Team
GPLs Or General Purpose Languages are what we as programmers are used to dealing with on a daily basis. They can be object oriented, functional and imperative. The usage or the domain they can operate on is vast. To rephrase: we can come up with…
Mihaly has been working on Web Applications written in PHP and all connected technologies. Developed Java Swing applications, Enterprise web applications, and currently developing Android apps.
My personal goal is to learn all I can about the technologies I work with and continuously improve my programming skills.
Join Cognizant Softvision's Tech Leads, Guillermo Murano, Javier Paez & Cristian Pique, and Net-baires Community at this exclusive Tech Meetup that will take part on July 18th at our brand new Cognizant Softvision Studio based in Almagro. When: Thursday, July 18 | 7-10pm Where: Cognizant Softvision's Buenos...
I've always known that there is a shortcut for almost everything in this life. No, that doesn't make me a cheater, but I like to think of me as more of an open minded person. Let me first state that I'm a time-management obsessed person….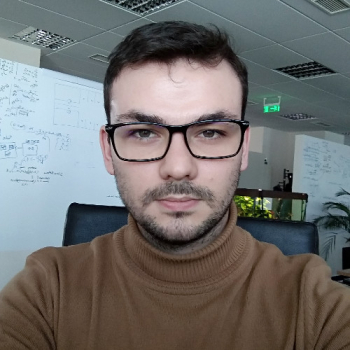 Andrei is a Front-end developer, with 4+ years of experience in the IT industry. He's always looking for new ways to improve his skills, learn and share his knowledge with his colleagues and the community.
This past week I had the opportunity to do presentations about Blazor at a number of community events both locally and internationally. This required me to update the slide deck I had presented previously at the DNN Summit 2019 in Denver, Colorado to include the…
Technical Director and Enterprise Guildmaster
Shaun Walker is the original creator of DotNetNuke, a Web Application Framework for ASP.NET which spawned the largest and most successful Open Source community project native to the Microsoft platform. He has 25+ years professional experience in architecting and implementing enterprise software solutions for private and public organizations. Based on his significant community contributions he has been recognized as a Microsoft Most Valuable Professional (MVP) as well as an ASPInsider for over 10 consecutive years. He was recognized by Business In Vancouver in 2011 as a leading entrepreneur in their Forty Under 40 business awards, and is currently the Chairman of the Advisory Council for Microsoft's .NET Foundation.
Latest posts by Shaun Walker
The Problem There is a requirement to make multiple AJAX calls parallelly to fetch the required data and each successive call depends on the data fetched in its prior call. Since AJAX is asynchronous, one cannot control the order of the calls to be executed….
Anantha has over 7 years of experience in different Microsoft and Web technologies, including Web Forms, Win Forms, MVC Core, Web API Core, HTML5, JavaScript, jQuery, Angular 6, CSS3, Bootstrap 4, and Material Design. He likes to learn and experiment with new technologies and loves to teach others and share his knowledge and expertise.
Latest posts by Anantha Kashyap M D
The focus of this article is to introduce the F# programming language, providing a description and overview of its building blocks. As we go, we will show some code examples to get to know the syntax of F#. What is F#? F# is a mature,…
Nazar Baydalka, Razvan Piticas & Cristian Pique
Latest posts by .Net Community
The second edition of Xamarin Assemble will take place this June 29 in Argentina, and we're proud to announce that we are silver sponsors for the event. The biggest event in Argentina about Mobile Cross Platform application development, Xamarin Assemble gathers the top leaders and experts...