Women Put Diversity On The Table For Discussion During Programmers' Week 2020
The panel covered hot topics like innovation, visibility, empowerment & gender bias in the tech industry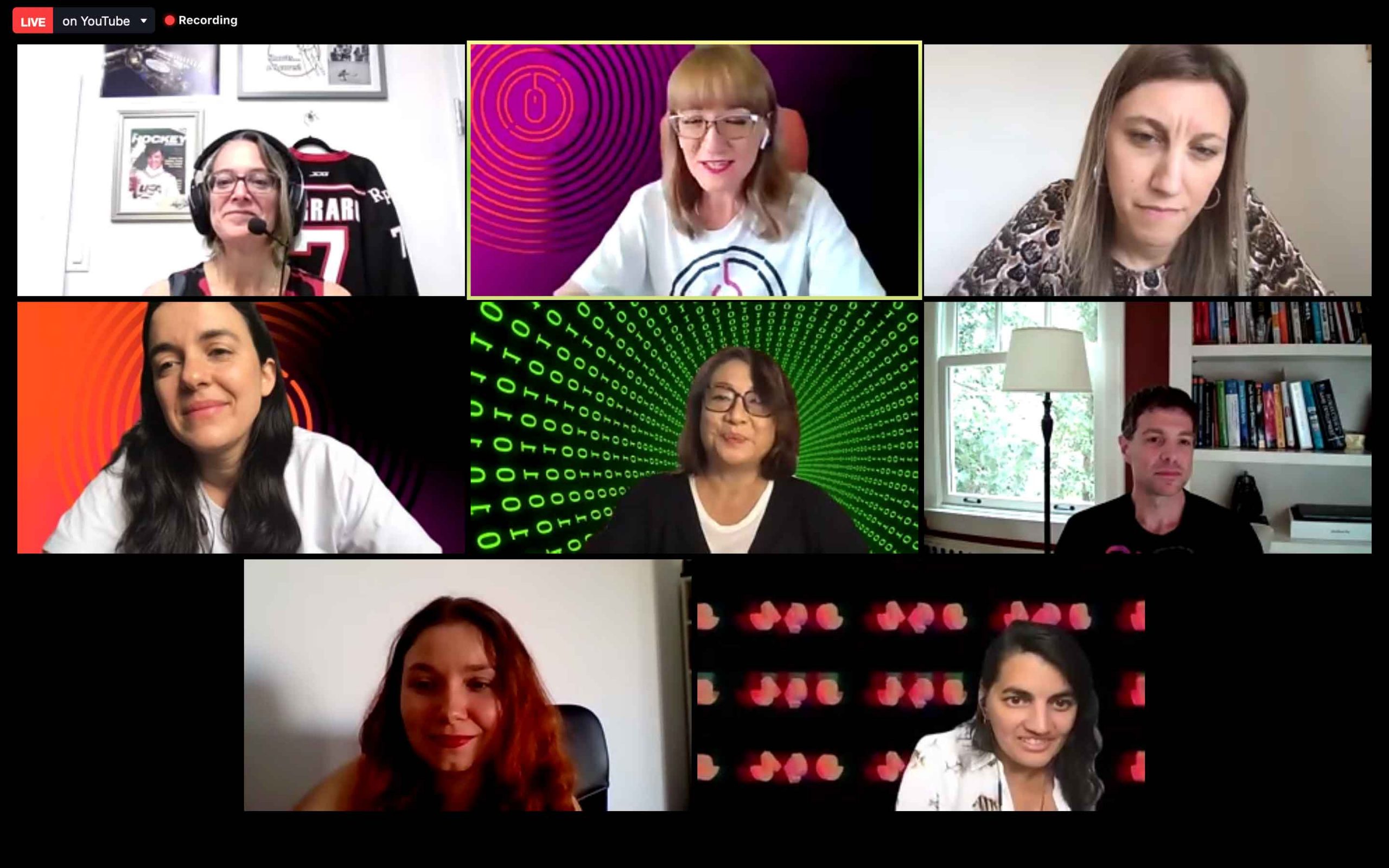 The sixth edition of Cognizant Softvision's largest technical event, Programmers' Week 2020, was already four days in on September 17, and had picked up great momentum. But, it was only just beginning. Almost 300 global attendees joined the first online women in engineering panel moderated by Softvisioners Ines Casares, Head of Studios America, and Maria Hostiuc, Head of Studio Experience. Together they talked with Minerva Tantoco, Agustina Fainguersch, Annemarie Ferraro and Silvia Cristina Stegaru for an hour-long conversation. Andres Angelani, CEO of Cognizant Softvision, also joined as a surprise guest. 
The discussion started with a straight to the point question: Do you believe that diversity drives innovation? Wolox CEO, Agustina Fainguersch, voiced there's no way to find new solutions without a new way of thinking, and diversity is the key to achieve it. 
As the conversation grew more animated, the next question centered on why it is difficult for the tech industry to be diverse. NYC Government's first-ever CTO, Minerva Tantoco, provided a clue. "In Artificial Intelligence, we turn our bias into rules and algorithms, and automate them. In job databases, for example, it matches successful hires and looks for more people like that, and if you have more men it's going to pick more men," she unveiled.
Getting better results
As moderator, Ines Casares wanted to better understand how we as a tech industry could make women feel more welcome in an industry that has so much to offer them. "We need empowerment and ownership, especially young women; to listen to their ideas, and to not second guess them," Silvia Cristina Stegaruadded, president @Codette in Romania, suggested. 
Other enriching ideas from the panelists included: coaching people to get confidence in themselves, making women more visible, inviting men into the conversation, mentoring initiatives, acknowledging the bias, having more female role models and creating safe spaces in teams to debate solutions. 
Minerva also had the opportunity to share a couple specific exercises she has used with staff where she's experienced success. To help eliminate certain biases, she will often remove names from the tops of the resumes when looking for candidates. This helps prevent the use of bias language in job listings and, when possible, encourages the hiring of more than one woman per team. "Most of the team are usually male, so when a woman arrives it's important for them to understand how she thinks and feels. I ask them to close their eyes and to imagine they're going to a work conference and they're the only man there, you would ask yourself Am I in the right place? Is this the right conference? And then I tell them, 'This is how your female colleagues might feel'," she said.
When focusing on retention, VP of Alarm.com, Annemarie Ferraro, gave insight about her own work life balance and her experience with working and maternity leave, a topic that is often debated. When she became a mother she suggested taking her baby with her to the office and her employer surprisingly agreed. "Managers have to say, 'How can we help you to work through this?'," she proposed.
Andres Angelani, the male representative at the event agreed saying, "The culture really needs to start building at the very top. If it's a whole male board company then Wall Street should look at it and say Really? That's where the whole thing starts. I think the very first step is that the boards and executive teams are much more balanced in the eyes of the public."
A bias syndrome 
Another obstacle women face in their STEM careers seems to be the impostor syndrome (IS), an internal fear of being exposed as a fraud and systematically doubted about their own accomplishments. This time, reactions were split. In Minerva's words, she would like "just to get rid of this concept because it is a symptom of the biased system and not a problem women should even be having. No one would call a man an impostor who is stretching his knowledge, this is the language itself that is judgemental."
While on the other hand, Silvia disagreed. "When your original ideas are constantly being beaten down at some point you are starting to second-guess yourself and it becomes a habit, so it exists. And I've been struggling with IS for years, I started making a journal of all my realizations and I still keep them because it still helps me," she confessed.
A long way to go
The panel continued answering questions from the attendees and finished with empowering messages for women starting their careers. Annamarie and Minerva, who were both one of the only Engineering Computing female students in their classes, offered this advice:"Just because nobody has done it before doesn't mean not to do it. It actually means that you're gonna be the first to do it." 
Like all the events with a passionate theme and bright and interesting people, an hour was not enough to finish the conversation, but hopefully it was an important first step to having more diverse discussions. 
You can watch the entire women in engineering panel here:
To learn more about upcoming initiatives organized by Cognizant Softvision Women's Guild, a platform that works to elevate the experience of our more than 700 female colleagues around the world, visit our website.