Withstanding Tough Times Requires a Definitive & Durable Work Culture
Culture can be the differentiating factor to success in times of crisis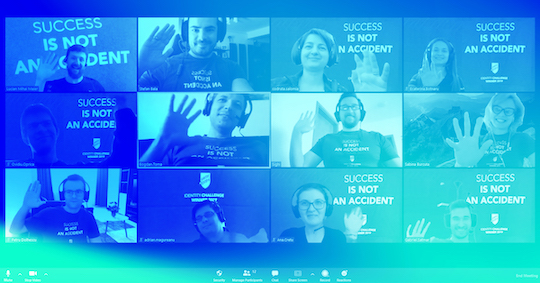 There's a "new normal" to which all companies the world over are adjusting to. Morning stand-ups, friendly watercooler talk, company-sponsored happy hours and the in-between have been replaced by virtual interactions, — or don't happen at all.
Working in a fully distributed virtual environment is a big adjustment to navigate without having to contend with unprecedented socio-economic and behavioral upheaval that has us all genuflecting. And in a world in crisis, overcoming cultural impediments can be easily overlooked. This is unfortunate considering the true value culture has in creating happy, fulfilled and trusted employees who contribute significantly to the bottom line.
But while processes and protocols are important, they aren't the sole answer – especially amid a crisis. To successfully emerge from the pandemic, it's equally important to establish an engaging business culture focused on keeping employees happy and connected, regardless of their location.
While it's easy to overlook the need to overcome cultural impediments during this time of crisis, we shouldn't. Culture plays a vital role in creating productive, fulfilled and trusted employees who contribute significantly to the bottom line. Conversely, according to one study, disengaged employees cost companies between $450 billion and $550 billion a year.
Reaching Out to Employees, Wherever They Are
It's no secret that culture has become uber-important over the last several years. In a 2018 study, nearly 50% of job seekers cited company culture as important when applying for a new work role. In our own practice, we've seen this as a recurring theme. Our passion for new technologies; our mindset that in order to transform, you must accept the notion that it's a continual, learning process, our community culture, where collective value outweighs any one individual. When candidates ask questions like, "What are your studios like?" "What can I expect if I have an issue?" "What does collaboration look like?" it's clear culture matters.
Therefore, it's imperative that organizations establish and radiate their cultural values not just internally, but also externally. This is as critical during a pandemic like the COVID-19 crisis, because as we have found connection and value contribution is challenging when we are working remotely in mandated isolation chambers.
Establishing a culture that promotes engagement goes well beyond hosting the occasional awkward (but fun) Zoom happy hour. It also goes beyond selecting which conference platform should be the environment of choice. Even for companies that don't already have some sort of work-from-home policy and are starting with the basics, the question should be: How are we going to ensure teams feel they're part of a community that's socially motivating, provides personal growth and challenges them to succeed in this new environment?
Creating A Cultural Framework
Former Campbell's Soup CEO, Doug Conant once said: "To win in the marketplace, you must first win in the workplace." Winning amid a pandemic will take creativity, innovation, and an even hungrier drive to succeed, with the starting point being culture. Working remotely under normal circumstances can be considered isolating and quite different than an office experience, adding a stressful, uncertain worldwide event to the mix adds to the complexity.
Right now, more than ever, employees need to have a community that is socially motivating, provides personal growth and empowers them to lead.
To make sure that culture is palpable to all employees, even with more people working remotely, we've implemented the following practices:
Local groups & meetups for all: This creates a space for our virtual teams and in-studio team members to come together to ideate and problem-solve.
Focused study groups: Connecting individuals within specific areas of expertise is critical at a time when social distancing is the rule – not the exception.
Regional tech talks streamed: Tapping into other relevant knowledge and insight helps our community members continually build out their own professional expertise.
Monthly challenges: These help motivate and drive engagement in a friendly manner. Whether they're tied directly to skillset or not, our challenges are meant to be all in good fun and push individual growth.
Online training programs: We continually invest in professional talent development, online or off. We want our talent to feel empowered to take their careers to the next level.
Showing appreciation: We continually show appreciation to our team for their hard work on projects and initiatives.
Building a culture with continuous, clear communication that embraces co-ideation, joint problem-solving and individual metrics crafted to grow both business and personal careers, can amplify engagement exponentially. With broader and deeper engagement, better outcomes can be achieved in record time – location notwithstanding.
Connecting the Dots
Companies must think of culture as the connective tissue that sparks growth. This means they should nurture that culture today so there is no breakdown in business continuity should they find themselves in tough times as we do today.