What's In A Name?
Product Design Manager, Thary Chhom discusses defining a designer's role in a product-driven world at Programmers' Week 2021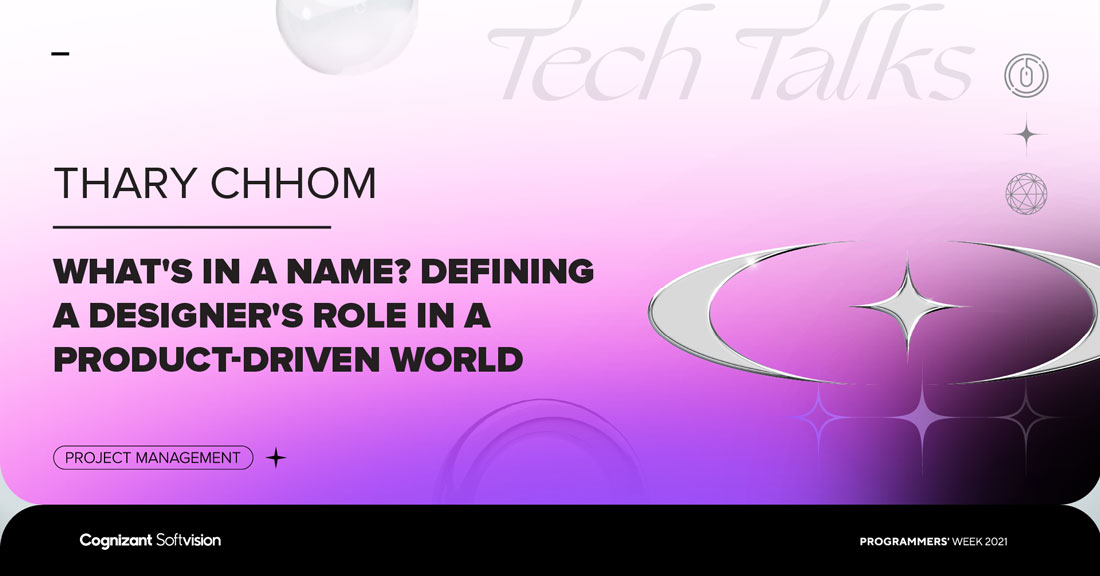 This September, Cognizant Softvision went beyond with our 7th-annual, week-long event dedicated to developers and software engineers from around the world. Programmers' Week 2021 was filled with inspiring keynotes, tech talks and discussions led by Cognizant Softvision experts, including Product Design Manager, Thary Chhom. Thary discussed the designer's role in the digital product space. Below, she shares her experience and details on her presentation.
About The Talk
The impact of digital products in our day-to-day life has grown exponentially in the past decade. You can't throw a stone without it hitting some sort of smart device that aids and supports your life or work. Who builds these products? What goes into designing and developing these apps and tools we use every day? The short answer is a lot of people, but generally speaking, it's designers, developers, and product owners. There is no wonder why there are over 100,000 open roles for product designers on LinkedIn as of September 2021.
My role as a Product Design Manager at Cognizant Softvision is to help the team define and design products for our clients and their customers. I'm also responsible for advocating and educating the larger organization on what we do and how we do it.
For Programmers' Week, I wanted to dive deeper into the subject of a designer's role in the digital product space. In my experience, there is a lot of ambiguity behind the designer's role, not just for people who engage with designers, but for the designers as well. I see a lot of missed opportunities because designers are not involved early or expectations of roles are misaligned. I believe that understanding what each type of designer does and their impact on the overall product experience can help our clients build successful product teams.
In my talk, I touched on the product design process, the role and responsibilities of different types of designers, and addressed assumptions I've heard about designers in my own career. 
My experience as a speaker during Programmers' Week 2021
What better venue to share my insights than at Programmers Week, where the audience is not designers at all, but the people who work with them? I think it's invaluable to share these types of insights with our community so that we can all grow and learn from each other.
This was my second Programmers' Week presentation and as someone who has always feared public speaking but wanted to push myself to get better at it, it's given me the opportunity to practice without the pressure of being too formal. My confidence has grown tremendously, and I have Programmers' Week to thank for that.
Programmers' Week is a great initiative which I'm happy to contribute to. Watch my 2021 presentation below, and I look forward to next year.