The strange species of UX designers
Who? What? When? Where? Why?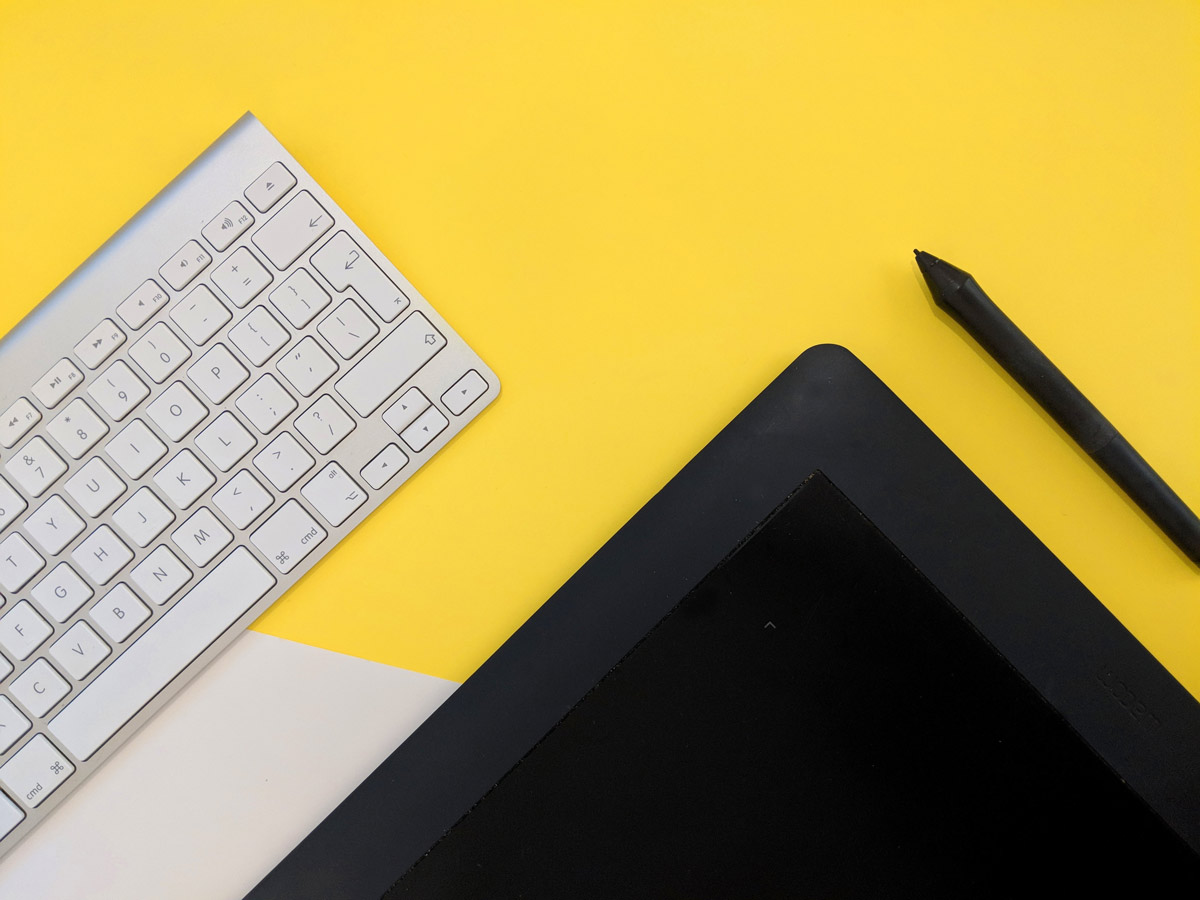 The idea of writing this article started after a collaboration I've had on a project with one of my clients. He wanted to raise awareness within the organization so that everyone can understand the challenges we've encountered, how we made decisions and the types of tasks we tackled.
Personally, I've never written an article in my life so here it is: how I see the world I'm living in.
About UX Designers
We, UX Designers, are facing a lot of challenges daily. One of the first challenges in any interaction is to make people understand what a UX Designer does. Many people think that our job is just to draw some buttons and add pretty colors… Easy peasy I might say. In reality our set of skills is more complex and we do way more than that.
As UX Designers we need to understand the reason people use a product or a service. For this to happen, we also need to gain more insights, like: understanding the business and the position on the market; study the users' habits and goals; understand how they feel and find the pain they seek to solve. Before engaging with a website or app, people always ask themselves questions (often without realizing): How can it help me in my day to day life? Is it easy to understand? Does it bring any value? It's our job to find the answers to these questions way before they are raised by the users themselves. Acknowledge the fact that people are not the same and may use a product in many different ways. Do not fall into the trap of assuming that others share your beliefs and responses to given situations (false-consensus effect).
UX Designers are studying user behavior and understand user motivations in order to design better experiences that will solve the right problems.
We need to have in mind that not only designers need to take these into consideration, but anyone "who cares about driving customer engagement" (Eric Ries). Everyone in the organization needs to be on the same page and have a common goal: solve the RIGHT problems. By creating products based on personal assumptions and without taking users' needs into account, organizations risk creating bad experiences that do not motivate them to take action. Based on studies, humans tend to add more weight to the negative experiences than the positive ones (negativity bias). How do you want to be perceived?
Users are not involved in the process, they do not represent themselves in meetings, so we need to speak up for them.
There isn't a unique recipe for success. We have a process that we follow and we tweak it as needed. Our work is based on studied methodologies and processes in order to create functional and appealing products for our users.
What we do
We are studying many fields to find a balance between the user needs and the business goals. What UX Designers actually do?
Understand the business and the possible opportunities.

Understand and empathize with the users, take user interviews, make user profiles and customer journeys.

Understand the market, new trends and new technologies.

Understand the business environment, study the competitors and drive customer engagement.

Share all findings within the organization, write supporting documentations and build business cases. 

Understand the development aspects, technical constraints, data types and data structures. 

Understand the laws and the users' rights.

Write texts that are clear, concise and useful to help and guide the user.

Measure the behavior of users with analytics platforms, develop strategic plans and share the gathered information.
And the list could continue…
Of course, we also design buttons, forms, lists and other interactive elements, but we base our decisions on validated findings. That's the secret!
The UX Process explained
This process is a methodology that provides a solution-based approach to solving problems, divided in 4 stages: Discover; Define and Validate; Define and Test; Develop and Measure. It is based on many studies that were created, implemented and tested by the pioneers in this field: designers, managers, engineers, psychologists, writers, professors, interface developers, information architects etc. Not all techniques may be suitable for a project, so they have to be picked wisely. Vijay Kumar's "101 Design Methods" is a good starting point for anyone who'd like to study more on processes.
"Be a master chef, not a line cook: take the recipe as a framework, then tweak as needed." Sarah Gibbons NN/g
Stages of the UX Process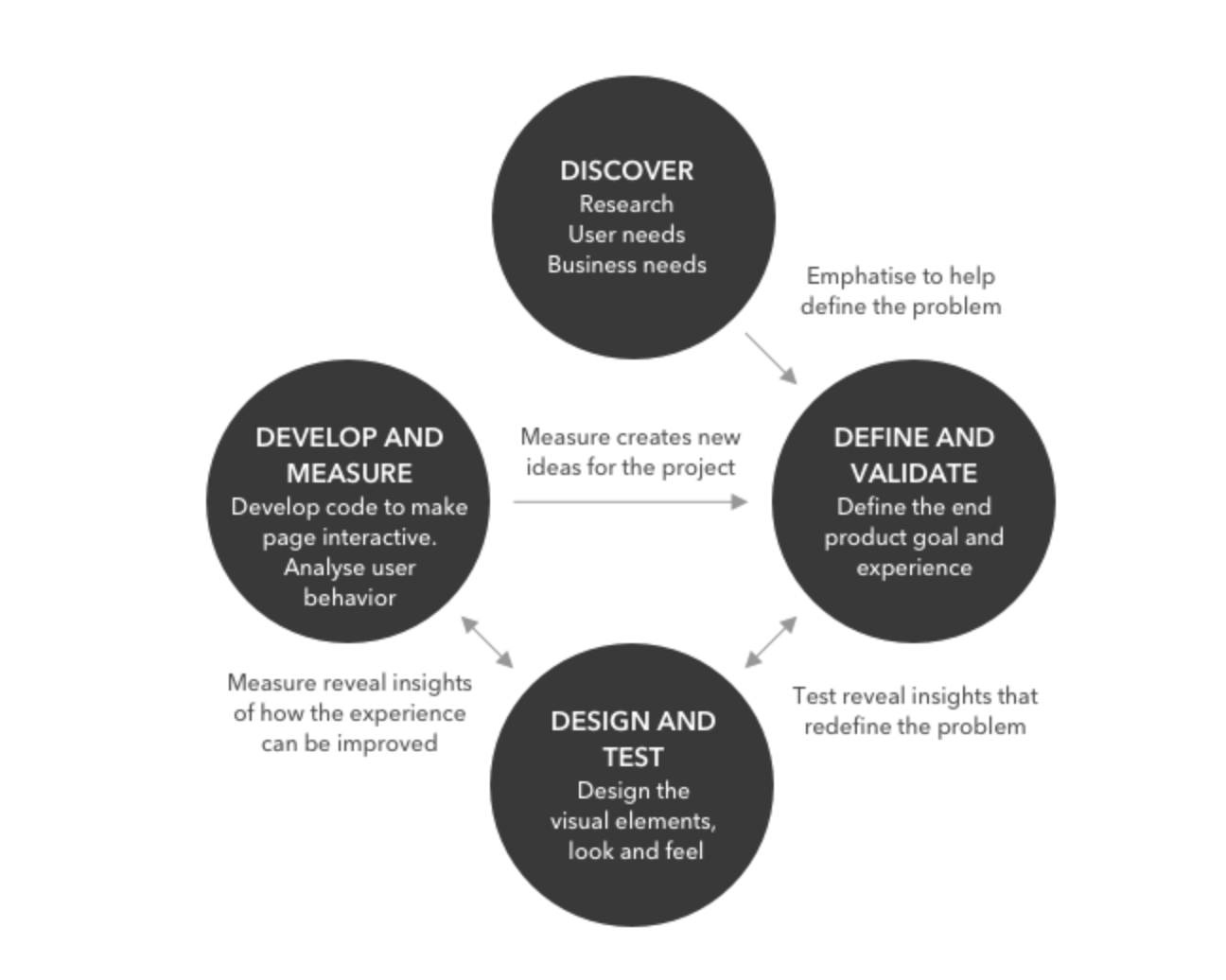 1. Discover
User needs
Learn more about your users: What motivates them? How users live their lives and how can we help them enjoy life even more? What would our users want to achieve by using this solution? What emotions influence their use and will trigger them to action?

Define the issues based on what you learned about user needs.
Business needs
What do we want to achieve?

How can it help the business?

Learn more about the market: Who are the competitors? How can we do this better than them?
Why this matters?
Understand how users feel and find the pain that they want to solve.

Avoid developing a product based on assumptions.

Develop a business strategy that will give a competitive advantage over the other competing products and organizations in a market.
2. Define and validate
Create Personas – representations of the end-users that use our product (behavior, goals, motivations and needs).

Build Use Cases – scenarios of what happens when the users are interacting with our product.

Journey Maps – visualizations of the processes that a person goes through in order to accomplish a goal.

Build User Stories – define what has to be built in the project based on priorities.
Why this matters?
Avoid focusing on the wrong audience.

Define the problem that needs to be solved.

Define the environment and the context in which the product will live.

By understanding your users you'll understand what motivates them to take action.

Understand how your product will be used.

Build a roadmap.
3. Design and test
Create wireframes, visual design and prototypes.

Test your design before developing, to gain insights directly from users.

Create a product focused on user and business needs.
Why this matters?
Define a visual style.

Without user data, organizations risk creating wrong experiences, poor features or misunderstood interfaces.

Fix inconsistencies and errors before implementing and avoid wasting time and money.
4. Measure and evaluate
Analyze user behaviors through analytics platform.

Create user patterns and make strategic plans to improve the flow.
Why this matters?
Improve the product taking into account user interaction in real world usage.

Keep the users engaged in order to keep their interest alive and increase the rate of the returning visitors.
Conclusion
As Don Norman said: "Focus on Results, Not on Perfect UX. What we are doing is part of a large system. We have to take into account all the factors, all the people that are part of the system. Using a system, trying to understand how it works, and trying to get it to do what you care about; that's important. … When you are doing UX design, think about what the person is trying to accomplish, how will they appreciate it, be happy with it. And if your UX isn't quite perfect, does it matter? If they get the desired result? No it doesn't. It only matters when it gets in the way or makes it more difficult or frustrates them."
So my advice is to go out there and get to know your users! Do not be afraid to fail, do not be afraid if your assumptions are debunked. That's a good thing! It means that you'll be able to create personalized experiences for your users.
Takeaways
Research and then research again.

Always validate your findings (problems and solutions).

Never assume you know your users.

Test your designs.

Make sure that everyone is on the same page and that transparency exists.

Learn from your mistakes and always take two steps back to see the whole picture.
I like to think that we can conquer the world one process at a time.
Thank you!
Click here and read Oana's original article at Medium.