The Ultimate Guide to RPA
An In-Depth Introduction to Robotic Process Automation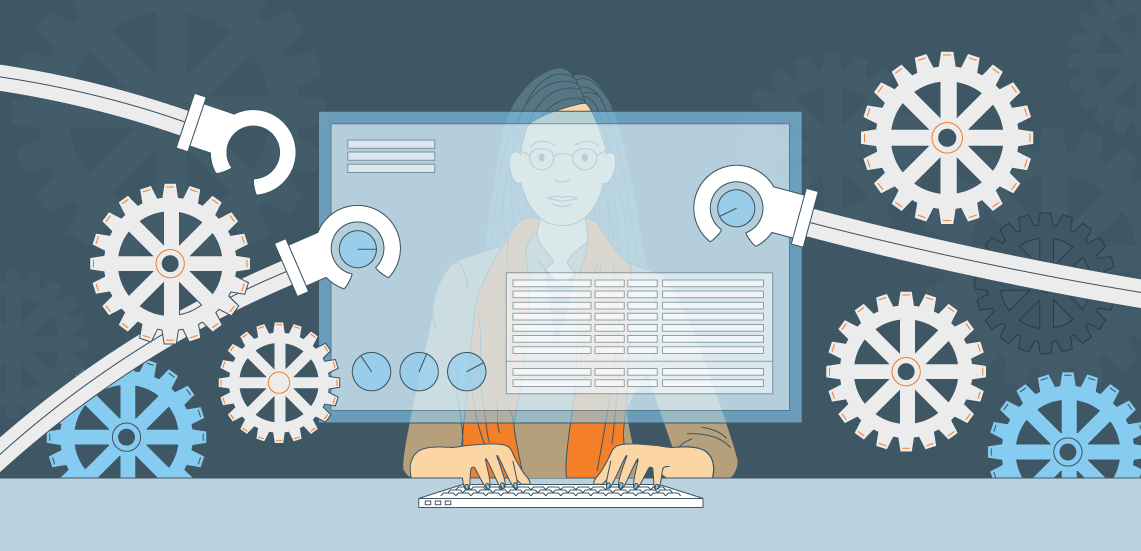 If you can explain it to a robot, you can automate it with RPA
Robotic process automation deploys "software robots" over existing IT infrastructure to automate well-defined business tasks. It allows you to create custom intelligent process automation solutions that:
Slash operational costs
Save time on tedious manual tasks
Reduce operational risk
Expedite data processing
Improve CX resolutions
Scale with your organization
Take the robot out of the human
RPA bots replicate the behavior of human knowledge workers by autonomously interfacing with front-end infrastructure. Think of it as an automated digital assembly line. Bots do the grunt work so humans can handle judgment-based functions that add value to the organization.
Repetitive tasks such as data migration are consequently executed with unparalleled speed and accuracy. This scales back on:
Time: Shave thousands of manual labor hours to enable knowledge workers to spend time on more strategic or valuable work
Money: Spend one-third the amount of money you would for of a full-time equivalent (FTE) worker
Risk: Reduce risk of human error through strict compliance with codified rules and regulations
The result: Digital processes are optimized for efficiency, and your human workforce is free to focus exclusively on new value-add opportunities.
Mapping a successful RPA implementation
A successful RPA implementation is typically executed in three core steps. These are:
1. Create a roadmap to ROI
Start by identifying your organization's location on the RPA Maturity Curve to assess the level of IT and business involvement necessary to achieve your RPA objectives. Then, select a leading RPA software, such as UiPath, Automation Anywhere or Blue Prism, to develop outcome-driven solutions. During discovery, developers will need to collaborate closely with business users and IT stakeholders to identify the top process candidates for automation. Project owners will then need to draw up a plan that leverages the RPA tool best suited to reaching the target destination.
Next, correlate project and governance requirements to the appropriate level of bot complexity. This will ensure that each RPA implementation works within your budget and technical capabilities while still generating the desired process outcomes.
2. Plan a fast-track to value
RPA deployment is inherently swift, but can be accelerated under the right team. Software robots can operate on top of APIs, limiting the amount of custom development needed for implementation. RPA also has unmatched integration capabilities. Bots learn by mimicking human interactions, making them adept at executing cross-platform functions.
These advantages can be further optimized by identifying sequences of well-defined tasks and using those as building blocks to plan a successful implementation. This will allow your business to handle RPA deployments even at the deep end of the RPA Maturity Curve, empowering innovation and accelerated digital transformation.
3. Execute on-time, on-budget, and on-point
Bot deployments that expedite data-processing tasks, reduce risk, and drastically scale back operational costs will invariably generate ROI. However, any successful RPA execution requires a team of developers that is sympathetic to the intricacies of an operating environment.
In other words, it takes a custom automation solution tailored to operational capacities and business requirements to develop a sure and fast path to value.
Define the process first, create value second
RPA's potential is far-reaching both in terms of its use-case diversity and its scale, assuming you clearly define the process that you intend to automate before attempting implementation. As long as you do that, RPA can add value in any of the following use-case categories:
Risk management
To err is human; RPA bots are accurate and compliant by design. They won't press a wrong key or accidentally enter an incorrect data value. Every action is the product of a configuration.
This rigid conformance to protocols makes RPA bots adept at validating the operational integrity of even the most complex processes. Their ability to reconcile various data values is unparalleled; they're literally quality-assurance machines.
Data migration
No integration, no problem: RPA bots are API-agnostic so they can interface between disparate programs as fluidly as humans – only they never get tired and they don't make mistakes.
Developers can configure RPA bots that automatically and perpetually move data between non-integrated applications. No expensive IT overhauls, no time-consuming custom integrations, and no painstaking manual migrations necessary.
Customer experience
Operational efficiency is a means to a greater end: elevating the customer experience. RPA's ability to automatically and compliantly migrate data between various systems can drastically reduce processing time for digital customer interactions.
Whether you're a marketing team looking to expedite responses to inbound customer requests or a financial institution trying to streamline application processing, well-planned custom RPA solutions can propel superior CX.
Application development
RPA has deep roots in QA automation for software development, particularly for unit and regression testing. But bots can also be used for numerous other application development functions, including:
Vetting advanced automation use cases for compliance with regulations and QA standards
Migrating data into a new app or site from unaccessible APIs
Reducing test surfaces when constructing custom APIs
This liberates your developers to focus on cultivating UX value for customers while also accelerating time-to-market.
Other uses for RPA
RPA bots are capable of improving operational efficiency in industries that include, but aren't limited to:
Finance
Insurance
Supply chain management
Human resources
Consumer products and manufacturing
Healthcare
To get a more complete picture of RPA's potential business benefits, click here to see the outcome of a successful deployment.
This content was originally created by Arrow Digital, a Softvision Studio.