The Next-Generation Pharmacy Experience has Arrived
How a leading beauty & retail pharmacist and Cognizant Softvision are redefining the contemporary pharmacy experience through high-touch, software-driven customer engagements across the value chain.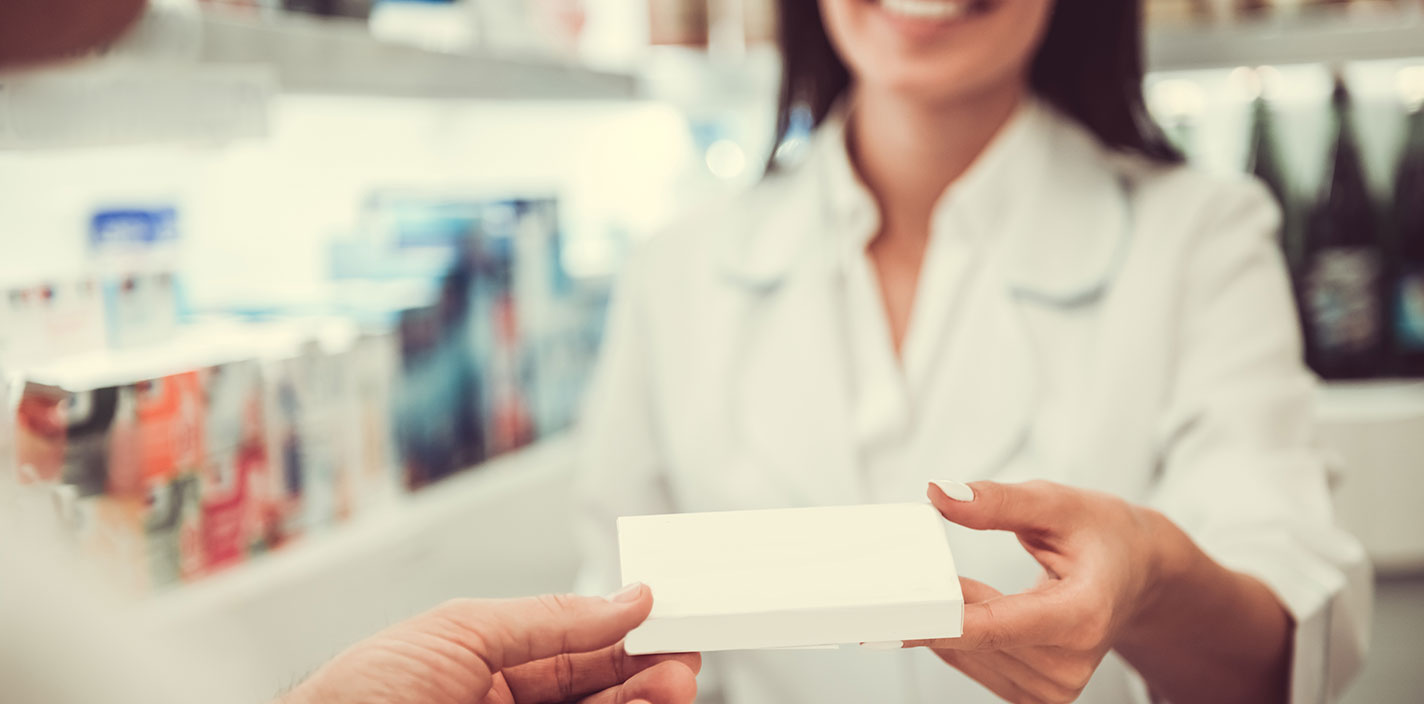 Our client is charging forward and setting a new bar for customer experiences in the pharmacy and beauty world. For the past five years, their objective has been ambitious, but clear–integrate new physical and digital touchpoints and elevate the healthcare experience for customers, all while remaining hyper-personal. 
The focus has initially been on their stores within a single country, operating within the context of that country's national healthcare system
Stepping further into the digital economy is an important strategic objective for the organization, but so is maintaining the human side of the business. The interactions between pharmacists and customers have always been a key part of visiting their stores and leveraging technology could not put that high-touch experience into jeopardy. 
Reimagining the pharmacy value chain could create new standards for how pharmacies operate and integrate into customer lives. Done right, this would further personalize interactions and make the customer experience an even stronger one. 
In a joint partnership with Cognizant Softvision, our client is making this vision a reality. Combining teams of technologists, designers, product thinkers, and more, the client and Cognizant Softvision are going beyond building great software. They're completely transforming their internal software engineering capabilities to establish the brand as a lasting market leader in this always-evolving digital economy. 
This transformational partnership is key to the client's long-term digital journey. Together, we're building things faster, seeing new opportunities, and driving stronger outcomes. Let's explore how we're making this happen.
The next-generation pharmacy experience
The evolution occurring within our client's organization is a digital re-think of the most common and critical customer-engagement points. 
At every interaction, we're asking things like:
How can we augment

this

touchpoint with technology and create an improved, higher-touch experience? 

How can we use technology to remove steps and provide faster solutions for our customers?

How are our customers' expectations changing, and how do we stay ahead of that change?

What can data tell us that allows us to further personalize our interactions? 
As these questions have been answered, new opportunities have been identified that are dramatically reshaping the customer experience. 
Not only is the client collaborating with Cognizant Softvision to offer a better service to its customers, but it's also opening new markets, establishing new revenue streams, and optimizing operations in more and more areas. 
It's taking the old ways of doing things and digitally empowering them to completely transform the business.
The Usual Way
The New Digitally-Empowered Way

Customers schedule time off work and physically visit a doctor's office for every health need.

Log into a 'digital clinic' and get care support

and

treatment (including Rx's) on-demand.

Drive to a pharmacy and wait in line to pick up a new prescription or refills.

Customers refill prescriptions through the app with fast, free delivery.

It's common to forget refills and notice expired prescriptions last minute.

Prescription auto-refill through a customer's online profile.

Customers drive store to store looking for health & beauty products (or just give up!)

Customers shop online or check local store inventory to plan a trip.

People put off Flu shots and other vaccines due to forgetfulness or avoidance of lines.

Easy online time-booking for vaccinations in-store with a health professional.

A disconnected, often impersonal health care experience of clinics and pharmacies.

A connected and personal experience that streamlines the path to outcomes & improves care.
This entire new initiative puts the customer at the center while removing friction. The resulting Next-Generation Pharmacy Experience is an ecosystem that is effortlessly integrated into the lives of customers.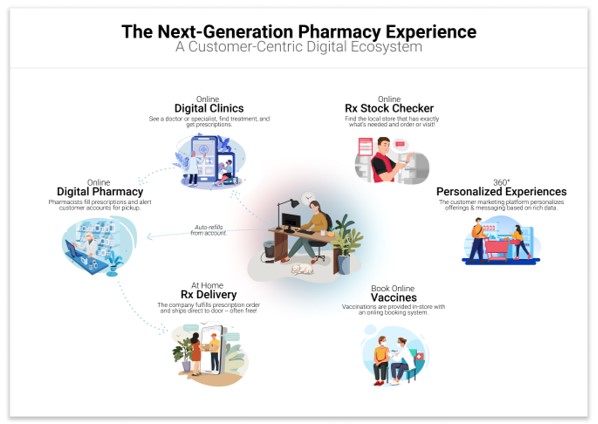 When customers need to speak with a medical professional and explore treatment, they now can through the many Digital Clinics found on the company's website.

Often, prescriptions or other treatment plans are provided during these consultations. These can now be fulfilled online as well through the digital pharmacy. 

With fast (and often free) at-home delivery included for prescriptions and other online purchases, customers can now go from problem to remedy completely from the comfort of their own home. Refills can be set automatically with delivery, again, included.

Of course, though, sometimes customers still need to (or want to) visit a store. The digitalization efforts at our client's organization have elevated that experience as well. 

Customers can now search inventory at their local store to make sure that what they need is in stock before visiting. This prevents wasted trips, points customers to the best store for their needs, and makes sure that customers aren't left unsatisfied to then visit a competitor. 

By building a digital ecosystem for their brand, the company is able to personalize marketing and communications as well. In partnership with Cognizant Softvision, our client has modernized their marketing systems and connected data from many sources to form a single view of each customer. Through this, they can create more relevant, meaningful, and helpful messages as they interact and engage.  

This Next Generation Pharmacy Experience is driving the business forward. So how did we build it?
How a transformational partnership is making it all happen
Building a truly modern pharmacy experience requires building software with a truly modern software delivery team. 

What we've achieved with our client takes more than simply plugging in individual talent to fill gaps and write code for pre-defined logic and features. That kind of staff-augmentation approach may get initial objectives knocked out, but it doesn't drive long-term progress and consistently strong product performance. 

As an organization grows within the digital economy and its technology requirements become more complicated, partnership models become increasingly critical for lasting success. Here, "service-provider" & "client" become simply "partners" and teams share in the vision and priorities of their work. 

This new model requires a fundamental change in how teams are measured. 

Execution along a roadmap is simply not enough for teams within a partnership. Performance-measurement areas like Autonomy, Quality, Business Impact, and Velocity must be their KPIs. These are Cognizant Softvision's exact KPI dimensions for the pods partnered with the client organization.  

Within our partnership, there are effectively no sides, no separation of "big-picture" objectives, and all contributors understand that their primary focus is on the success of the product itself. 

This is key to shifting a delivery team's thinking from project-centric to product-centric. Business outcome delivery is just as important as shipping features on time and without bugs. 

Every contributor owns their domain while working in close collaboration with peers to deliver at speed and as a specialized, highly effective unit. 
Business impact, faster than ever
Cognizant Softvision's software product engineering (SPE) pods and the client are achieving some exciting new milestones together. 

As partners, we've consistently reduced time to market by 10% for key elements of this digital pharmacy ecosystem. The Flu Vaccination Clinic–used by customers to book online in advance of a pharmacy visit–was highly complicated to integrate but highly successful as well. After deploying the clinic in 2020, it accounted for over 30% of that first year's vaccines. 

Working together to update and integrate the prescription shipping system with the country's national health services, we reduced shipping time standards for customers by two whole days–a significant improvement in the customer experience and major cost savings for the organization. 

And we're continuing to move faster together with measurable impact. After a recent somewhat last-minute push from client leadership to integrate a critical new feature-set into the online customer experience, we–as always–delivered. 

Here's what a leader at the client's office had to say after our daily standup:

Partnerships of Perpetual Progress
In this fast-moving world of digital change, innovation and adaptability are unlocked by the agile approaches to software development, product culture, and highly-developed skills that fully-realized partnerships can unlock for organizations. 
Together with Cognizant Softvision, our client has leveraged the power of partnership to reinvent the pharmacy experience for a new generation. 
As this relationship continues to grow, so does the speed and agility of the pharmacy retailer in their market leadership. What product or platform evolution comes next will be defined by an always-changing market and the client's ambition to provide the best-in-class, highest-touch, and most personal experience for customers. Our highly specialized and closely partnered teams are integral to that mission. Be on the lookout for what comes next.