The 256 Conference: A Glance to the Future
Distinguished local and international speakers gathered to celebrate Programmers' Day in Bucharest, Romania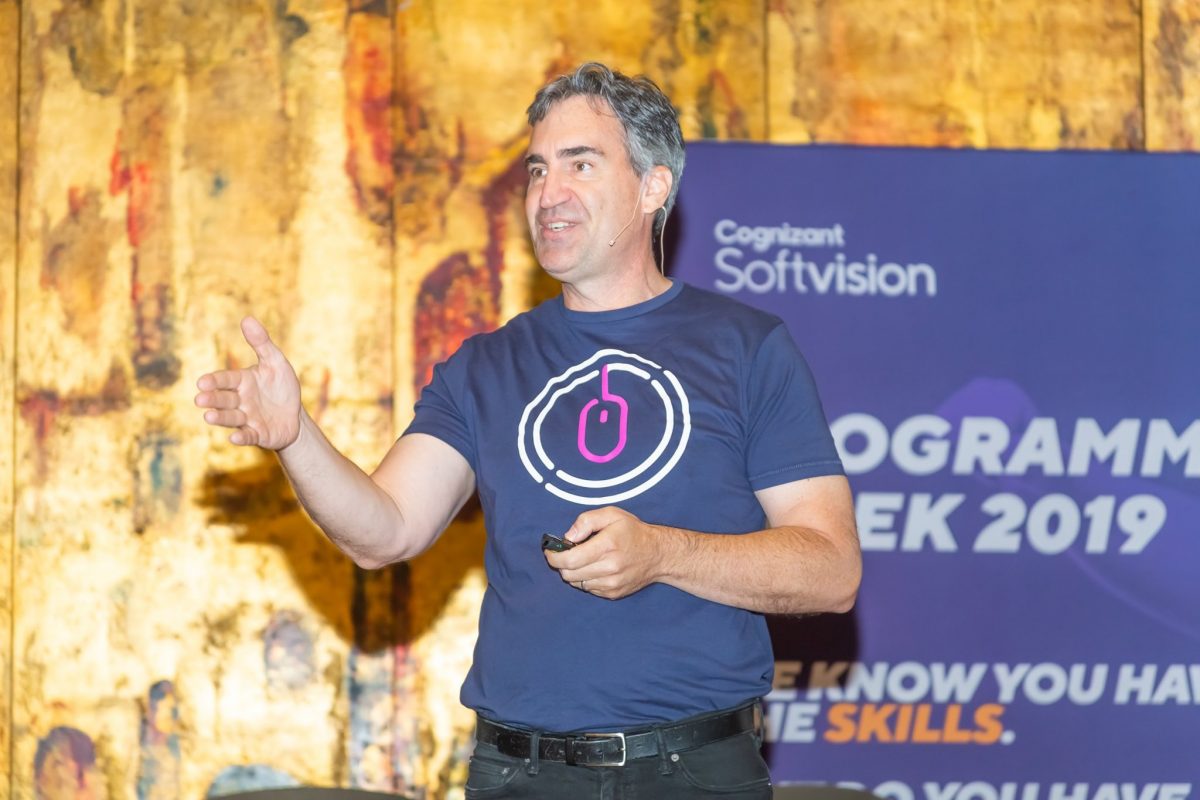 Great minds think alike and developers are no exception! On September 13, 2019, more than 160 developers gathered at the Intercontinental Hotel in Bucharest to attend the 256 Conference, a conference dedicated to programmers and developers. The event, hosted by Cognizant Softvision, was a celebration for International Programmers' Day which falls on the 256th day of the year and was part of the 2019 edition of Programmers' Week.
The first speaker, Malcolm Frank, President of Cognizant Digital Business, delivered a powerful presentation on "How Digital Is Driving New Models of Innovation." He explained that VR and AR are changing healthcare and biotechnology and talked about a voice recognition system that can detect early onset illnesses like Parkinson's and Multiple Sclerosis designed by scientific Rita Singh as an example. "In 2025 VR will be bigger than TV, and AR bigger than VR," Malcolm stated.
Afterwards, he caught the attention of the audience with experiences like Case Keenum, an American football player who improved his career after one year of interaction with STRIVR, a VR software. "We need to rethink the nature of the work itself," reflected Malcolm, who imagines a future working next to cobots, "your new colleagues." From his point of view, 75% of our jobs will be better with AI. "With VR & AR, the service economy will give way to experience economy," he concluded.  
Morning sessions continued with Andres Angelani, Cognizant Softvision CEO, on stage. "We are all familiar with the first Industrial Revolution and what it meant for humanity. But, there's been a great deal of talk lately surrounding the fourth: a revolution that will be characterized by AI, genome editing, AR, robotics, 3-D printing, connected things, and decentralized networks," Angelani highlighted. "We have an opportunity and responsibility to find our purpose – to bring order and structure to this next revolution – the fifth-, this will undoubtedly lead to a dramatic shift and demand with respect to talent." 
Andres also introduced his book, "Transforming While Performing" that launches globally in October 2019. "Transforming doesn't just mean your product line or your offering, it also means transforming your business and culture around employees, and ensuring you have the right strategy to attract, train and retain the right staff for current and future success," mentioned Andres. 
Next, a live refactoring session with Victor Rentea took place, with an insightful session from Axel Fontaine that followed; offering wonderful food for thought about modular monoliths. Later in the afternoon, Shaun Walker, creator of DotNetNuke and our Technical Director and Enterprise Guildmaster, shared his insights on 'Blazor: Blazing A Trail For .NET Web Developers'. Presentations by Bret Greenstein and Vlad Iliescu were also part of the agenda. Finally, Vlad Zelinschi closed the conference with a live coding session on the "State Management in React using Context and Hooks APIs."
The fifth edition of Programmers' Week closed with more than 160 skilled brains thinking alike, performing with purpose and chasing innovation. Thanks to all who delivered great Tech Talks, as well as the international audience for being part of Cognizant Softvision's largest technical event. See you next year!
The Speakers:
Malcolm Frank, President Cognizant Digital Business

Andres Angelani, CEO at Cognizant Softvision

Axel Fontaine, Founder and CEO of Boxfuse

Shaun Walker, Guildmaster of Enterprise Software Cognizant Softvision

Victor Rentea, Independent Trainer & Coach, Java Champion, Lead Architect IBM 

Vlad Zelinschi, CTO @ Strongbytes, Google Developer Expert

Bret Greenstein, Vice President and Global Head of Artificial Intelligence Cognizant Digital Business

Vlad Iliescu, Head of Ai Strongbytes, Microsoft MVP
Here's a video with a sum up of the 256 Conference!
And a gallery with some of the best moments of the day: