Gamification has been proven to trigger real, powerful emotions which lead to positive user experiences resulting in better engagement, higher motivation, and increased productivity. With that idea in mind, we created "Game of Pods," a fun approach to development that allows our teams to get motivated while achieving personal goals.
How does it work? It's simple. Our associates work as a Pod and collect badges by executing specific actions for which they earn Experience Points (XPs). When reaching certain milestones they earn trophies, which give them an accelerated number of XPs. The sum of all their XPs determines the maturity level of the Pod.
Playing games is a big opportunity to reinforce our identity. So as part of this initiative, during the month of April, we launched a fun contest for our Pods: the Identity Challenge. To celebrate the uniqueness of our Pods, they were invited to put their creativity to the test and share their names, avatars and mission statements. Pod magic happened across all our Studios, with 16 teams and more than 170 associates submitting their most creative ideas.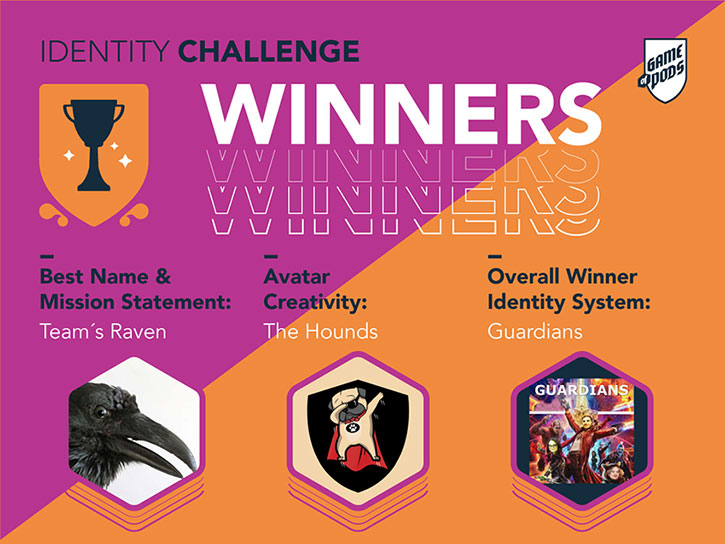 The decision wasn't easy, but some favorites emerged and three teams earned their spot in our Pods Wall of Fame:
For Best Pod Name & Mission Statement:
Team's Raven – For creativity and focus on making use of a metaphor all Pod members identify with and for working as one team with the client.
Mission Statement: "Raven perspective to find smart solutions where human beings fail, when solutions are not available on earth we fly to develop amazing and magical code."
For Best Creative Avatar:
The Hounds – For pure creativity and style resulting in excellent design.
Mission Statement: "Biting the competition"
For Best Identity System (Name, Avatar, Mission Statement and Identity Process):
Guardians – For extreme creativity and cohesive identity from head to toe and for all the while having fun in the process, taking teamwork to the next level.
Mission Statement: "Delivering the best integration engineering solutions to our customers with competence, commitment and high level of quality."
Our CEO, Andres Angelani, shared his pride in the participants and winners of the competition, saying, "Our identity is a key component of our Pods and reflects our unison as a team and our alignment to achieve our goals. Through your agile mindset, you embody our corporate values, keep your Pods rocking!"