Taking a Trip Through the Fascinating World of Web Development
Highlights of Our "Diamond Gatherer" JavaScript Course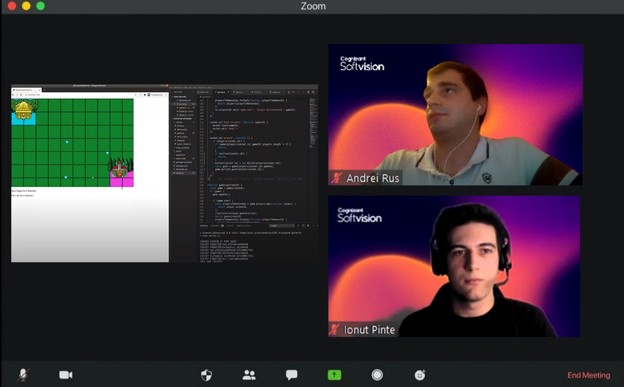 The Diamond Gatherer story began on November 11, 2020 on Zoom, when almost 100 participants boarded the "ship" that was about to transport them throughout the six-session online journey. 
Our JavaScript course, "Diamond Gatherer" aimed to introduce the participants to the fascinating world of web development. The course focused on how to implement a browser game in six weeks and was geared toward those with little to average programming experience and knowledge.
Throughout all of these online sessions, Cognizant Softvision trainers discussed JavaScript, WebSockets, NodeJS and other technologies they encountered during the implementation of the game. Attendees learned how to find and implement solutions and how to explain each line of code and new syntax.
The participation rate was very high at each session, with both trainers and trainees alike thoroughly enjoying and appreciating their experience. 
What do trainers say about the course?
Ionut Pinte has been a developer at Cognizant Softvision since January 2019, with a strong focus on Ruby on Rails.
"I was a trainer for the first time during this course and I started this journey a bit unsure, but all in all, it was great. The satisfaction of helping and teaching others, combined with my personal evolution, made the course a delightful experience."

Andrei Rus joined Cognizant Softvision five years ago, and has a strong focus on programming either C# or Javascript.
"I was pleased to see how many people are interested in learning and practicing Javascript. The satisfaction for doing this comes from the participants, when you see their hunger for knowledge and dedication for the programming. As a trainer, you must do your best to lead and help them. I really enjoyed these sessions and hope that everyone who joined liked this, too, and learned something new."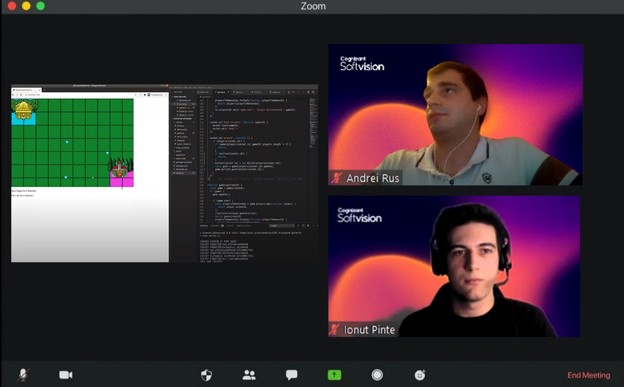 Praise from the trainees
"The Diamond Gatherer – JS Course was a great experience! It's ideal for those who want to gain a lot of new skills, be challenged and learn from professionals. It was intense and rewarding at the same time. The trainers were very professional and dedicated, and they went the extra mile every time they had the opportunity to do so." – Silvia Meleg
"I had the opportunity to learn from great trainers. They are really passionate about what they do, they are really patient with every question you have, and they give amazing answers to your questions. The course was very well put together and we had step-by-step guidance. It was an overall pleasant experience." – Ardelean Marcus
"Diamond Gatherer was a very good course, with very good and very dedicated trainers. You have nothing to lose if you participate and so much to learn." –  Petrisor Alex
"The whole idea itself was very interesting. The combination of several 'worlds' in programming, such as front-end with back-end and multiplayer in creating an online game, is really something!  I really liked it and it is something that should be done more often and in even more interesting projects!" – Titoi Gabriel
"I am very happy I took this course. We learned a lot in the span of just six sessions. It was a brilliant idea to combine more concepts in just one multiplayer game and a chat, without making it too hard. With this format, we acquired a lot of information. Also, the homework made everything clearer and allowed us to get the hang of how the things work and how the frontend and backend communicate with each other. In addition, when needed, we had meetings at the end of the week where we discussed what we were doing and asked questions. Thank you for introducing us to the world of JavaScript!" – Daniel Ivanov
"I joined the Diamond Gatherer JS Course mainly to learn about the Socket.io technology, and I ended as part of a small, supportive, great community! The trainers have been very creative with homework that helped me build up the required knowledge. I will definitely join the future projects Cognizant Softvision plans to organize!" – Lucian Sandu.
"I loved the fact that we developed a video game. The code we wrote through the six courses seemed to be written in order to leave plenty of room for enhancements. I want, as a game enthusiast, to continue developing this game and change some elements (including visual ones), to add new mechanics like picking up different weapons or generating different diamonds which value more than one point or maybe to give the player more options to win. Imagination is the limit. I would also like to deploy the game after making these changes and, as a sign of gratitude for you, those who encouraged and helped me to get there, maybe share the result with you." – Alexandru-Cristian Pop
"This was a beautiful experience. The trainers were friendly and strived to provide useful and adaptable information for beginners and advanced. They offered tips and motivated us to find solutions and ideas on our own. I can't wait to see what's next." – Patricia Rocaș
"Diamond Gatherer was a very simple to understand webinar. The teachers were very professional, they explained the whole course in 'beginners' words.' The homework made this webinar exceptional. All in all, it was a very pleasant experience from which I learned a lot!"  – Cihan K.
The Cognizant Softvision team was thrilled to provide such a wonderful learning experience for our eager trainees. The vast majority of participants completed their course so successfully that we gave a certificate as a sign of gratitude for their involvement in the course.