It is one of the most common challenges retailers face — inventory management. Too little inventory and you face backorder fulfillment expenses, poor customer experience, decrease your competitive edge and even lose revenue. On the other hand, too much inventory leads to liquidation, reduced inventory turns, tied up space and cash flow, and reduced margins.
In order to solve these problems, it is necessary to first understand the causes. There are several factors that can lead to inventory issues, such as volatile forecasts, purchasing methodologies, market conditions, too high MOQs, and poor assortment planning.
These inefficiencies in inventory management have a far-reaching impact, affecting many areas of the business and operations, including:
Inventory optimization

Demand management

Fiscal efficiency

Multi-location efficiency

Channel growth
Gain control over your inventory
Retailers can incorporate the right technology and software to increase sales and profits. Automated solutions are available to help retailers with everything from Assortment Planning through Replenishment to help manage the supply chain process in an accurate and timely manner.
Cognizant Softvision Suite provides inventory management solutions for omnichannel retailers, including performance tracking merchandise financial planning, assortment planning, inventory optimization, purchase order planning, and allocation and replenishment.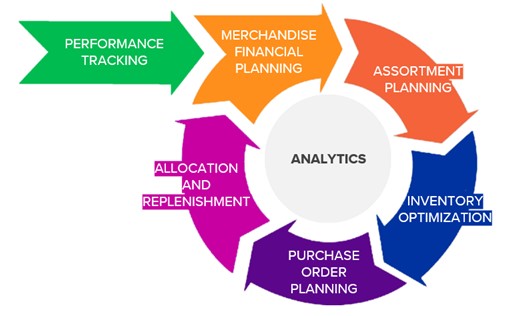 Using industry-leading methodologies, Cognizant Softvision has helped retailers:

Increase gross margins

Improve staff efficiency

Add automation

Reduce expenses

Increase sales

Improve inventory turnover

Through partnership with Cognizant Softvision, clients have improved their operations and saw increases in gross margin, inventory turns and profitability for over 25 years.
One of Cognizant Sofvision's customers, Flaghouse, spoke of their experience, saying, "In less than 9 months of implementing, our active inventory has come down $1 million dollars (more than 20%) since its peak in mid-February of this year. In addition, the inventory is $270k less than it was during the same date a year ago."

Explore more of Cognizant Softvision Suite by visiting our website or contact us to request a demo.