SOLID Week: Five principles of programming in five days
Highlights from our Mobile Community's Week-Long Webinar Series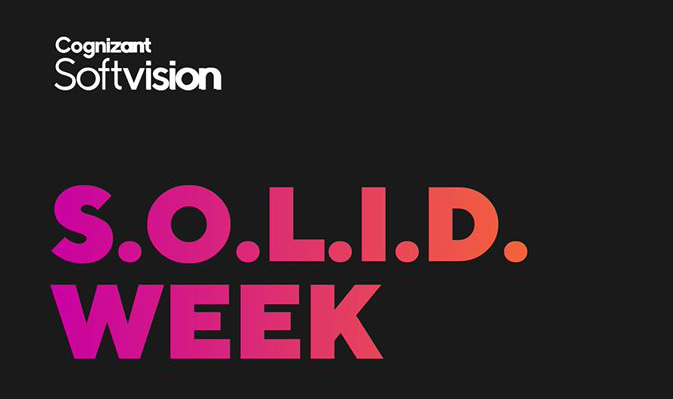 From May 25-29, 2020 Cognizant Softvision's Mobile Community led a week-long online event, SOLID Week. The webinar series presented five SOLID principles of programming from a mobile (Android and iOS) app development perspective.
Turning a simple idea into a community initiative
Prior to SOLID week, our Mobile Community had organized a similar event that also took place over the course of a week. The series, called "Dependency Injection Week," offered various presentations on the topic of Dependency Injection where different frameworks were presented and compared. The event was a huge success and the idea of holding additional "theme weeks" was born.
After analyzing the annual survey with the Android Community leadership, another idea surfaced. While we were focusing on complex topics for our tech talks, our more junior colleagues from the community showed their interest in less complex topics that could help them learn the basics of programming in general and mobile development in particular.
So, for our next theme week our team decided to go back to the basics with our SOLID Week, offering presentations on the SOLID principles of programming. These presentations helped the more junior colleagues to deepen their programming knowledge and allowed our experienced colleagues to refresh their own memory. 
Turning an idea into a reality
During SOLID Week we had five presentations– one presentation a day for each of the five SOLID principles. With the help of our community contributors Adrian Olar, Cristian Kocza, Radu Marin, Diana Iacos, and Petronela Apostu from the Android and iOS Communities, we were able to hold a comprehensive one-hour session each day. During each session, a SOLID principle was presented, first with some theoretical information about the principle and then some practical knowledge demonstrated in an Android or iOS app. Lastly, a Q&A session at the end allowed some interesting debates to take place.
Day 1: Adrian Olar, Android Engineer in our Cluj-Napoca studio, started the event with his presentation on the Single-Responsibility Principle.
Day 2: Cristian Kocza, Dev Technical Coordinator in the iOS Community, also from Cluj-Napoca, followed Adrian with a webinar about the Open-Closed Principle. 
Day 3: Radu Marin, Android Community Lead from our Bucharest studio, continued with the Liskov Substitution Principle presented in an Android app. 
Day 4: Diana Iacos, Android Engineer from our Baia Mare studio, presented the fourth principle– Interface Segregation Principle. 
Day 5: Petronela Apostu, from the Android Community in Cluj-Napoca, closed the five-day event with her presentation about the Dependency Inversion Principle.
The main audience for the event were primarily the Romanian Mobile communities, however, colleagues from other communities were invited to join if interested. We also had two presentations in English where colleagues from other regions could join.  
We received great feedback after the event, and we are looking forward to another successful theme week in the future.