One of Softvision's clients is a company that has its foundation in epidemiology and international field science. The company is recognized for leading innovation in the prevention and mitigation of epidemic disease risk. Their data helps countries and multinational organizations manage and mitigate epidemic risk before outbreaks occur.
The company partners with governments and businesses around the globe to identify infectious disease risks, minimize the effects of outbreaks and contain the economic impact of epidemics.
At-A-Glance:
CHALLENGE
The company has created the largest infectious disease catalog in the industry, including a one-million-year stochastic event catalog informed by over 20 million simulations. They wanted to provide clients with the data and tools required to self-serve their needs with as little assistance as possible.
SOFTVISION'S SOLUTION
Softvision created a highly scalable and distributed system for managing healthcare information. The application manages everything from data aggregation from various sources and persisting it on a data warehousing system to visualizing historical data based on user needs.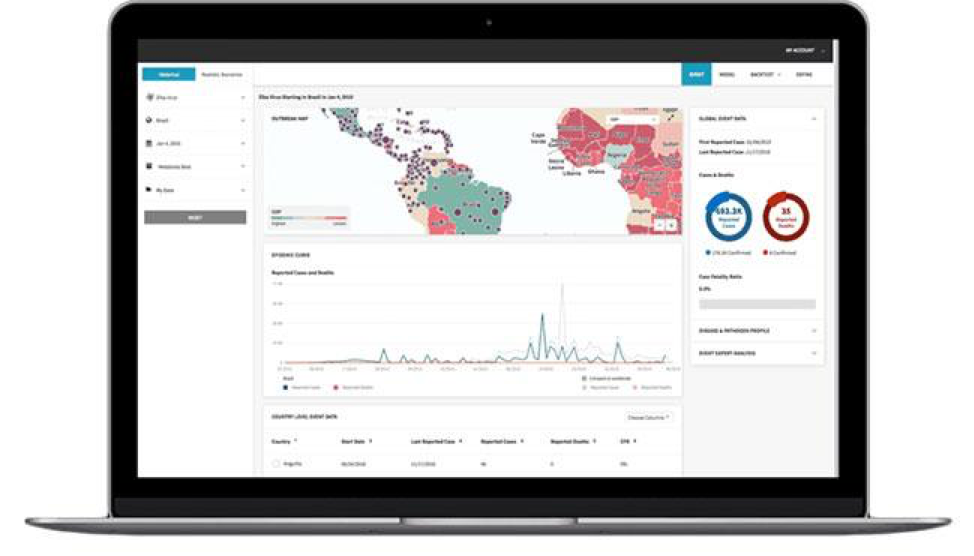 Another part of Softvision's solution for our partner included developing Ingestion Jobs. Ingestion Jobs are a set of tools and jobs that allow the import of new epidemic data received. The epidemic data is modeled by a team at the company and provided to Softvision in CSV files. The Ingestion Jobs process this data, aggregate it and store it a format that can be further used by the application to provide details to users on what impact a specific virus would have over preselected regions.
Softvision Guilds:
Softvision's practice areas, called Guilds, pull the right experts to build high-performing teams for our partners. Those agile delivery teams, or Pods, work as cross-functional teams to "Transform while they Perform." Each Guild is a world-class community of expert talent in an area of expertise. For this partnership, the following Guilds led the delivery success:

Engage
Make
Run
Evolve
RESULTS
The front end application provides real-time data analysis and allows the company's clients to understand current epidemic outbreaks and their potential economic impact on that specific region/worldwide.

The company uses the application with their clients, including major insurance companies, to provide more information and risk analysis to help users understand the epidemic risk and help them choose proper insurance policies.
Softvision's partnership with the company continues, as we are now developing a "lite" version of the application which will allow for outside access without the need of credentials.
"I want to thank everyone for making (this project) happen on time yesterday! It's a big release and the fact that we met the schedule is impressive and I know it took a lot of work for everyone to make this happen. We appreciate your commitment, focus, and effort to make this release successful." – Company CEO