SITECORE – Front Ender's Guide – Part 2
Terms and processes that are used frequently while working with Sitecore

After becoming familiar with the land of this comprehensive system in part 1 of this series, let's learn some basic terms and processes that are used frequently while working with Sitecore.
Sitecore instance:
It is a single installation of the Sitecore CMS. There can be any number of Instances of Sitecore on a server, but each requires a separate Sitecore licence. The Sitecore license file is stored in the /App_Data folder.
SIM & SIF:
As we saw in "Frontend Developer's Guide to Leveraging Sitecore – Part 1," there are various tools and processes available for Sitecore on-premises installation, depending on its versions. One of the best and most easy-to-use tools is the Sitecore Installation Framework (SIF). SIF is a PowerShell module that helps install and configure Sitecore instances including web instances, Windows services, databases, search engine configuration and certificates.
Sitecore Instance Manager is an easy interface, open source tool to install/uninstall and manage Sitecore instances. SIM was used for Sitecore versions 7 and 8.
Content tree:
This represents all the items (Parent/Child) in the content editor that are created in your Sitecore installation.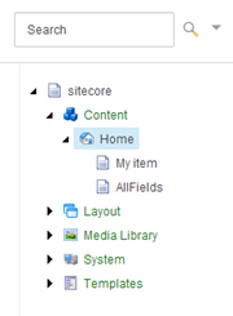 Item:
A node in the content tree is an Item. In the above screenshot, Home is the item. Items are based on templates. Items can be edited in the content area.
Author:
The author or content author is someone who uses the CMS to create, edit and delete the page content. There are many security roles in Sitecore and Author is given access to the content and content editing in the content tree.
Page layout:
Sitecore page contains page layout and components. Page layout is the overall page structure holding different placeholders.
Placeholder:
Placeholders are specific sections in every page layout where you can insert the components. 
Component:
These are separate pieces of data sourced content. Once a component is added to a page, a content item can be assigned to it. These components are usually reused on multiple pages.
Rendering:
There are some standard components in the Experience Editor which can be arranged on a page by drag and drop. These are known as renderings. This advanced feature is available in the latest Sitecore version as SXA – Sitecore Experience Accelerator. The list of such renderings is available in the toolbox for images, text, social media plugin and so on.
SXA:
Sitecore Experience Accelerator (SXA) is a useful module in forming pages easily by inserting various components. SXA provides a design interface separating if from the structure. Multiple developers can work simultaneously resulting in faster delivery and cost effectiveness. It works with Helix principles. Best use cases for SXA can be content rich sites, multi-tenant sites or sites which require frequent design changes.
Publishing:
Publishing is pushing the content changes from one database to another (usually Master to Web database). You can publish a single Item or the entire site from the publish menu in the editor. There are smart publish and republish options available in Sitecore.
Package design:
Package design is about sharing items and content from your local Sitecore instance to other team members. Below are the steps for the process.

The Package Designer displays a blank project. In this window, fill out the Metadata fields and select sources.



After everything is filled out select Sources, by clicking on Items Statically.

Select your files from the content tree that you want to be included in the package.


Click Next, specify source/package name and then click Next and Close.

After this, you will be back to the Window that we have started at (see picture in step 2). Now click on Generate Zip.

Click Next and see the download (world icon) button. From here you can download the zip of the package and share with the team.




Package Import:
Similar to package design, users can import any package from the Sitecore > Development Tools > Installation Wizard.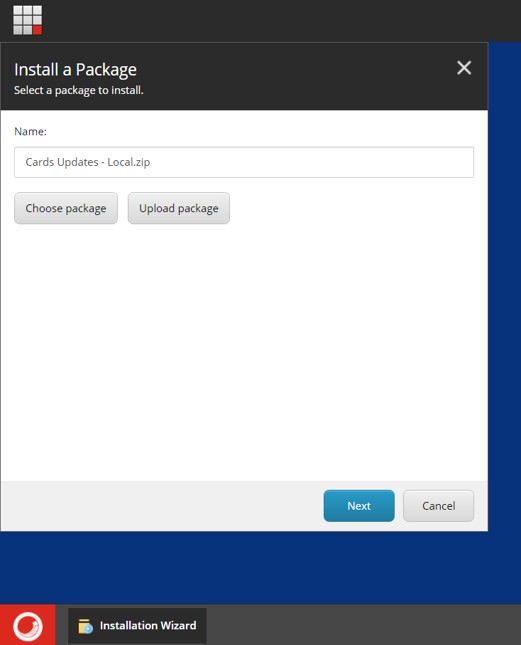 Upload the package from the folder and follow the simple steps on the screen.

Existing files can be merged or overwritten depending on requirements while importing any external package.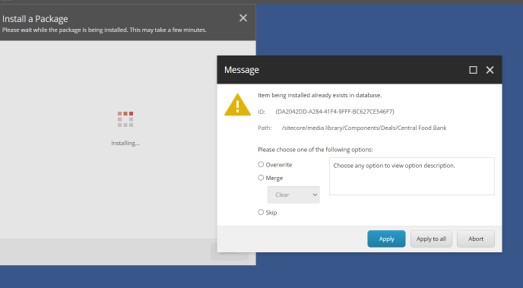 As the installation is complete, it asks for restart. Click on the close button to complete it.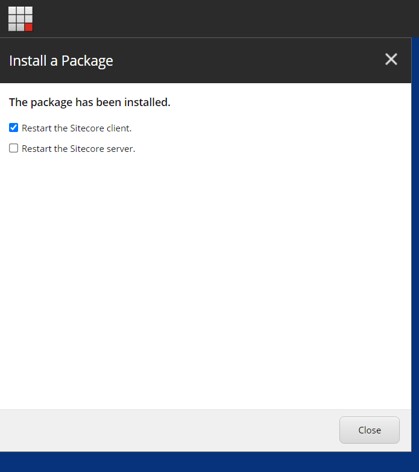 XConnect:
A set of APIs and services that exchange and connect all types of data regardless of their format or which input the data comes from. The interface which requests data is any trusted client or device and the xConnect layer lies between this and Sitecore database (xDB).
Refer to this article and part one, "Frontend Developer's Guide to Leveraging Sitecore – Part 1,"next time you're working with Sitecore.