Simplifying the complex immigration process
Cognizant Softvision partners to create a digital solution to simplify the complexities of immigration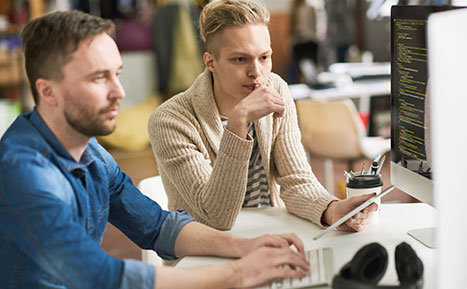 Our client has helped U.S. employers maintain compliant and secure workforces for more than two decades, as a proven partner in workplace I-9 compliance and immigration case management. Used by United States-based law firms for tracking and handling of immigration processes, the company's flagship solution offers the ability to send, receive, and store all data necessary for the immigration process. 
At A Glance
Flagship product created in 1997 after two attorneys identified the need for immigration technology

Leading technology vendor, adopted by most of the top-rated U.S. immigration law firms

Produces millions of I-9s and has had zero client fines
The product is used by United States-based Law Firms for tracking and handling of immigration Processes. Using the application Lawyers can send, receive and store all data necessary for the Process – immigrant's personal info coming from the foreign nationals themselves, information from companies employing foreign nationals, forms sent to/ received from government agencies. We contributed to developing the most intuitive, cloud-based case management platform for teams that require the highest level of compliance.
THE CHALLENGE
In 2012, the client began to see an increase in demand for its immigration tracker and I-9 platform. Without the proper technology and bandwidth in place, the client needed a suitable solution to handle the immigration paperwork in an efficient, optimal and scalable manner. 
OUR SOLUTION
Recognizing the abundant user base of the platform, our team of engineering experts wasted no time in diving into the project, focusing on updating key features that would enhance the platform considerably. The team focused first on creating a multi-tenancy architecture using technologies such as MS SQL Server 2017, ASP.Net MVC5 and .Net Framework 4.8. This would allow for a seamless and secure platform to accommodate the various versions of the client's platforms. 
Using our agile development process, we included experts from our guilds to build this high-performing team, called a pod, which would enable quick delivery for the solution. 
To ensure the engineered outcome included a cohesive, unified platform, our product and design teams used KPI's that measured velocity, quality, product impact, and autonomy to ensure a seamless transition upon rollout.
Each guild is a world-class community of talented engineers within each area of expertise. The following guilds contributed to the project's success: 
QA

Mobile

Enterprise Software
The pod offered technical expertise and consulting to help build an efficient and robust platform that would easily scale and could integrate easily with MS Outlook, Word, Excel and PDF formats and each law firm that uses the platform uses a variety based on preference as discovered in our discovery phase of the project. During the discovery phase it was also noted that administrators needed the ability to create, set up and configure new user accounts, but also attach emails pertaining to a particular individual or process, something that the existing platform did not allow. Using other technologies such as C#, Reporting Services, nHibernate, Amazon S3, JS/Query and CSS, these features were fully built out. 
RESULTS
With a history of eight years of collaboration, the client is continually up-to-date with the latest technologies that allow for easy configuration to adjust to growing business needs. The product has increased overall efficiency, cutting back on manual tasks and disparate systems and processes. 
In 2020, the client was acquired after offering the industry's most advanced compliance suite for over two decades.