Scan & Go Innovation Pushes Past the Boundaries of COVID-19
Long standing partnership opens opportunity for innovation amidst pandemic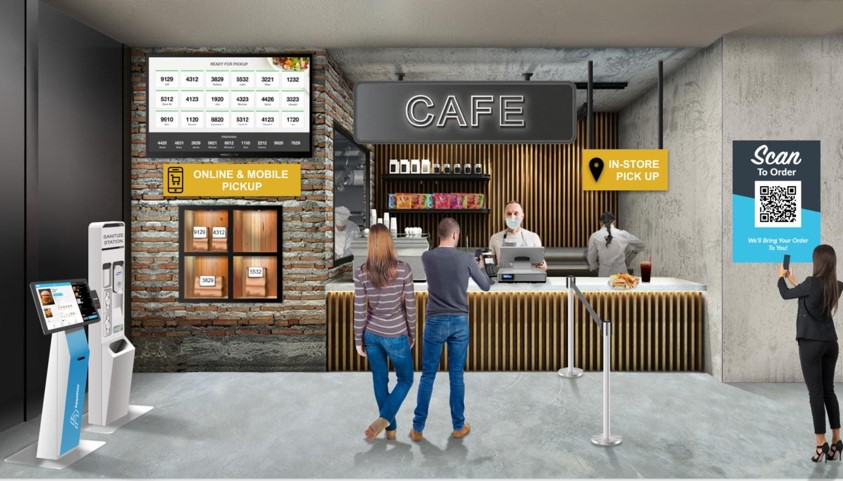 Our client, a leading enterprise cloud point of sale (POS) and management platform, enhances the ordering experience for diners and shoppers while making operations more efficient and productive. Serving several industries such as multi-unit restaurants, sports and entertainment, amusement parks, and education campuses, the client's platform solves operational ordering, and corporate challenges involving moving to the cloud and integrating multiple technologies into one singular solution.
At a glance:
Established in 2011

Utilized by some of the largest enterprise brands in the world

Connects several ordering technologies including, POS terminals, handheld devices, self-service kiosks, mobile and online ordering systems into one best-in-class application and technology integration
The Challenge
In November 2018, our client engaged with us to help augment its developing capabilities for an Android based, self-service kiosk that allows users to place and pay for their food and drink orders. This quickly evolved into a true partnership, with Cognizant Softvision owning, and independently delivering end-to-end functionalities for ordering. With the onset of COVID-19, many of its clients needed to shift toward a more innovative approach that would allow for less physical contact in an effort to remain socially distant as per health guidelines as using the same kiosk with multiple users would be problematic. 
Our Approach
After realizing the challenges that COVID-19 posed, our two pods (high-performing, cross-functional teams) sprinted into a short discovery phase to help align goals with execution. The pods identified a cross-platform web based alternative to the kiosk, where users could access from their individual smartphones, but since the Android kiosk technology is quite complex, the cost and time to develop an individual platform would not be viable as reusing code between mobile and web platforms is not feasible. Working alongside the client's internal team, our engineering experts acted as strategic consultants to develop a solution due to their existing relationship with the client and added value beyond engineering work. 
Using our agile development process, we included experts from our guilds to build two high-performing teams, called pods, which would enable quick delivery for the solution. 
The pods offered technical expertise and consulting to help build an efficient and robust platform that would easily scale. To ensure the engineered outcome included a cohesive, unified platform, our product and design teams used KPI's that measured velocity, quality, product impact, and autonomy to ensure a seamless transition upon rollout.
Each guild is a world-class community of talented engineers within each area of expertise. The following guilds are contributing to the program's success: 
After stay at home orders were issued due to the rising concerns around COVID-19, our pods, based in Bucharest and Baia Mare, quickly shifted into a 100% Virtual Pod methodology, but that didn't slow progress. Scrum ceremonies and calls moved entirely online for each pod, while daily activity reports were given to the client via Slack and by virtual Zoom calls while the pods found a better solution – moving toward a hybrid solution that would enable users to interact via smartphone, while keeping the kiosk in play.
By utilizing a simple HTML webpage on any iOS or Android device, to act as a touchpad for the kiosk, users would be able to drag, click, pan/zoom as they order, and the kiosk would break communication between the platform and the smartphone. With technical and security related concerns as a top priority, the pod continually consulted with the client on how the solution would prevent any misuse. 
As development continued, even with the pandemic, utilizing the Virtual Pod structure was very beneficial and that facilitated our pod members to be engaged like never before – connecting several times daily for project status and collaboration. The collaboration provided a channel to successfully build out the proof of concept (POC).
Based on an HTML5 and Javascript touchpad page, the POC used Ajax requests to send one way information through a simple local server to the kiosk, where the cursor would move acting as a mouse. It was a very fast iteration developed within one day and would serve as the foundation for the delivered solution. 
The Results
Despite the challenges that were brought upon by COVID-19, a final solution was developed for the client's platform within one full week.
The solution delivered was based on the first iteration and included critical capabilities such as cursor movement, click, scroll, zoom and other requested actions by the client. Switching from Ajax to a socket.io development atmosphere reduced lag and made the overall user experience smoother. Additionally, two-way communication between the kiosk and touchpad was reached, which allowed for a seamless transition between the two. Other key aspects of the delivery included:
Moving the broker to a remote server on Heroku, proving geographic distance would not be an issue. 

QR code capabilities on the kiosk screen, which automatically opens the touchpad screen and prompts the user to begin without any other action

Session expiration logic and dynamically regeneration of the QR to include session key, which prevents misuse of the kiosk by a user keeping control of it or accessing it later from a distance
It is a completely no touch solution that gives enterprises the opportunity to scale with not only a PCI-compliant payment solution, but also the ability to deliver a solution that consumers desire in the midst of a health crisis. 
With the success of the concept implemented, the client has begun development on a fully in-house, commercial, scalable version of the touchless experience.