With only 30% of enterprises in Australia and New Zealand starting to scale and harvest results from their digital transformation initiatives (Gartner), there is a huge potential for growth and a pressing need to transform now more than ever. While the majority of the workforce in Australia is trying to adjust to the new norm of working remotely after the COVID-19 outbreak, businesses are equipping themselves with tools and software to enable this new model. Leading technology companies like Google, Zoom, Microsoft, Atlassian have offered some of their cutting edge collaboration tools for free, but driving successful outcomes from a remote workforce is possible only through strong culture and engagement model within teams. 
As a digitally native organization, at Cognizant Softvision, we engage with our colleagues, partners and clients through our Pod methodology, combining product engineering best practices and gamification to drive KPIs and engage in unique ways. Virtual Pods that are a natural extension of our traditional Pods bring in top talent from multiple geographies, leveraging collaboration tools designed for remote working, driven by a common purpose are incentivized on specific business outcomes. In a recent article from Industry Week 'Tale of COVID-19: Crisis Inspiring Innovations', Virtual Pods have been featured as one of the innovations during unprecedented times. 
With our strong remote working culture, methodology and tools, we've been keeping our Australian clients on track, driving outcomes with zero disruption during this challenging period. For instance we've enabled a Fintech major with mobile apps that help customers self inspect their cars and a self-serve platform that continues to produce stellar customer experience. We've also extended our support and expertise across cloud maturity, BI, mobile workforce management, rapid application development, rapid application frameworks etc to our larger ecosystem. 
In order to ensure business continuity, organizations are now forced to look at newer ways of engaging with customers and employees. While a technology transformation might be straightforward, cultural transformation can happen only by making fundamental changes to the way a business operates.
If you would like to learn about how you can culturally transform as an organization or would like to have great conversations over coffee (virtually, of course, for now) connect with our experts here in the Melbourne or Sydney studio. Drop us a note and we'd be happy to chat.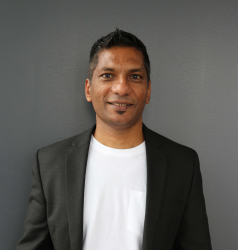 VP of APAC Business Development
Responsible for managing Softvision APAC, Girish is an integral part of Softvision's success story. In his 16+ year career with the company, he has held senior leadership positions across the business and in all major markets. Girish has played a key role in driving strong and sustainable growth by leveraging Softvision's deep relationship with the customers combined with sound business practices. Prior to this Girish was Delivery Head for Softvision and also managed India and Nepal Operations.