R&D in Review: Innovate and Make an Impact
A look inside Cognizant Softvision's R program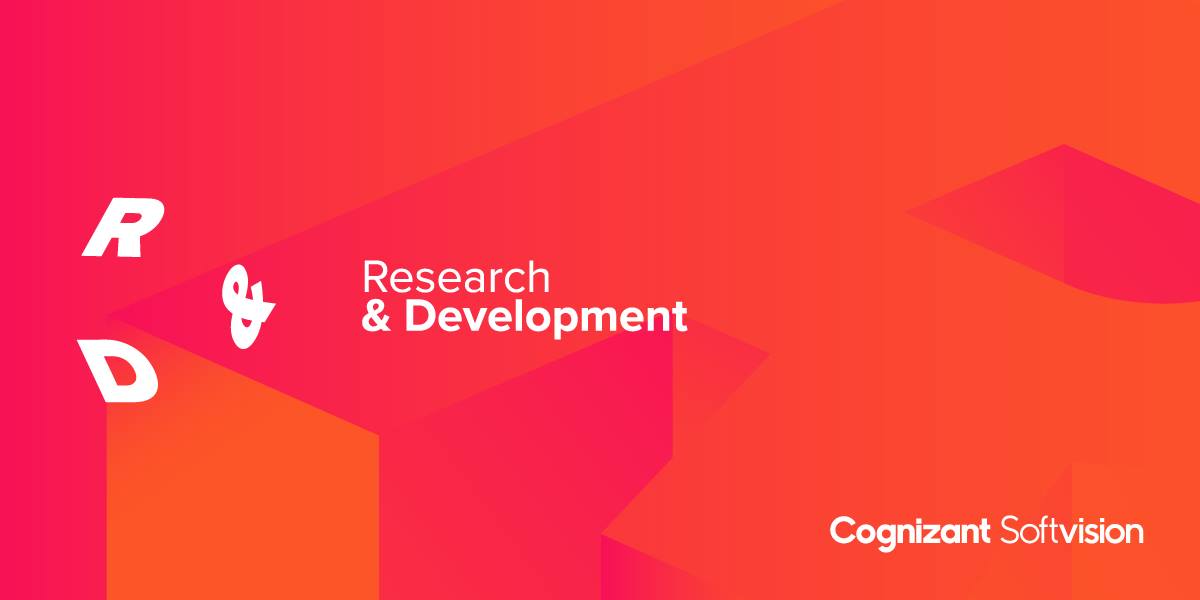 At Cognizant Softvision, internal projects are continually being developed and for decades, Softvisioners have tapped into their creativity – sharing their ideas. As part of the Romanian R&D (Research & Development) team, I can proudly say that the internal projects are part of Softvisioners' DNA. Before we officially named our team R&D, there were already small groups of colleagues creating apps and solutions – filling in the gaps and answering why a certain solution should be made.   
What we did (and I say "we" because I'm just a small wheel in this system) was to put in place a better defined structure of these initiatives, aligning them to internal and external purposes that matched our overall organizational vision. Naturally, community members were enthusiastic about this new structure and results soon appeared. Now, we have many projects ready to be launched, some already available, and some still adjusting, but all of them boost the experience we set out to create in this R&D space.
I've been with the company for almost 10 years and I can say this journey continues to be a defining one for me as a professional and individual. I enjoy working with so many talented people, across different areas and interesting projects. The most rewarding part of my job is seeing how much collaboration means for every individual's growth and development and how this creates a direct output in the results we're delivering.
My path at Cognizant Softvision has been a natural progression, from a junior support engineer to team lead and now, delivery management. These transitions have been made out of my desire to help as much as I can, so I see this not as just a promotion, but rather as an opportunity to contribute even more and make a bigger difference.
Joining the R&D area was a chance for me to help create a structure and a program that encouraged, valued and supported the talent from our communities, helping them reach their full potential.
As a structure, the R&D team is divided into four main areas of focus:
CSR & Community projects: Paired up with charity NGOs or entertainment groups 

Solving internal needs: A few core products

Industry solutions: Creating common business solutions to go to market 

Innovating: Looking at industry trends or world reality and creating solutions
Creating this team has been a professional development haven for me – full of challenges, solutions and opportunities for me to continue to push myself professionally.
Similarly, I can say that I'm always looking for new projects and ideas outside of my professional life. I'm a mother of two boys, and while homeschooling my children has now become a part of my day due to the pandemic, I've also continued to homeschool myself in different areas like literature, history, parenting and personal development.
COVID-19 Reshapes R&D 
The pandemic has meant a radical change for me, I'm a very social person. Though I was already used to working with remote teams, I've tried to connect even more during these months, so that we stay as engaged as possible.
As the pandemic began, we took this opportunity to help by trying to make a difference. So we created UNITED, an initiative that helps fight COVID-19 by offering people a way to ask for medical supplies, food, equipment or whatever they need in order to lower the spread of COVID-19.
Additionally, we set out to help the education industry – working with Boovie, a festival showcasing book trailers and developing their flagship mobile app. This allows the festival to carry on virtually, during a time period where most festivals are getting canceled outright. 
One of the things that impresses me the most about R&D is the sense of community and collaboration this program created, blended with a delivery focus orientation. Our colleagues are still primarily involved in delivery projects, yet still find the time to passionately contribute to the R&D projects – either by coaching junior developers, actually helping to develop the projects into new technologies and creating solutions for internal and external purposes.
Getting people to take action is something very natural to me, and I notice most people are driven by this hunger to do something meaningful. As all the R&D internal projects have a certain impact and value, we're being driven by the impact we make through our work – which is refreshing on so many levels.
Looking Toward the Future
We have over 30 projects in our inventory, some of which we released this year, like the new internal Portal, Boovie, and others like Skill Matrix and Linterview that are soon to be delivered, some ideas like a Home Automation Modular App, a virtual assistant app, that have been started and other community projects in the pipeline, so the rhythm is pretty agile. 
It's been an exciting venture thus far, and I believe the 2021 vision is a natural continuation of a strong 2020. We plan to finish up some current projects, and we look forward to exploring some other new ideas and opportunities and can't wait to share them when the timing is right.
All my appreciation and gratitude to the wonderful people engaged in all these initiatives, you guys are really making Cognizant Softvision The Place To Be, Now & Beyond!