Programmers' Week is a weeklong celebration dedicated to the programmers of the world and their amazing contributions to our industry. As we embark on the sixth edition of Cognizant Softvision's largest technical event, we have over 130 internal and external Tech Talks, presented by the very people we are honoring – programmers. Every week, we'll highlight a few of our speakers in hopes you get to know them a little bit more. 
Vicentiu Bacioiu is already an expert speaker at Programmers' Week, having presented in past editions. On September 18, 2020 he will deliver a talk for the third consecutive year. But, things have changed with the new reality that COVID has presented, so this time Vicentiu will replace his previous experience at the hall of the Intercontinental Hotel in Bucharest, for an online presentation from home. 
The development team lead from the Bucharest studio is always on the lookout for the latest web features. Having started his programming journey with JavaScript eight years ago, he's currently digging deep in Angular and RxJS. While involved in most parts of the software creation process, his two favorites are defining the architecture of the application and picking the right colors and borders until the screen looks "just right."
From Vicentiu's point of view, developers don't necessarily give the right importance to CSS and layouts. In order to showcase how easy they can create layouts without headaches, his talk will showcase how the new HTML & CSS layout features blend together into a natively supported web design, aptly titled, "Intrinsic Web Design – Simplifying layouts for developers."
The upcoming Programmers' Week will most likely be remembered as Cognizant Softvision's biggest event presented from home. For Vicentiu, it's a unique opportunity. "It's important to reconnect, to stay relevant. It's easy in these times to just go along with your tasks, but the routine can be boring. So doing something like Programmers´ Week, gets you out of pajamas and reconnected with your colleagues," Vicentiu concludes.
On September 14-18, 2020 more than 50 Softvisioners will deliver external Tech Talks during Programmers' Week, a five-day event, filled with amazing activities. This event honors all of our technical colleagues, their expertise, and our culture, which continually encourages and empowers knowledge sharing. 
Do not miss Vicentiu's talk "Intrinsic Web Design – Simplifying layouts for developers!"
When: Friday, September 18, 11:00 AM GMT+3 (45 minutes)
Register HERE
Want to know what's in store for Programmers' Week 2020? Click here to see the full agenda.
About Programmers' Week
In what started out as recognizing the 256th day of the year, also known as International Programmers' Day, Cognizant Softvision's Programmers' Week is now a week-long celebration that honors those who bring invaluable expertise and insights to our company.
Our largest technical event, Programmers' Week, is dedicated to the developers and software engineers from around the world who share their passion and commitment to engineering and delivering amazing software products. 
#DaretoCode with us – joining our company for our sixth edition of Programmers' Week, filled with thought-provoking keynote speakers, enriching Tech Talks and discussions, and meaningful connections.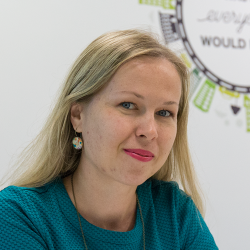 I've started my journey in the IT industry 13 years ago as a developer. I joined the management path in 2014 and it took me through different roles, challenges and opportunities. At the end of the day I realized that it all comes down to this: "If you want to be successful, it's just this simple: Know what you are doing. Love what you are doing. Believe in what you are doing."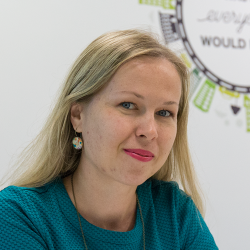 Latest posts by Ana Bandas