Bit of a different headline right? Yes, I'm over 50 and that's the title of this article. Those closest to me will chuckle and say, 'yeah, that's my guy,' but my teenage kids will facepalm, cringe in embarrassment and say with a straight face ,"I don't know that guy. Never seen him before in my life."
Now, I'm a big believer that if something gets you talking, even if it's controversial or embarrassing, it can often lead to a positive action or outcome.
Pop Culture & Mental Health
Take for example Tony Soprano. Stay with me on this one. See, if you live in New Jersey, you have a complicated relationship with him and the show, especially if you're Italian American. On the one hand, the show is often cited as the greatest television drama of all time, especially for its writing. He's an iconic fictional character. On the other hand, Tony is a member of the mob, a killer and a sociopath. So… there's that.
But when Tony ruled HBO on Sunday nights, the show also raised some important questions. The Sopranos questioned the importance of Christopher Columbus and the namesake parade long before it became a topic of discussion. The show also subtly asked viewers if Tony was justified in any of the brutal decisions he made, both for his nuclear family and his mob family.
And the most important question asked from the very first scene: Is Tony strong or weak by agreeing to see a therapist to talk about his issues with his mother, his panic attacks, even his mental health? A great deal of debate ensued after the Sopranos aired about how little men talk about the state of their mental health, instead keeping most of those thoughts and feelings to themselves. For many, it was refreshing and a revelation to see the strong stoic type (and yes, a sociopath) sitting down and depending on the episode, benefitting from or ignoring Dr. Melfi's sage insights and advice.
The mental health mantle has been picked up most recently by Kevin Love, basketball player for the Cleveland Cavaliers, who has kicked open a door once thought taboo in speaking about his own personal struggles with mental health. A professional athlete, world champion and all-star, Love came forward to talk about his ongoing struggles with anxiety and depression. Perhaps a sign of our times, this has endeared Love to fans and mental health professionals everywhere, a strong successful athlete who has been willing to put himself out there, come forward and reveal vulnerability and raise awareness for men's mental health issues, which are too often ignored or suppressed. Love has been on nearly every major talk show, using his platform, his personal experience and challenges to encourage more men to talk about their feelings and seek professional help.
Movember Lights A Fire
And then there is Movember, the annual event involving the growing of moustaches during the month of November to raise awareness for men's health issues, such as prostate cancer, testicular cancer, and men's suicide. The idea began about 20 years ago in Australia, where a group of men decided to grow moustaches throughout November for charity. This eventually led to a movement that has raised awareness as well as millions of dollars for men's health issues.
Once I hit 40, thoughts about my own personal health became more serious and urgent. Forty is one of those big numbers in your life that forces you to examine where you are, and how your body is holding up. I compare it to owning and taking care of a car. You take your car into the shop every 3,000 miles or so for an oil change, rotate the tires, replace the filters, etc. At 30,000 miles, the tune up might include changing the brake pads, and other important functions that keep your ride running smooth. That's 40… the understanding that you need to take a longer look under the hood and maybe think about how you treat your body moving forward.
I've spoken to a lot of friends who agree with that approach, and the importance of taking a preventative approach to your health vs. waiting until something goes wrong to say something.
That's why I've always applauded and admired Movember. Such a simple approach; get men to use their face as a sort of blank canvas and not just to raise money, but bring men together to remind us to: a) go see a doctor regularly; b) get tested and screened for prostate and testicular cancer; and c) don't keep you feelings all to yourself. Talk to your partner, your doctor, or a therapist regarding how you're feeling and the status of your mental health.
In the U.S., cancer is the second-leading cause of death. Meanwhile, the suicide rate for men is 3.5 times higher than it is for women.
Because of these sobering statistics, there is no better time than the present to say, 'Guys, get off your behind, go see a doctor, and go talk to someone.' And if I can't do that with just my voice, well then let me give you a constant reminder every time you see my face.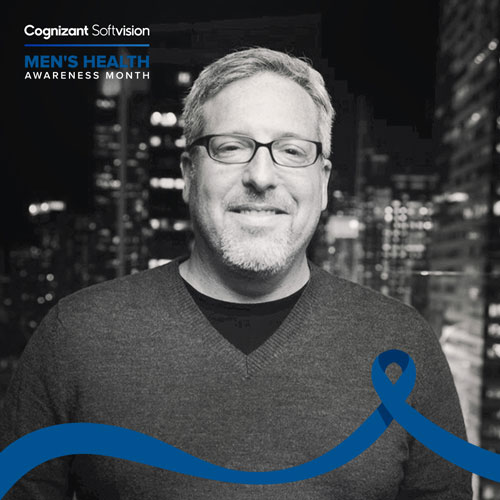 Join Me and Take Some Action
In November, I'll be doing something I've never done, and that's grow a moustache. I've grown goatees and full beards before, but never just a moustache. Not just any 'stache, but a glorious horseshoe moustache, one that forces everyone, including my kids, to say "I don't know what you're doing there, but I can't really look away."
And I'm asking for your support. No, I'm not asking for money, but I'd like you to take action.
If it's been a while since you went to the doctor, make an appointment. If you're feeling a little depressed, be proactive and talk to someone close to you. And if you're going through a real personal crisis, reach out to the National Helpline Database for more professional resources and assistance. You're not alone, and sometimes there's nothing stronger than raising your hand and saying you need some help.
And if you've been to the doctor recently and feeling right as rain, then why not join me? Share a picture of yourself growing a moustache or beard in the month of November, and encourage others to get screened, tested and talking. Already have facial hair? No problem, use November as an opportunity to talk to others about your health, share information about Movember, and get people talking. And if you're a woman, still no problem: get the men in your life to take some action.
2020 has given all of us unforeseen personal and professional challenges, forcing us to overcome obstacles we never expected. It's natural to assume that attention to our personal health may have been moved to the backburner. Let November be the month we move it all to the front burner and be proactive with respect to managing our health.
And if you forget or get lazy, me and my moustache will be here to remind you… us Mo Bros need to stick together.