Turning Old World Peripherals into IoT Devices
Leveraging Digital & IoT in the Store (Part 2)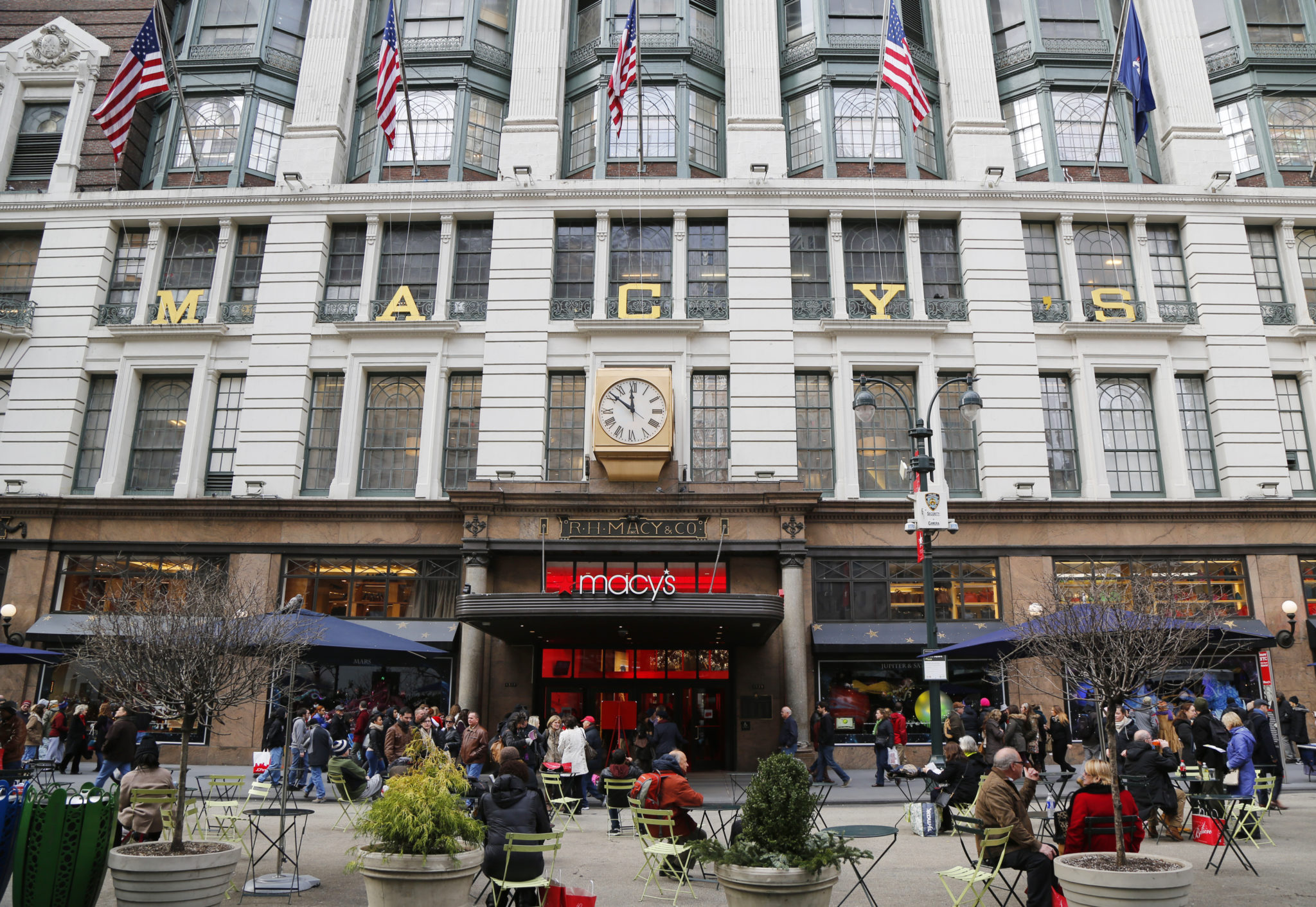 In Part 1 of this 2 Part series, I focused on delivering a Personalized experience for shoppers in the store through elegant digital experiences for the shopper, and tools in the hands of Associates.
Another element of the Internet of Things is enabling different devices to communicate more effectively in order to drive efficiency, and enable modern digital experiences.  The complexity of this endeavor is creating a communication mechanism over an existing wireless protocol that is secure and reliable.  "What does that mean", you ask?  My team recently worked with a large fashion retailer in the US with about 750 stores, and over 50,000 Point of Sale terminals across their network.  Attached to those Windows PC based POS terminals are wired peripherals such as Barcode Scanners, Cash Drawers, Receipt Printers, etc.  All of these devices are crucial to completing everyday transactions in the store environment, and a massive replacement represents a large capital outlay and significant IT complexity.  
The Retailer asked us to apply our Bluetooth Low Energy (BLE) expertise to enable modern iOS mobile applications that communicate securely with the POS terminals and leverage the existing peripherals.  The Goal, to enable location-based authentication, apply loyalty promos, and complete transactions.  Essentially, they asked us to Turn Old World Peripherals into IoT Devices!
To provide some context, Softvision has worked with this client for 20+ years.  We have recently built and deployed iPad applications that allow Associates to search product inventory, look-up a customer's loyalty/transaction history, and ultimately complete a transaction.  The ultimate goal was to use those iPad applications to leverage legacy in-store devices while providing a seamless experience for both the customer AND the sales associate.   
Softvision applied our unique knowledge of BLE which was built in the creation of our BestFit proximity engagement platform. We defined an approach that would allow the iPad based mobile applications to communicate over BLE's wireless protocol with the existing PCs already in place. The components allow the mobile app to recognize POS terminals in proximity to the Associate with the iPad, check for availability of the peripherals, request access, and ultimately leverage them to complete a transaction. Below are simple examples of how the communication works:
Use Case 1: Mobile App identifies nearby peripherals and leverages them for a transaction. Examples include scanning product barcodes, leveraging the cash drawer, and ultimately printing a receipt.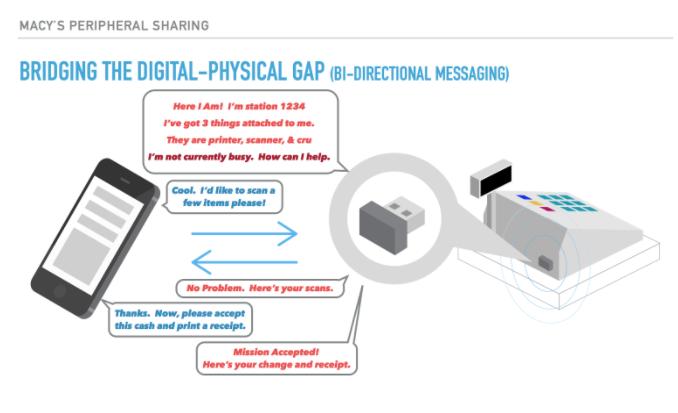 Use Case 2: Enable automatic and efficient location based authentication for Associates who need access to the POS.  This completely eliminates the time consuming activities for employees to log-in and log-out of the terminal each time they want to use it.  
I'm sure you've witnessed the "Register Change-Out" at the grocery store where employees completely change out the cash drawer and go through an authentication process.  Whenever that happens to me, I grumble: "Oh Man, I picked the wrong line."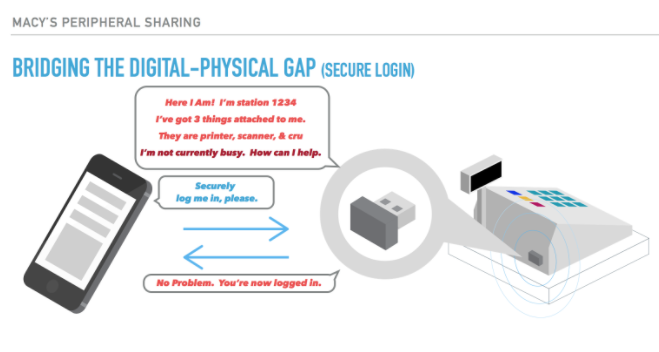 Use Case 3: Allow Store Managers to efficiently override and approve an employee action.  As you know, transactions often require a Manager Override, perhaps for a return or discount.  This seamlessly allows that to happen wirelessly via a mobile device or even based on the Manager's proximity.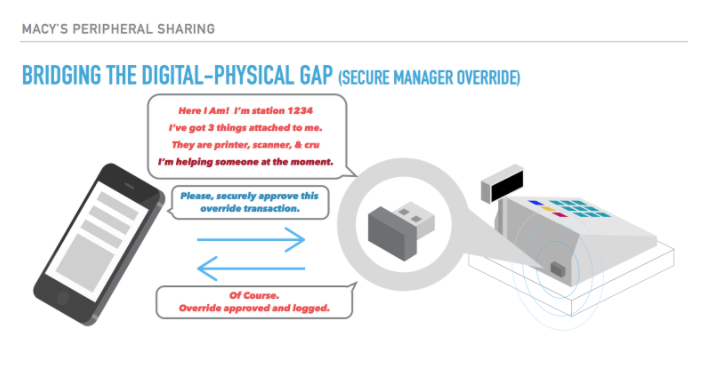 Use Case 4: Enable shopper to apply loyalty account discounts or promos on their personal device and apply them to POS transaction. Many retailers are investing in branded mobile applications and digital wallet based promos. Now those can easily be applied directly from the shopper's mobile device, with no fumbling to find and scan the coupons!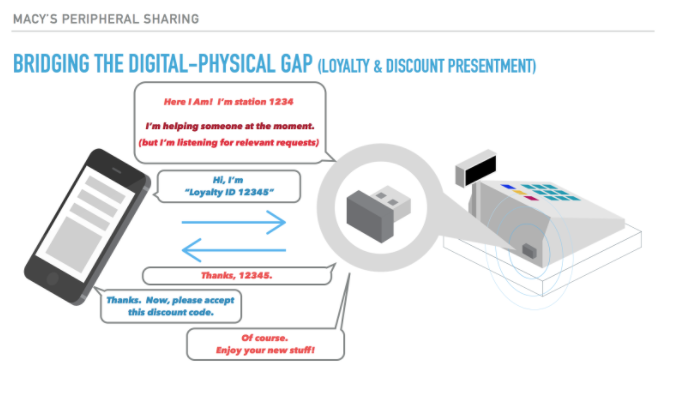 In order to deliver the technology successfully, Softvision needed to deliver a comprehensive package that would allow our Client to apply these capabilities to a portfolio of Enterprise applications.  
Key elements include:
iOS embeddable Component

Windows embeddable Component

API Documentation

Example Application

Configuration Tools
Key to R&D type projects like this one was managing the program with an Enterprise mindset.  After all, the vision is to roll this out across thousands of iPad devices and ~50K POS terminals.  We used a Product Centric approach whereby the team leveraged a Story Map, like below, to define goals and program direction.  This was all part of our Engage process in defining new Digital Products.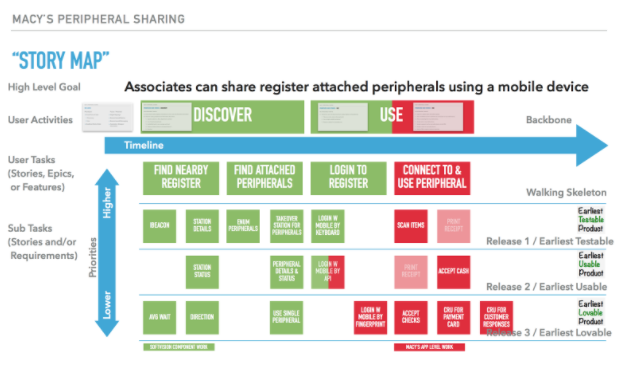 The team also went through rigorous architecture planning and testing in our Austin Lab in order to ensure security and scalability.

To Summarize, the often overused term Internet of Things doesn't always mean new smart wireless devices.  When creativity intervenes, it can be turning old, wired devices into peripherals that can be leveraged within modern experiences that drive efficiencies and save on large capital outlays that would typically be required.  The requirement: A deep understanding of the tech stack, and a unique expertise in secure wireless and wired communication.