I've been a Software Engineer at Cognizant Softvision for over three years now. Some of you may recall my previous articles, "Mythbusters QA Edition" or "The importance of creativity in software testing." You may have even attended my presentation at this year's 6th-annual Programmers' Week, Cognizant Softvision's largest technical event.
Being a speaker at a technical event is certainly a special experience, especially for those who love sharing knowledge. Personally, I believe that the information you possess has significantly more value if it is shared with others. However, speaking in front of others is something out of my comfort zone, but, as it turns out, embracing discomfort can lead to some wonderful discoveries.
 Amazing facts and behind the scenes details
All IT engineers know that if it's the 256th day of the year, it means it's officially International Programmers' Day! At Cognizant Softvision we celebrate with Programmers' Week, an incredible event where speakers from all around the world join "the quest for knowledge-sharing" from various areas of expertise, including QA, .NET, Web, UX, and more. 
Five days, totaling 133 hours of live streaming

83 internal talks, 50 external talks across nine different time zones

6,500 international viewers 
With each year, Programmers' Week grows. Unlike other years, due to the COVID-19 pandemic the 2020 event was held fully online. Tech talks were broadcasted live using Zoom for external events and via Workplace Live Streams for internal talks.
Behind the scenes of this huge event is an army of people who put forth an enormous effort to ensure the event goes as smoothly as possible, including pre-event tests to weed out any technical issues.
While in-person debates and chats over coffee were missed, this year's virtual Programmers' Week allowed for full interaction between the speakers and attendees. Viewers could step into the discussion, ask questions easily by posting them in the chat section and the speakers would answer live, creating a direct link with the audience.
Speaker experience and self-growth
I was apprehensive when I signed up to be an external speaker at this event, knowing that I would have to speak in front of many other people. But the fact that others found interest in my topic on creativity in software testing and that I could emphasize its importance helped me overcome my fear of public speaking.
Being a speaker at a technical event is a great opportunity for self-growth. Not only do others learn from you, but you learn about yourself and receive feedback from others. You may falter a bit at the beginning, as I surely did, but after a few minutes you'll find that it becomes easier. At the end of the day, people really appreciate the information you share with them.
As a speaker it is very important to have that bond with the viewers and to have an interactive presentation in order to capture and keep attention. When preparing your slides, it helps to think of interesting ways to present your topic. For instance, I came up with the idea of having a creativity test held live, which was a great success and hit with the viewers.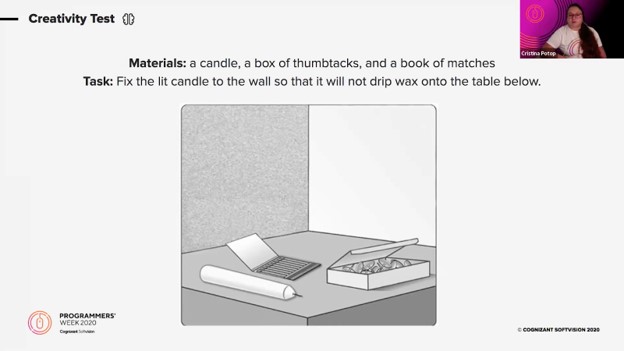 Why should you become a speaker?
If you are interested in being up-to-date with news from the technical world, "join the quest" and become a speaker at Programmers' Week! If you find it hard to speak in public, start by writing an article about a topic you find interesting. You will soon find out that you share interest in topics with other people with whom you can debate with afterwards. 
After presenting, you're likely to receive positive feedback from others thanking you for sharing your knowledge, which is a wonderful feeling! Support and kind words from your peers is priceless. 
As for me, I am looking forward to joining the event next year. I am already searching for new and interesting topics for my next presentation. 
You can find the link to my presentation and from there navigate to the other great tech talks presented during Programmers' Week 2020. Until next time, stay safe and stay creative!