From the Voice of a Programmers' Week Speaker
Our colleagues share their experiences delivering talks during Programmers' Week 2020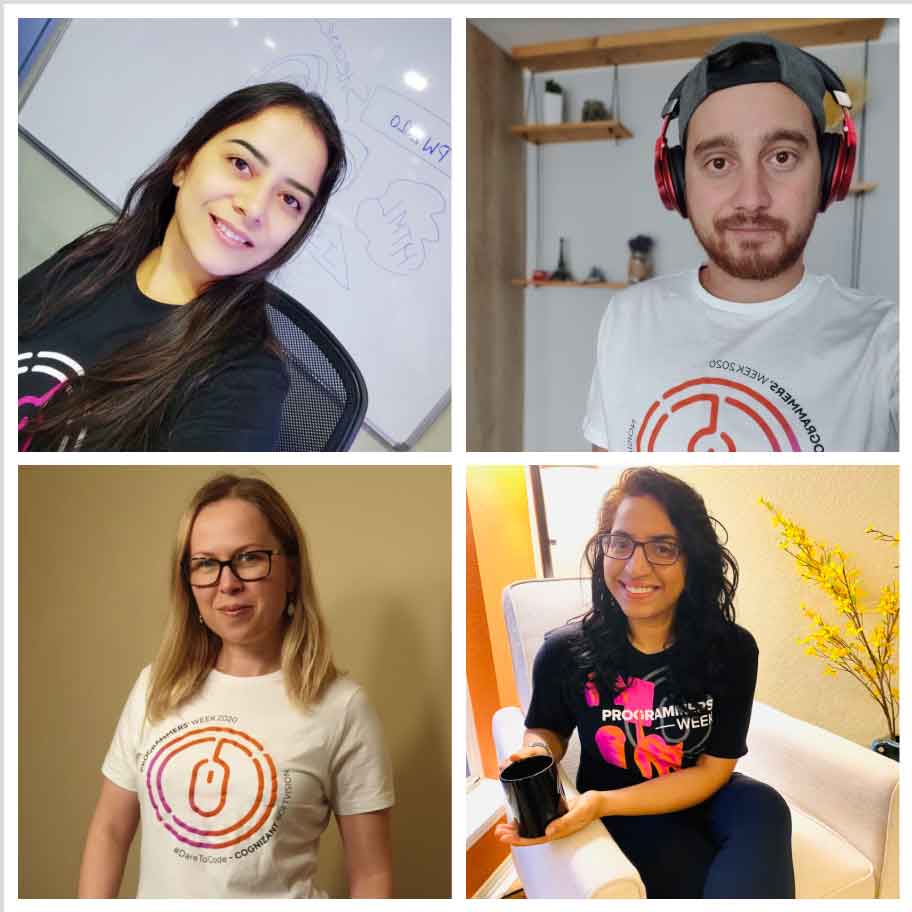 The world seems to have turned upside down since March. During the past several months, as our "normal" was ever-changing, virtual meetings, social hangouts and online events became a valued part of our lives, giving us the possibility to keep in contact, team work or even take a sneak peak on our colleagues daily life while on lockdown. Programmers´ Week 2020 was one such virtual event that opened up an opportunity to connect and listen to our experts – outside of just a normal webinar. For the first time in six years, Cognizant Softvision's largest tech event was completely virtual. But, for our 130 colleagues delivering talks it was more than just turning the webcam on and sharing online presentations. 
Our Web Community Manager from the Iasi studio in Romania, Ana Bandas, usually prepares presentations that actively involve the participants and, like most speakers, feels grateful when she sees a room full of people interested in her topic. This year, she did it in a fully remote setup for an unknown audience for the first time. 
Ana wanted the slides to be eye-catching, but also extremely relevant to the topic she was speaking about, "From Junior Developer to Community Manager in 25 'Easy' Steps." Besides asking for feedback and receiving suggestions from advisors, she also made sure to have the right setup at home, which included not being interrupted by her usual unexpected participants during meetings– her daughter and her cat.
For Ana, this year was her second experience as a speaker at Programmer's Week and it was exciting for her to take on the virtual stage. 
"I think that in these unpredictable times, adaptability and a healthy mindset are the things that will help us move forward and transition this pandemic successfully. I can't wait to see what the seventh edition will bring next year!" she concludes.
New Joiner, New Speaker
There's probably no better depiction of being a speaker in this new reality than Divyang Panchasara's story. The technology architect joined Cognizant Softvision's studio in Bangalore, India last May and has been working from home since then. Divyang had no desk or group of peers to drink a coffee with to miss, but he felt confident giving an internal talk about "Blazor with C#," knowing that his virtual colleagues would join with full support. And they did. 
In Divyang's perspective, he shared that being part of Programmers' Week for the first time was "a great experience and a well-planned virtual event to connect with various communities and share knowledge and experience." He's already planning to join in 2021. Will the audience listen to him on a screen or in-person? Perhaps both – pending the course of the pandemic.
Software Engineer Tomás Guagnini also made  his speaking debut. He joined Cognizant Softvision's studio in Buenos Aires, Argentina last January – two months before the local government ordered a national lockdown that still exists. But working from home didn't stop him and his colleague, Tomás Rebollo from organizing their first external stream presentation about Machine Learning .Net. 
"I had a great experience as a speaker for Programmers' Week, especially because it was my first talk in English and for people around the world," said the native Spanish speaker. "Also Tomas, my co-presenter, did a great job. The secret for this [kind of discussion] is preparing a presentation about something that you are very curious and passionate about," Tomás Rebollo highlights.
Why not try?
Heading to North America, two women at Cognizant Softvision decided to leave their comfort zone and face an audience for the first time – as speakers. Tahra Priebjrivat, UX designer from the studio in Vancouver, Canada felt relaxed in front of her webcam when talking to an internal audience on how to prepare for Google Search Ranking 2021. After this experience, Tahra feels confident enough to switch to an external talk next year. "I like to push myself to do something challenging and uncomfortable every once in a while," she says.
Like Tahra, Deepika Sharma put her fears aside and decided to take the virtual stage, too. "Being a presenter requires some planning and thoughtfulness to make sure the topics are meaningful and add value to our attendees," remarks the Senior Business Analyst from the Austin, Texas studio. She spoke on the topic of "Mindfulness in Products We Create" and found the entire process of creating her content and working with the Programmers' Week team to be very enriching.
"I am a people's person and would welcome an opportunity to speak in-person in the future. However, presenting virtually this year and keeping our annual event culture alive was truly a memorable and rewarding experience," Deepika sums up.
A Different Perspective
Dan Talnariu is used to speaking in front of a microphone. Dan, a QA Team Lead in the Cluj-Napoca studio in Romania, is also known as one of the voices of the podcast he co-hosts with his colleague, Alex Colta. Together, they ran a live podcast event during Programmers' Week on the topic of "Manual vs Automation: The DNA of QA." The podcast was interactive, with the audience sharing experiences and many were interested in finding new tips and tricks in order to make the best out of their area of expertise. "I loved seeing so many people participating and joining our event," Dan recalls. "At one point we could barely keep up with the questions that the audience had." 
This year's event was a fresh lens for Archana Atara, too. "From organizing, promoting or delivering, everything was straightforward," mentions the Full Stack Web Developer from our Ahmedabad, India studio. The 2020 edition was Archana's second experience as a speaker, this year delivering an internal presentation on "Sitecore: Front Ender's Guide." And she's ready for next year. "Programmers' Week is a platform where we can showcase the talent and interact globally. So, it is not just scoped to exchange knowledge, but a thriving new experience every time," she remarks.
Whether it will be an online or in-person presentation, a podcast or a discussion panel, Softvisioners are already warming their engines for Programmers' Week 2021. Some of them will participate as speakers for the first time, while others will put themselves to the test again. Make sure to listen to all our external presentations on our Cognizant Softvision YouTube channel and stay tuned to our blog and social media platforms for updates.
See you at Programmers' Week 2021!