The Cognizant Softvision studio in Iasi is now home to 300 Softvisioners – all connected by a mindset that turns challenges into opportunities – to learn and adapt. The studio has grown massively during the pandemic and is ready to add even more tech enthusiasts in the team.
I joined the team as a Studio Manager in 2019, a time when the studio required more space for our growing teams. The year before, the Iasi studio celebrated 200 employees, a milestone reached through a steady development of about seven years. Not even a year and a half later, and we're already celebrating the 300th Iasi Softvisioner! While this may seem fast, we've got high expectations and we are, just as the Spartans said, prepared for glory!
Here's to a warm welcome to our 300th colleague
This week, Alexandru Puscasu joins our Enterprise Coffee Community in Iasi. He is a Java Software Engineer with over three years of experience. He graduated a Java / Android course in 2016 and has been working as a Java Software Developer ever since. Alex is passionate about bodybuilding, nutrition, personal development and gaming. He chose Cognizant Softvision for the diversity of projects, the flexibility of the work schedule and the professional development opportunities and we are thrilled he's joined our team!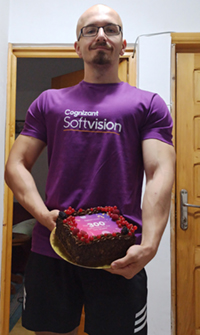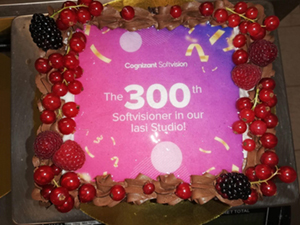 Finding the Team with the Right Mindset
The beginning of 2019 for me personally, represented the start of a new and amazing journey, that, day by day, was a continuum of experiences to embrace challenges & responsibilities, having in mind the long-term vision: becoming a top digital transformation partner. Ever since I joined the amazing Cognizant Softvision team, I've been surrounded by an incredible sense of familiarity and friendly culture, having a strong belief that, indeed, this is The Place To Be. 
What's a better sign than meeting the first employee of the Iasi studio on my first day here? Lucian Ionut Ungureanu is the pioneer of the Softvisioners team in Iasi – he started on the 1st of March 2011 and he's now a Dev Technical Coordinator on the iOS team. From my first interactions with the team I was impressed by the maturity level, expertise and the level of trust shared between us all. This place, where psychological safety is a clear enabler and a sign for performance, is hard proof, and I would say a good predictor, for future success.
Why Join Cognizant Softvision?
Just to confirm my great start in the local team, I asked a more experienced colleague about his experience – Andrei Rebenciuc, our delivery director – and here's what he has to say about his own journey with the company: "I started here almost 5 years ago when I was looking for a company that fit my entrepreneurial (or better said intrapreneurial) mindset, but at the same time had colleagues from whom I can learn, with whom I can also teach and with whom I can partner on the long run. Not only have I found them here at Cognizant Softvision, but we've worked together, we've grown together, we've transformed together – without losing our main focus points: our people and our customers. So why join Cognizant Softvision? I'd say first and foremost for the people that will welcome you into the community, for having a great place to further develop your skills, a great place where you can build your career on any path you'd like: technical, people focus, client focus, and have fun while doing all of these. Of course, our job is to make sure you will be always engaged in great projects that will help you achieve your short term, mid term and long term goals."
My only addition I'll add to Andrei's points is that we face challenges together as a team, and we are all open to finding the best solution, in a collaborative manner. Now, more than ever, we know that we're #BetterTogether.
New Offices in our Iasi Studio
Our studios are hubs that bring the communities together. We like proximity, we like being connected and sharing ideas. We like events where we can see each other and we can listen and share knowledge and experiences. For that, and all the newcomers that we welcome every month to the team, we needed more workspaces. Therefore, opening a new office in Iasi (Centro C3) was a challenge that gave us a great opportunity: find and design a completely new and innovative interior office concept, one that is dynamic, and open to collaboration. Once the pandemic subsides, we will be back in a studio that is ready to accommodate the new colleagues who will join us in the future. Even if we didn't get the chance to properly launch the new working area in our second office (a revolutionary environment for our teams, designed and a result of a half of years hard work) the work for improving our local studios continued, so we get new updates from the offices every week and our excitement is building! 
How We Work Now
The pandemic reality meant a 180 degree shift from the traditional delivery model to a fully remote model – called virtual pods – a successful work from home framework – that is a clear showcase of the professionalism of every team member! Our studio is more than just a physical space, – it's a hub for our clients to find solutions alongside us, to develop client programs and in-studio workshops, and foster a mindset of digital co-creation for our clients.
Since we're growing, now, more than ever before, we have to work more efficiently. Here are a couple of the main changes we embraced:
Online interviews – HR or technical interviews (read more Hiring in the Distributed Era); 

Swapped in-person events for webinars, keeping the same periodicity and purpose: socializing and sharing knowledge

Celebrating all the milestones and our daily successes – online!

From the beginning of the COVID-19 pandemic and presently, 300 colleagues from Iasi are all working remotely. 

Successfully on-boarded new clients – running projects from several business areas like: financial, banking, retail and e-commerce, health care & pharma, education, accounting, traffic and transport, big data, analytics and home security. We continue to flawlessly operate remotely and to support our clients and today's business needs. 
All this is due to the professionalism and involvement of each one of Cognizant Softvision colleagues, and the proven exemplary agility! Everyone has contributed – and we are grateful for it – having onboarded almost 60 new colleagues in our Iasi studio since the beginning of the year.
Our main focus has been to make our culture more transparent and recognizable in the local and national market – and it's exciting to see it come together. We're always glad to meet new people, have joined many local IT events: Codecamp, Fii ITist, Dot NET Days and more as we know that the local community can grow through knowledge sharing. We've also been involved in other community programs as well as staying in close connection with the Faculty of Computer Science in Iasi. 
Recently we've been part of the global experience at Programmers' Week – a whole weeklong online event (by programmers dedicated to programmers), that started in Romania six years ago – and we're happy that many colleagues from Iasi studio were on the speakers' list. We will continue to be present in the local technical community (local universities, webinars and sponsoring online conferences) to showcase that Cognizant Softvision really is, #ThePlacetoBe.  
Want to hear more about our team in Iasi? Contact me by mail on Linkedin or simply apply for an open position.