Hiring in the Distributed Era
Cognizant Softvision's best practices for hiring during this time of crisis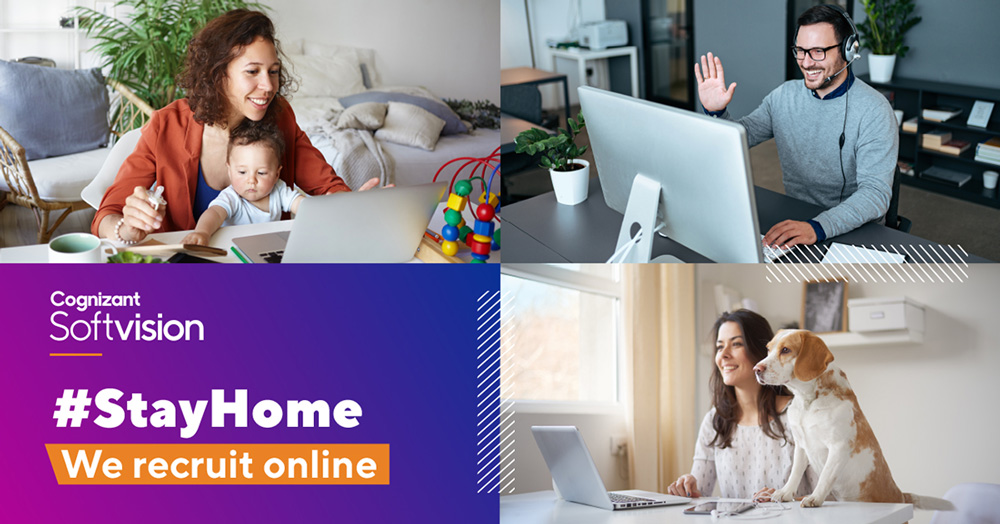 At Cognizant Softvision, our biggest asset is our people and making sure that we continue to attract the best talent is our recruitment team's main focus. Recruitment in the IT industry can be challenging and when layered with the complexity of a worldwide pandemic, the challenges stack up. And, while companies continue to grapple with the effects of the virus and how the future will look, talent acquisition engines must keep moving. But, they will most certainly look different than before. 
Pre-pandemic, companies hired for the occasional work-from-home position. But, now that the "world's largest work-from-home experiment" is underway, with nearly 70% of companies working remotely, hiring has to be viewed entirely differently and molded to fit this new distributed era. 
Heightened Concerns
Prospective new hires today are feeling uncertain about making a professional career change. They also have concerns about the financial stability of changing jobs and about the market. These are all challenges talent acquisition teams worldwide are having to face and which must be addressed. While all of these are valid areas of concern, they are not necessarily new but heightened in these unprecedented times.
In addition to easing concerns, talent teams, now more than ever, need to showcase all of their company strengths to demonstrate benefits, such as projects, diversity, and career opportunities in an effort to remain competitive. 
While it seems challenging, and at times, overwhelming, hiring in this new environment is possible. 
Embrace the New Normal 
Hiring in the distributed era must mean making connections and keeping the same human touch within the new context, during a time when face-to-face interactions with candidates isn't an option. At Cognizant Softvision personal interactions are of high importance, and considering the fact that we have been hiring within a distributed workforce for over two decades now, we maintain that personal interactions will always remain at the forefront of hiring strategies. 
For health and safety reasons, interviews and discussions that are usually in-person have, at least for now, been adjusted with a close alternative such as a Skype or Zoom call. With a global workforce spread across nine different time zones, Cognizant Softvision has mastered our technique toward maintaining a humanistic approach for our hiring practices. Here are Cognizant Softvision's best practices for hiring in the distributed era: 
Use culture for the biggest impact.

Highlighting the culture of a distributed workforce seems hard to do, but it's one of the most important things a company must consider showcasing and excelling at with a distributed workforce. The Cognizant Softvision culture is the connective tissue that engages team members beyond just being a part of a team. Without a community, our

virtual agile software engineering teams

would be disparate team members. Just because you have a distributed workforce doesn't mean that company culture should be laxed. If anything, especially in a period when the outside environment is unsettling, company culture should be of the highest importance – maintaining a strong

"We're all in this together"

approach.  

Ensure that candidates always know that virtual doors are still and always open.

Building a relationship of trust with our candidates is also extremely important. So, we communicate more with our candidates, beyond the standard discussions, letting them know we are there for them

. 

Mandate that webcams be turned on during candidate interviews.

You can have all the forms and processes in place, but connecting with a candidate face-to-face in case they have any concerns or questions is irreplaceable.

Use social media to your advantage. Social media is another way to make connections and join the conversation. The Cognizant Softvision recruitment team's new campaign is simple yet effective– "We recruit online!" Ensuring people know we are still hiring and embracing our new normal, ready to make new connections. This campaign is accompanied by job posts with the most searched for jobs to which we add recruitment statements like, "We're still growing! Join us!", "Meet our recruiters online!", and "Check out the open positions on the website!".

The talent acquisition team has also been working with the Cognizant Softvision community leaders to get involved in communicating a #StayAtHome message to the world, the most important way in which we can stop the novel coronavirus from spreading. Watch our #StayAtHome video here.
Showcase who you are. During an interview or conversation that is not in-person, body language, energy, and general connections are diminished in comparison to face-to-face interactions. Find a way to make a connection that delivers an amazing experience for all candidates. For instance, our HR team crafted a video that highlights what they love most about their daily jobs.
Our recruitment team and technical interviewers have great skills and expertise and, together with their enthusiasm, they manage to deliver an amazing experience for all our candidates. While the way companies interact, work, communicate, and hire seems to have upended due to the COVID-19 virus, adopting new strategies and tactics to connect and attract the best talent in our new, distributed area will make hiring possible.