Ever wonder how Halloween is celebrated across the world? There are many different traditions and ways people celebrate the holiday, and since Softvision has 25 Studios across 11 countries, we thought we'd give you a peek into how some of our Softvisioners celebrated this October 31st.
Bucharest
Our Bucharest Studio held a Halloween Treasure Hunt, where Softvisioners searched for witches, ghosts, bats and pumpkins throughout the office for prizes! They also held apple bobbing contests, which was certainly an amusing activity to watch as co-workers dipped their heads in buckets of water competing to emerge with the most apples.

Dallas
Our Dallas Studio celebrated with a Halloween party at the office. They participated in some fun activities, including an exciting game of Halloween Bingo. All team members were engaged in the game, checking their spooky bingo sheet and telling funny stories about ghosts and black cats!
Dallas Softvisioners enjoyed seeing each other's costumes, including Aquaman, Vampires, Nemo-fish, Wizard, Taco-Girl, Bat, Joker, Robots and Star Wars heroes. Prizes were awarded to the team members with the best costumes, as voted by their co-workers!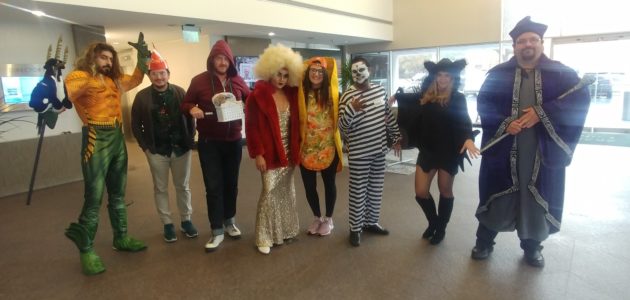 L'viv
Softvisioners from our L'viv Studio enjoyed spending time together during their office Halloween party. The party included spooky decor, treats and even some smoky, bubbling beverages.
Romania
Each year, Softvision Romania holds a Pumpkin Carving Contest, including our Baia-Mare, Timisoara, Iasi and Cluj-Napoca Studios. Everyone looks forward to this fun event, where teams of three to four Softvisioners showcase their teamwork and creativity to carve the most impressive pumpkin.  

Vancouver Studio
Our Vancouver Studio got into the Halloween spirit with decorations throughout the office. Their Halloween party was complete with a costume contest, where Softvisioners Junya Wang, Meichi Ng, Anatolia Au, Michelle H, and Ashley Wu won best group costume for Pacman, and Jay Chang won first place for his take on a French painter.

West Palm Beach
Our West Palm Beach Studio also enjoyed a Halloween party at the office, with Softvisioners dressing up as Superman, the Wizard of Oz Scarecrow, Waldo, and more! They also enjoyed tasting each other's food with a potluck competition complete with prizes for "tastiest" and "most creative."