Our client is a global leader in biopharmaceuticals who strives to solve today's health issues while addressing the medical challenges of the future.
At A Glance:
Founded in 2013

Publicly-traded biopharmaceutical company

Products are sold in 175 countries around the world
The Challenge
Our client needed a strategic partner to transform their in-house Benefit-Risk Management initiative into a value-driven aspect of their organization. The client came to Cognizant Life Sciences Digital Health & Innovation to orchestrate digital innovation within Benefit-Risk Management functions – and this resulted in our partnership with Cognizant Softvision in this strategic Digital Health initiative. As part of the more extensive innovation program, the client picked various therapeutic areas to innovate and deliver digital health solutions that amplify benefits, reduce risk, deliver holistic patient care, and improve outcomes. They had multiple therapies that require self-injection, a task that weighs heavily on many patients. Most patients are not adequately supported to administer injections and deal with psychological challenges, such as dislike of injection experience and fear of side effects, leading to safety concerns. The project's objective was to improve the self-injection process for patients undergoing therapy for Inflammatory Bowel Disease (IBD), such as Crohn's Disease and Ulcerative Colitis, and reimagine the future of self-injection and disease management from the patient's perspective. 
Our Approach
This engagement was a unique internal Cognizant partnership. We brought together subject matter experts from the business unit with digital engineering capabilities from Cognizant Softvision. We started our engagement by studying the patient journey and conducting patient interviews to understand IBD patients' real struggles. We then facilitated design thinking workshops to collaborate with a multi-disciplinary team from the client to identify friction points. During this phase, the team uncovered the need to holistically support patients through self-injection and health tracking, community support, and enabling greater freedom and mobility.
Our research showed that the solution needed to cater to digital-savvy millennials and members of Gen-Z. These patients required a personalized form of engagement that addressed individual needs and supported habit formation. That is the product we sought to create for them — a digital solution that will genuinely help patients. 
Using our agile development process, Cognizant Softvision pulls in the right experts from our guilds to build high-performing cross-functional teams, called pods, that enable quick delivery and go-to-market solutions. Each guild is a world-class community of expert talent in an area of expertise. For this partnership, the following guilds working together in a six-person pod alongside a Digital Solution Architect from Cognizant Life Sciences Digital Health & Innovation led to the successful delivery: 
Design and UX

Full Stack Web

Mobile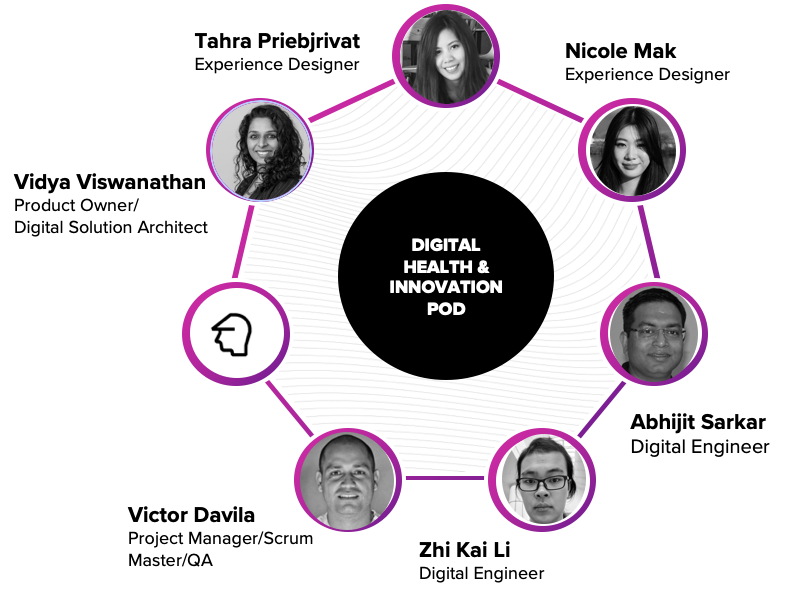 By facilitating innovation workshops, design thinking workshops, and various brainstorming projects over six weeks, the pod was able to go from understanding the challenge to prototype completion starting in October 2020 and ending in January 2021. Much of this work was accomplished utilizing Google Cloud Technology which was seamlessly integrated into a complete ecosystem for virtual collaboration. 
The Results
We created a personalized, immersive, voice-controlled, and human-centric digital health solution to digitally instruct patients on self-injecting and managing their condition seamlessly. The solution offers patients helpful insight and valuable data regarding their health, giving them a completely unprecedented experience. 
When rolled out, this solution is aimed to improve injection training, reduce product complaints, and decrease medication errors for various therapies due to its modular design, thereby fulfilling all objectives of the Benefit-Risk Management team while delivering an elevated patient experience. 
The synergy between the subject matter experts from the business unit and the digital engineering capabilities from our partnership with the Softvision team has proven to successfully design novel digital health solutions that bring together human centricity, clinical evidence, and digital agility.