Gayathri Raghunathan: How to Be a Happy Professional
Gayathri, a Project Manager from our Bengaluru studio in India, gets candid with her views on women and success.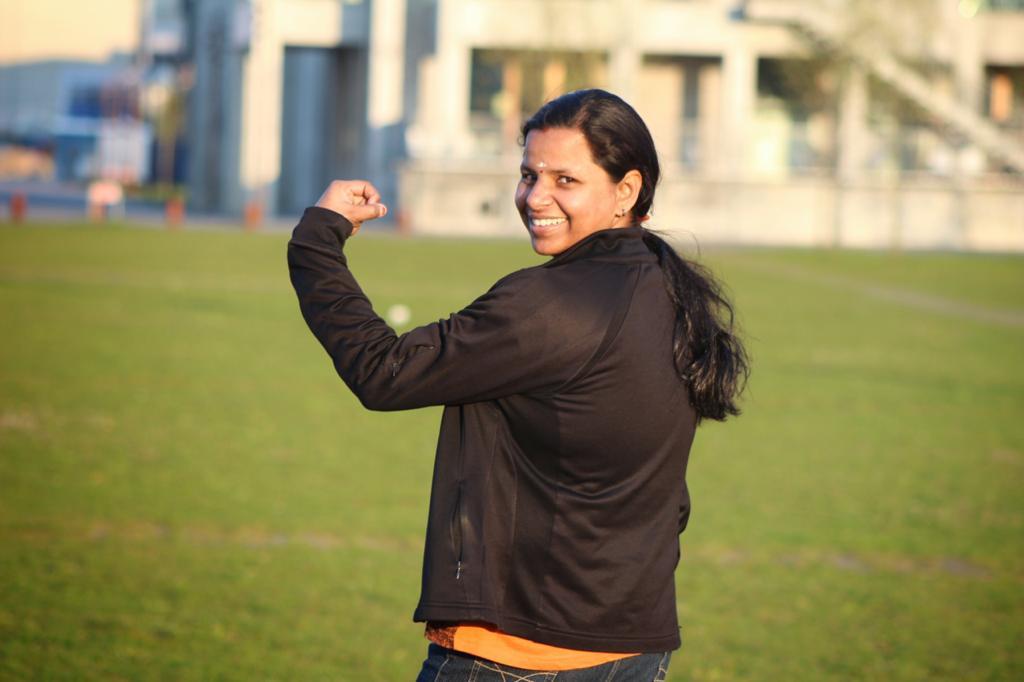 The theme of 2021 International Women's Day (IWD) is #ChooseToChallenge. It's all about challenging the status quo to create a gender-equal world where women can realize their true potential with confidence. As part of our IWD celebrations at Cognizant Softvision, we proudly present to you a few of our female talents who choose to challenge themselves and deliver excellence in every walk of their life. 
Gayathri Raghunathan or "G3" – as she is called by clients and colleagues – oozes an infectious sense of optimism and cheerfulness that springs from her innate positive nature and strong faith. She is an experienced Scrum Master/project manager leading a team of 10-12 Softvisioners, working for one of our leading financial clients. G3 is also a traveler, biker, and loves reading and music. With a twinkle in her eye, she confesses that she thrives on one of India's oldest children's comics — Tinkle — that never fails to bring a smile to her face. Read on for more from G3!
This International Women's Day, I am pleased to share with you my humble perspectives on being a woman, breaking barriers, staying positive, and achieving true happiness in life. 
Success will eventually come along when we embrace challenges and changes and live every day with optimism. 
Let me start with the idea of challenges. The world can take inspiration from women who are experts in surmounting challenges. One of the biggest challenges we face is balancing our personal and professional lives. Especially during this pandemic, we are seeing women juggling work, home, kids, and even their hobbies beautifully. I know this is never as easy as it seems but with our all-around skills, we are doing this almost every day. 
For me, managing my team at work as well as a larger team at home (I live in a traditional joint family!) has really been like a roller coaster ride! But, I enjoy every bit of it, learn from these experiences, improve my people and project management skills and grow into a better person and professional. 
I realize that optimism and self-confidence can do wonders for all of us, not just women. My current assignment at Cognizant Softvision is a good example. The solutions had to be delivered in a short span of time. Changes were many during the development cycle. And there was a lack of clarity about the project. My team had started feeling stress and insecurity at some point. 
I told my team, "End of the day, this is our project, our baby. We and only we can make it or break it. There's nothing we cannot handle if we are together." I can proudly say that today we have managed to come out of the crisis safe and sound, ready to go live this month! 
As managers and leaders, what helps us deliver results is the unbreakable optimism and confidence we have in our team as well as the positive environment we build for our team to work in.
Regarding some of the critical challenges women face in life, such as those related to reputation, stereotypes and biases, ownership and responsibilities at work, or sexual harassment – all I can say is we can easily handle these with integrity, confidence, positive leadership, and a never-give-up attitude. 
By welcoming challenges and changes, women can grow and perhaps even make our world a little better and kinder.  To be able to do this, we must constantly learn and be prepared. 
We women must remind ourselves that if we can't help ourselves with determination, then no one else can help us! 
Another key aspect I would like to highlight for women is how to live a beautiful, relaxed life. 
In our busy days, we forget how to stay happy. For me, inner happiness and peace are very important. Even today, I love reading comics. End of every month, the one thing I eagerly look forward to (no not my salary!) is the monthly edition of Tinkle – one of India's oldest and most favorite comics – that my husband never fails to get me! 
I have started a children's library in my apartment where I read Tinkle and other books with the little ones. I also spend time gardening, reading self-development and motivational books, listening to music, and traveling to hill stations and pilgrimage centers. My faith keeps me inspired and strong. 
Women of all ages must never forget their passions, dreams, and hobbies. These help us motivate ourselves and experience true contentment in life. 
From a very young age, women hear about being responsible. We are also told to multitask and become successful. But I look at life as a journey to becoming truly satisfied. Success is always measured by others while satisfaction is what we can personally experience and treasure. Satisfaction comes from a place within us where we are secure about ourselves. Where we have the true courage to overcome challenges and embrace changes for good. 
I like to see myself as a satisfied and happy professional who chooses to challenge herself because it gives way to positive changes and opens up opportunities to grow. 
Finally, this is what I would like my readers to remember no matter what their gender: 'Life might throw hundreds of reasons to be sad. But just show life your positive attitude and smile. This will help you make anything happen.'