Remember when augmented reality (AR) was a wild idea? Even just a few years ago, AR caught our attention mostly due to its "cool factor." Now it's becoming more of a reality, and forward-thinking retail brands are incorporating AR technology into the customer experience, both in-store and online.

Retailers are smart to adopt this technology: Almost 70% of consumers expect retailers to launch an AR app within the next six months. Despite this, nearly two-thirds of companies don't use AR at all.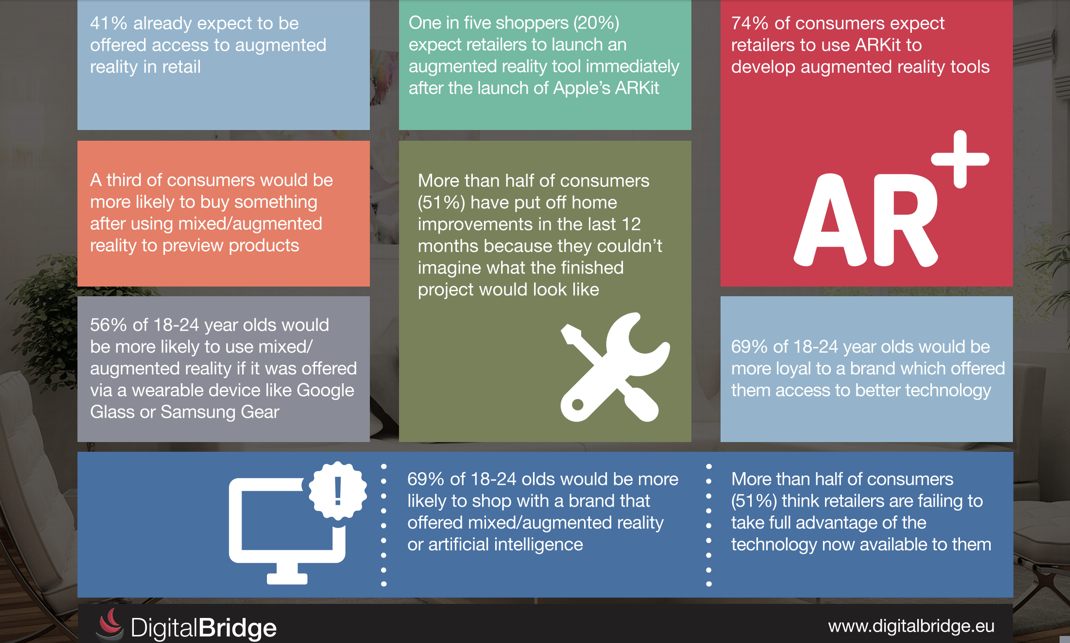 Augmented reality (AR) marketing takes the lead on virtual reality platforms to create a new, interactive consumer experience. It is so popular right now, its growth is expected to reach $117.4 billion by 2022. As little as five years ago, consumers knew little or nothing about this marketing tool. But AR has become a marketing strategy that businesses need to become educated about.
Consumers have been waiting for the arrival of Apple's and Google's AR platforms and almost three quarters (74%) say that they now expect retailers to offer them some kind of augmented reality experience
The possibilities are endless for retailers to take advantage of this technology trend to provide benefits to consumers and build a powerful branding tool for their company. Here are some use cases where AR will become the norm in the future and businesses need to prepare for it.
1. Allow shoppers to try before they buy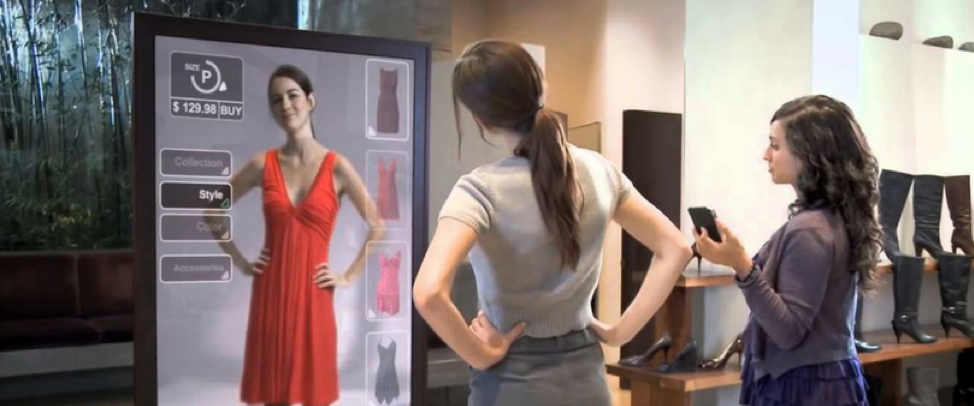 AR is making serious headway in areas where shoppers like to try out products before committing to them. Retailers in all kinds of different industries go to great lengths to allow shoppers to try out their products in-store: Think of the elaborately staged furniture showrooms at Ikea or the makeup counters in any department store.
Retailers across a number of industries have integrated AR technology into the in-store experience. It's a smart move, especially considering 61% of consumers prefer stores that offer AR experiences — and 40% of them would pay more for your product if they have the chance to experience it through AR.
Lacoste, for example, created the LCST Lacoste AR mobile app that customers could use to virtually try on shoes. The app also created AR experiences with window displays, in-store signage, and promotional postcards.
https://www.youtube.com/watch?v=JcMOyMudH88
The investment paid off: More than 30,000 users engaged with 3D products while using the app. They quite literally put the shopping experience in the customers' hands.
American Apparel is another clothing brand that has also equipped customers with mobile app-driven experiences. They encouraged engagement with in-store signage and displays similar to the Lacoste example.
https://www.youtube.com/watch?v=0O9CUpqSNRU
L'Oreal's Makeup Genius app turns users' smartphone cameras into mirrors, allowing them to virtually try out L'Oreal's products wherever they are. With the app, users can scan labels to match colors, try on various products, and share their results on social media. This has turned out to be a boon to their e-commerce strategy, giving their customers the confidence to buy products without having to visit a physical location to try them out.  L'Oréal Paris's MakeupGenius app has been downloaded on Google Play more than a million times.
Cosmetics brand Sephora has been using AR in its main app since earlier this year. The app allows users to see how products look on them before they buy. From there, they are able to order the products or ask their friends which products are best.
2. Bringing the in-store experience to consumers' homes
AR has also proven an effective way to bring the in-store experience to life in a virtual sense. Rather than customers visiting your store, AR allows them to experience your products and services right in their homes.
Like Lowe's, home and lifestyle brand Magnolia Market created an app that allows customers to see how their products will look in their homes. They partnered with the AR team at Shopify to incorporate Apple's ARKit technology into their app.
The online home furniture market is on the rise, with consumers spending more money than ever before to turn their home into their dream space.
This is a huge opportunity for augmented reality, as this technology can give homeowners a better idea of what a piece of furniture or décor would look like in their home.
With this, consumers no longer have to guess as to whether or not something will look good and/or fit. Instead, they can use augmented reality to overlay products, giving them a clear-cut idea of whether or not to make a purchase.
More and more companies are getting on board with this technology, with Wayfair and IKEA Place a couple prominent early adopters.
Home goods aren't the only try-at-home AR experiences. Gap also plans to bring the fitting rooms home with its DressingRoom by Gap app. And Converse has already done so with its Sam3pler mobile app, which lets shoppers virtually try shoes on at home, easily sharing the pictures to get purchase validation from friends.
3. AR in manufacturing
While AR headsets have yet to take off in the consumer world, they have much more potential in manufacturing and industrial settings, where practicality prevails over fashion. Many manufacturers have begun to explore the benefits augmented reality can offer in an industrial environment, a trend that has nowhere to go but up as the hardware and software for AR improves. But as with any relatively young technology, we've only begun to scratch the surface of what augmented reality can do for manufacturing.
Modern manufacturing involves putting together hundreds or thousands of components in a precise sequence as quickly as possible
"Your work instructions tend to be these PDFs that are hard to work through, plus they're static documents, so they may be out of date," commented Ash Eldritch, CEO and co-founder of Vital Enterprises, a developer of augmented reality software.

"We take those instructions and make them glanceable in your field of view at all times, hands-free and voice-controlled," Eldritch continued. "So we break down the work instructions along with associated technical drawings and even video from the last person who did the procedure and put all that onto the [AR] glasses. That means you can keep your hands on your task and you don't need to walk over to a workstation to check something."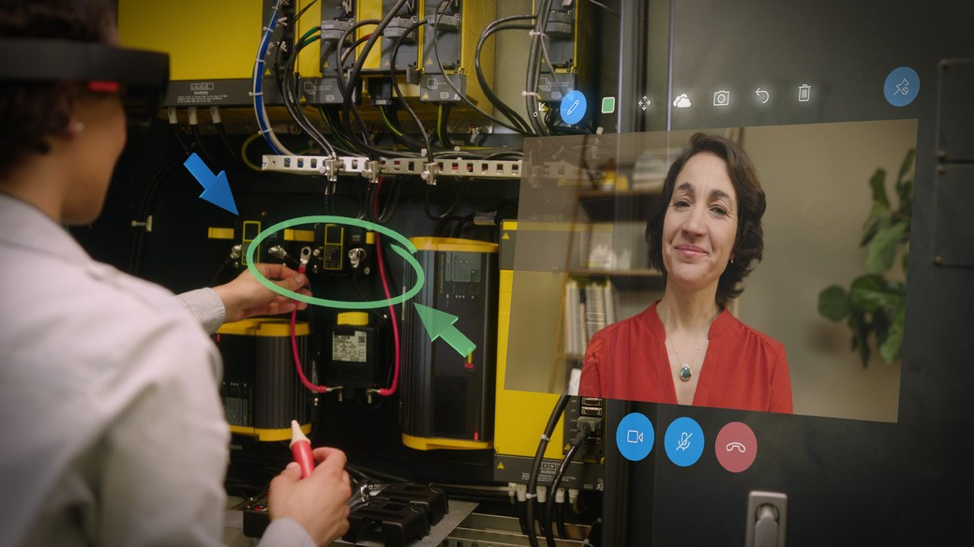 In the above image, we can see how a worker wearing HoloLens uses Microsoft Remote Assist to consult with a colleague in a remote location who can add holographic arrows to indicate the area in their shared view.
Whether through apps or specialized AR glasses, manufacturers are able to overlay instructions and other helpful information to guide the assembly and maintenance process. The implications for training and quality control here are significant. Rather than an experienced mechanic having to oversee a junior mechanic's work, the junior mechanic could be guided by an AR headset that walks him or her through each step of a new process, providing detailed instructions and checklists to ensure that nothing is left out. The Harvard Business Review has found that these overlays have the potential to boost productivity and efficiency, even for workers without prior training. For new employees, having a digital guide speeds up their training, helping them become proficient more quickly while helping prevent costly mistakes.
4. Allow consumers to perform their own repairs
If you've ever tried to repair your own car or computer, you're probably familiar with the sensation of opening up the hood or case and seeing all manner of unrecognizable parts. Now imagine if an expert technician was right there next to you, pointing out exactly what everything does and which parts you need to disconnect or replace to do what you need to do.
From the consumer perspective, AR-powered apps may make it practical to perform many common repair or maintenance tasks themselves, potentially saving the user an expensive trip to the mechanic or dealership. For example, a driver whose car is acting up might enter their car's symptoms into an app in order to generate a list of potential causes based on the make, model, and year of the car. Then, the app may guide the user through the different steps of checking and, if needed, repairing or replacing certain parts.
AR Technologies in Mobile
ARCore is Google's platform for building augmented reality experiences while ARKit is Apple's platform. Using different APIs, these platforms enable your phone to sense its environment, understand the world and interact with information.

ARCore uses three key capabilities to integrate virtual content with the real world as seen through your phone's camera:
Motion tracking allows the phone to understand and track its position relative to the world.

Environmental understanding allows the phone to detect the size and location of all type of surfaces: horizontal, vertical and angled surfaces like the ground, a coffee table or walls.

Light estimation allows the phone to estimate the environment's current lighting conditions.
Fundamentally, these platforms are doing two things: tracking the position of the mobile device as it moves, and building its own understanding of the real world.
ARCore's and ARKit's motion tracking technology uses the phone's camera to identify interesting points, called features, and tracks how those points move over time. With a combination of the movement of these points and readings from the phone's inertial sensors, the framework determines both the position and orientation of the phone as it moves through space.
In addition to identifying key points, ARCore and ARKit can detect flat surfaces, like a table or the floor, and can also estimate the average lighting in the area around it. These capabilities combine to enable the framework to build its own understanding of the world around it.
These augmented reality frameworks understanding of the real world lets you place objects, annotations, or other information in a way that integrates seamlessly with the real world.
Where Do We Go From Here?
As more augmented reality marketing takes hold, consumers will most likely abandon their desktops and laptops for better inclusion. This is hopeful news for businesses wanting to tap into the market and utilize social media platforms that attract their target audience.

Imagine using AR glasses at a business or social gathering and being able to have public information of the nearby guests. You would know their names, occupation and other basic facts and information.
The possibilities are endless and until now it seems that few retailers are taking advantage of this technology.
In fact, the majority of shoppers (51%) think retailers are failing to take full advantage of all the new technology now available and are not providing a quality shopping experience compared to what they could potentially offer.
While the Augmented reality is clearly a major benefit to consumers, it is also a powerful brand building tool for business, with half of the customers (50%) saying they would be more likely to shop with a brand that offered them access to visualization technology.
So we are looking at a future where the industry will again have to adapt to the technology in order to avoid being obsolete.

Alin started his career in Softvision in 2010 with a summer internship and has worked on various mobile Android apps, some iOS apps, as well as the backend side of a few projects. He was involved in all the parts of a mobile projects from coding, to solution proposals and also coordination of engineering teams. In the last 3 years Alin worked on Groupon project and led the largest Android development team in Softvision.
Since joining the company he was an active member of Softvision University, held various tech talks both for internal and external events. He also contributed on some open source libraries and the Softvision app uSketch. Alin is a dynamic person, an incurable optimist who never refuses a challenge, he is very passionate about technology, software design, always keeping up to speed with the latest technological trends.