First Virtual Tech Wintership Experience
Five young women gained a different real-world internship experience during a three week, online program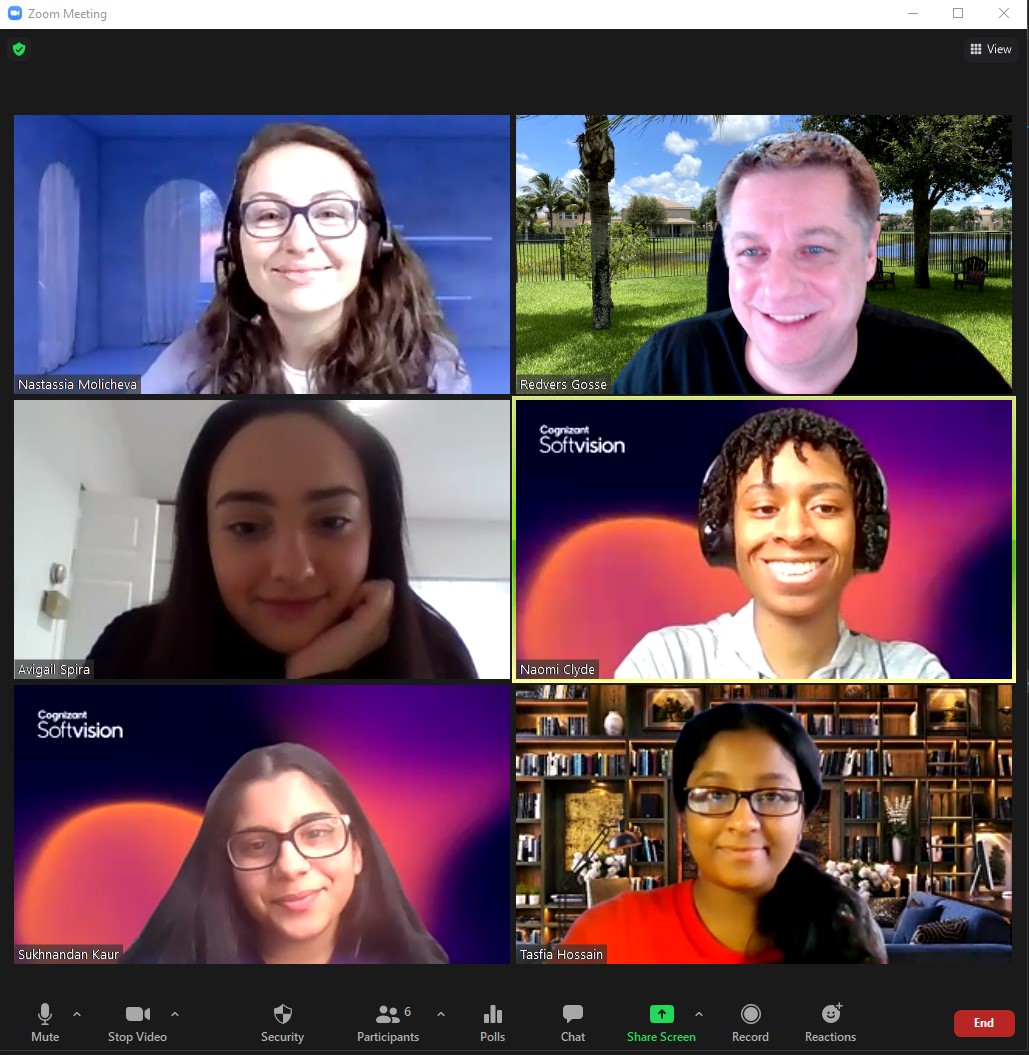 The COVID-19 lockdown didn't stop Avigail, Nastassia, Naomi, Tasfia and Sukhnandan from experiencing what working in a big tech company is like. As the second time Cognizant Softvision collaborated with Break Through Tech, the partnership brought together five young women for hands-on training during one of the most unprecedented years in American history.
In 2020 the three week internship program debuted with a traditional in person experience at Hudson Yards studio in New York. However, the normality defied the 2021 winterns and the Cognizant Softvision team, requiring participants to transition to an online version. 
"It was a little bit more challenging because of the isolation, so we worked together on a Zoom session through most of the day," pointed out Community Manager Redvers Gosse. With more than three decades in the tech field, he knew that virtually mentoring the professionals-to-be was more than chatting and daily meetings. "Generally, we were muted, but then when they had a question, they would unmute and ask me for guidance. Also, for collaborative initiatives, we would turn our cameras on and work together," Red said from his West Palm Beach home office.
Together, the Winterns developed a solution that improves the process of gathering feedback from technical interviews with Cognizant Softvision candidates. After consulting with the project stakeholders, HR Business Partner Alexa Sorci and Delivery Manager David Schell, and defining the constraints of the current system, the Winterns created a website solution for our Talent Acquisition teams and interviewers which standardized data collection and feedback on candidates. The team used various development technologies like Html, JavaScript and CSS, but collaboration seemed to be critical for achieving their goal. 
"There were challenges regarding coding, but our communication was so strong, we were helping each other and we would contact the Cognizant Softvision team to help us out when it came to coding or discovering new software programs," Sukhnandan Kaur said about her mini-internship during January's academic recess. 
From January 4-22, the five students at NYC-based universities went through different training sessions and workshops, coupling them with mentors to help empower them as a digital engineering Agile pod. Delivery Manager Jeff Suever, ran a workshop on basic project management, while UX Designer Marina La Rosa, discussed UX Design to help supplement the learning process, and QA Team Lead Hajnal Daniel, talked about her area of expertise. 
Other training sessions focused on Web and Java technology trends were led by Community Lead, Jeremy Lawson and Java Architect, Stuart Holland.
For Nastassia Molicheva, a junior student from New York City College of Technology, three weeks of training made quite the impact. "During this winternship I gained strong connections with my peers and with the Cognizant Softvision senior staff. I've also earned a lot about the different types of positions and projects you can work on at the company," she mentioned.
Her project partner Avigail Spira, shared that while she still doesn't know which direction she will go in her career, she values the fact that she now has more knowledge about the different areas where she can go in the tech field should she pursue an opportunity in the future. "I never expected to learn so much from the internship as I did. I advise other students to get involved in internships and to not be intimidated by the new languages or technologies," Avigail concluded with satisfaction.
For Tasfia Hossain, a Computer Science student at Queens College, the winternship experience helped her launch her career in tech by knowing the steps she has to take to get an interview, the different careers she wants to look into possibly, and how it is like working in a team.
The transition from college to a first job experience usually confronts students' theory with reality and Naomi Clyde took advantage of it. "I definitely gained a sense of collaboration with my fellow peers and a humble experience that I still need time to hone my skills on programming and I have more of a drive to do such a thing," highlighted the future Information Systems graduate.
Whether it is an in-person or a  virtual experience, the will of learning and sharing knowledge will continue to link young students and Cognizant Softvision for supporting the development of women in the software industry. Even with the constraints of a  pandemic, both Cognizant Softvision and the Winterns seemed to cultivate a relationship that worked, making it a winternship to always remember.
About Break Through Tech and Winternships
Founded in 2016 with Cornell Tech, the City University of New York (CUNY), and industry partners, Break Through Tech (formerly WiTNY) propels women into tech careers through education, work experiences, and community building. 
Winternships can be the first open door for women interested in exploring tech careers. This immersive work experience exposes students to job opportunities in tech and computing while helping them build a strong resume and professional network. At the same time, giving companies an edge in recruiting top talent.