Enterprise Architecture Framework
Enterprise Architecture Blueprint Techniques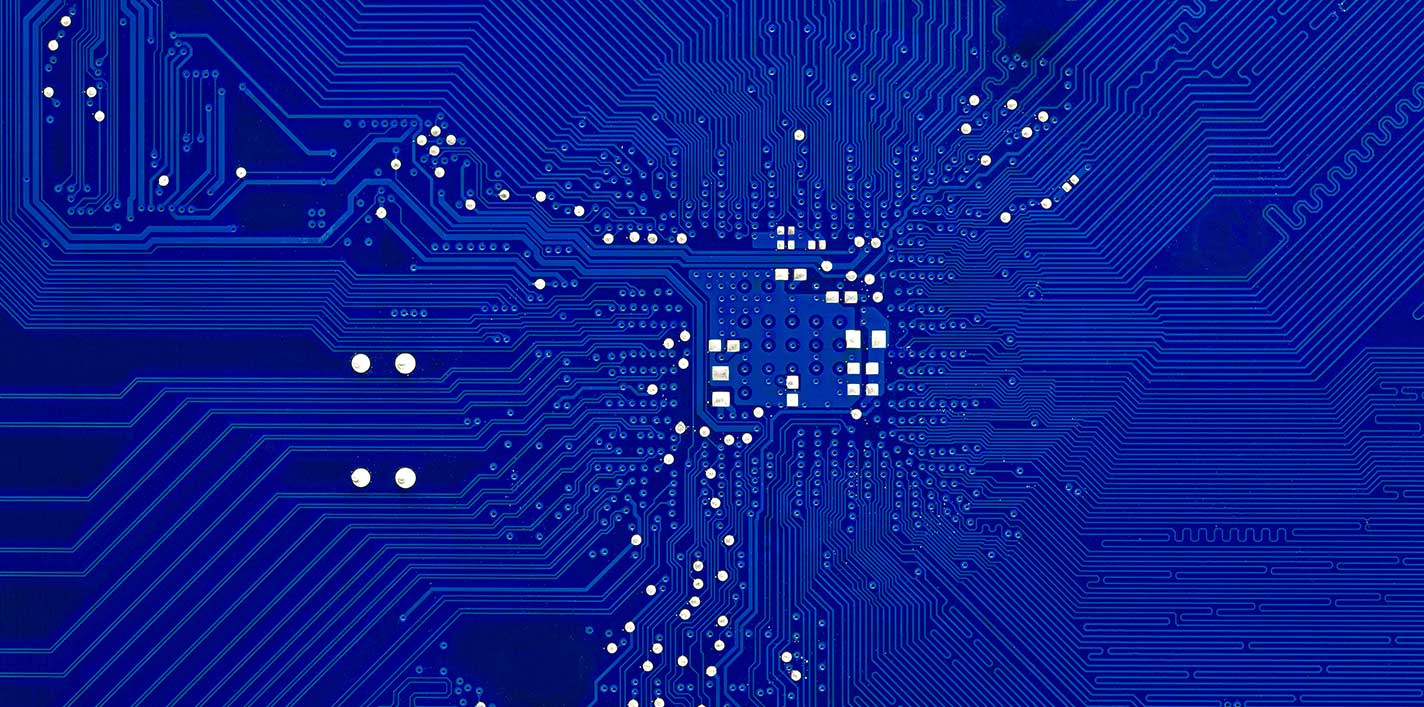 An Enterprise architecture (EA) is a conceptual blueprint that defines the structure and operation of an organization. The intent of an enterprise architecture is to determine how an organization can most effectively achieve its current and future objectives.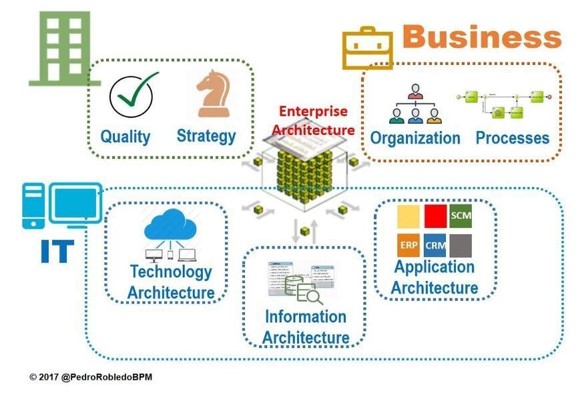 Source: https://miro.medium.com/max/2340/1*WBIAOsTEBG4OVPHNapueRw.jpeg
Enterprise Architecture Blueprint
The enterprise architecture blueprint comprises Business Processes, Strategy, Technology Architecture, Application Architecture, Information Architecture, Data Architecture, Security and Quality. It defines the structure of components, their inter-relationships, the principles and guidelines governing their design and evolution over time.
The importance and purpose of Enterprise Architecture 
Enterprise architecture defines the organization authorization, risk limitation, business planning, budgeting, development, planning, requirements, project management, systems development, and procurement.  It also impacts IT architecture of the systems developed for the organization.
The process to define Enterprise Architecture: The process of translating business strategy and vision into effective structural change by creating, communicating, and improving key requirements, principles and models that describe the future state of the organization and enable its evolution.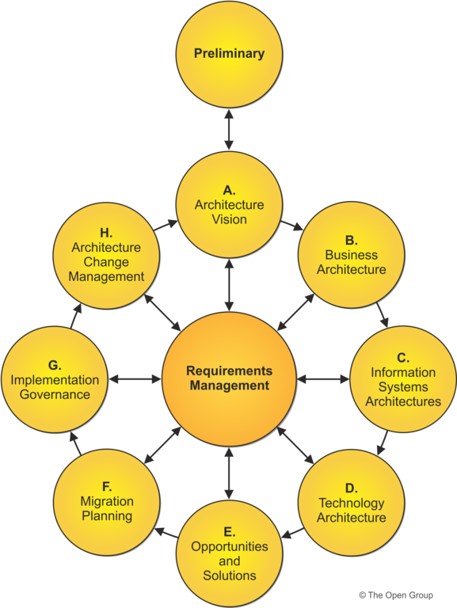 Source: https://www.opengroup.org/togaf 
The critical tools for efficient Enterprise Architecture
Enterprise Architecture Principles

Enterprise Architecture Patterns

Enterprise Architecture Frameworks
Enterprise Architecture Principles
Enterprise architecture principles are a set of guidelines to be applied to increase the consistency and quality of technology decision making. They describe the big picture of the enterprise within the context of its technology intent and impact on the institution.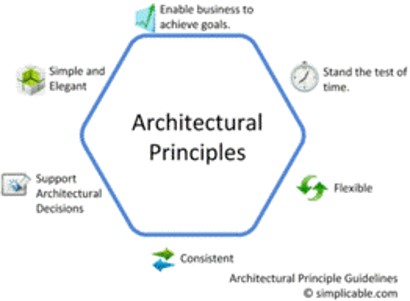 Source: https://arch.simplicable.com/arch/new/architecture-principles
The Enterprise Principles depend on:
Enterprise mission and plans

Enterprise strategic initiatives

External constraints

Current systems and technology

Emerging industry trends
Different categories of Enterprise Architecture Principles:    
Business Principles

Data Principles

Application Principles

Technology Principles
Enterprise Architecture Business Principles
Principle 1: Primacy of Principles

Principle 2: Maximize Benefit to the Enterprise
Principle 3: Information Management is Everybody's Business
Principle 4: Business Continuity
Principle 5: Common Use Applications
Principle 6: Service Orientation
Principle 7: Compliance with Law
Principle 8: IT Responsibility
Principle 9: Protection of Intellectual Property
Enterprise Architecture Data Principles
Principle 10: Data is an Asset

Principle 11: Data is Shared
Principle 12: Data is Accessible
Principle 13: Data Trustee
Principle 14: Common Vocabulary and Data Definitions
Principle 15: Data Security
Enterprise Architecture Application Principles
Principle 16: Technology Independence

Principle 17: Ease-of-Use
Enterprise Architecture Technology Principles
Principle 18: Requirements-Based Change

Principle 19: Responsive Change Management
Principle 20: Control Technical Diversity
Principle 21: Interoperability
Enterprise Architecture Patterns
An Architecture Pattern expresses a fundamental structural organization or schema for Software systems.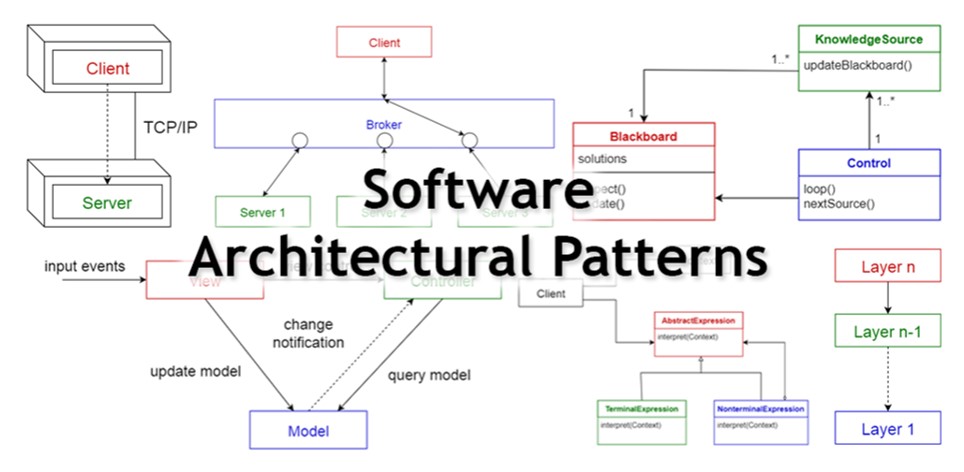 Source: https://miro.medium.com/max/2400/1*M22DR3WPqbWXWidYIq2GwA.png
Commonly Used Enterprise Architecture Patterns
Hexagonal Architecture

Three-tier

Multilayered architecture

Model-view-controller

Domain Driven Design

Service Oriented Architecture

Layered pattern

Client-server pattern

Master-slave pattern

Pipe-filter pattern

Broker pattern

Peer-to-peer pattern

Event-bus pattern

Model-view-controller pattern

Blackboard pattern

Interpreter pattern
Data or Integration Patterns
ETL (Extract Transfer and Load)

MFT (Managed File Transfer)

EAI/ESB (Enterprise Application Interface or Enterprise Service Bus)
Enterprise Architecture Frameworks
An enterprise architecture framework (EA framework) defines how to create and use an enterprise architecture.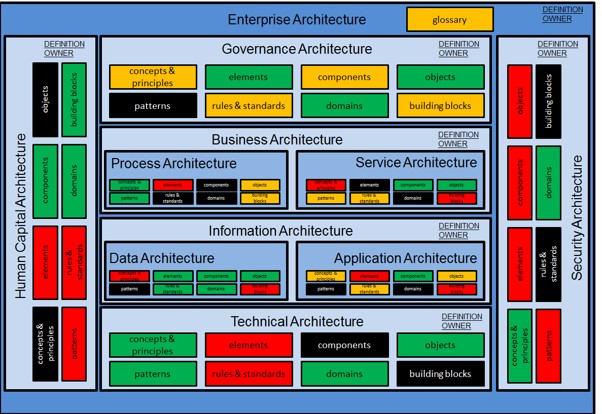 Different categories of Enterprise Architecture Framework
Business Capability Management determines what business capabilities are required, to deliver business value including the definition of return on investment and the requisite Control/performance measures.
Project/Portfolio Management methods determine how a company manages its change initiatives.
Operations Management methods describe how a company runs it's day-to-day operations, including IT.
Solution Development Methods formalize the way that business systems are delivered in accordance with the structures developed in the IT architecture.
The enterprise architecture is very critical and impacts the organization capabilities. It should always be designed by understanding the current organization process with complete clarity and from a very high, bird's-eye view, and also by foreseeing the future organization requirements and capabilities.
References
https://en.wikipedia.org/wiki/Enterprise_architecture
https://www.gartner.com/it-glossary/enterprise-architecture-ea/
https://www.simplilearn.com/it-service-management/togaf-certification-program-training?utm_source=google&utm_medium=cpc&utm_term=togaf%20pdf&utm_content=311429643508&utm_device=c&utm_campaign=Search-ITSA-Togaf-Head-Broad-IN-Main-CP-AllDevice-adgroup-ITSA-Togaf-PDF-Phrase-New&mkwid=syLZDlLTI%7Cpcrid%7C311429643508%7Cpkw%7Ctogaf%20pdf%7Cpmt%7Cp%7Cpdv%7Cc%7Cslid%7C%7Cpgrid%7C64866430927%7Cptaid%7Ckwd-739722305005%7C&gclid=EAIaIQobChMI8KbK_bTF5AIVxIBwCh0f0wWjEAAYASAAEgJ6WfD_BwE
https://medium.com/@pedrorobledobpm/any-business-innovation-and-transformation-requieres-an-enterprise-architecture-d3fe3d4edf7b
https://pubs.opengroup.org/architecture/togaf9-doc/arch/chap04.html