Encouraging Young Women To Code
Six Softvisioners participated in a hackathon organized by Ada, an institution based in Buenos Aires that empowers women through technology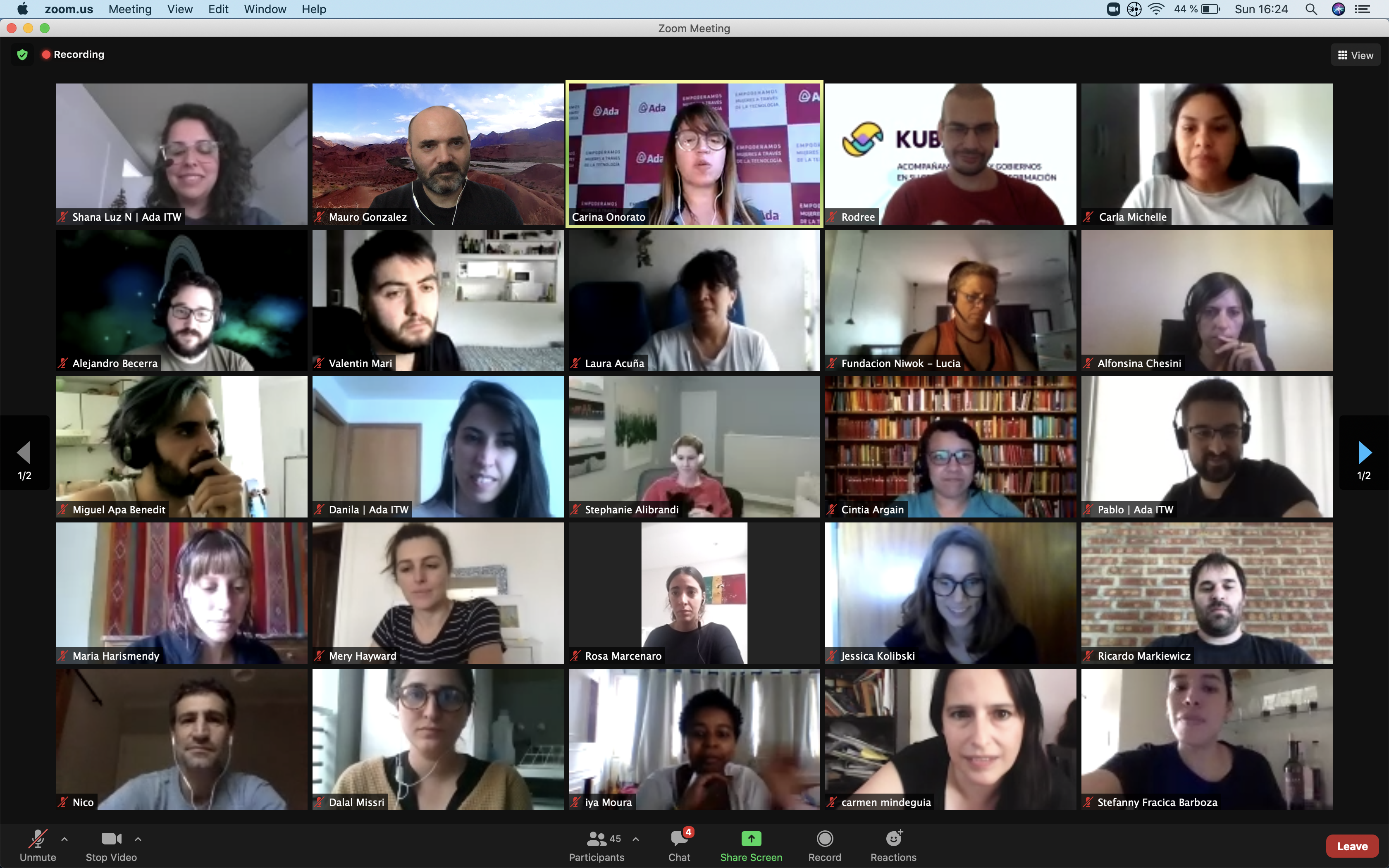 Who said that coding is a solitary activity? Probably someone who never experienced the adrenaline of a hackathon before. For those new to the IT world, a hackathon is like a marathon "run" by programmers and others involved in software development who collaborate intensively on specific projects. 
Ada, an organization that empowers women through technology in Buenos Aires, organized its first hackathon, called "Adathon." On December 5, 12 and 13, six groups of Ada graduates from Frontend and Backend were assigned a problem chosen by three NGOs whose focus is the empowerment of women.
The group mentored by Cognizant Softvision UX Designer Agustina Miguez and Software Engineer Miguel Benedit won the second prize. They worked next to Fundación Niwok to improve the communication between the indigenous women from the Wichi community, in the North of Argentina, and the person who sells their fabrics and carvings abroad. 
"I think that, as experienced developers, it's our duty to help others to reach our level. This was my first time as a mentor and I was very nervous about not being at the level for the situation. But, after the first quarter of the hackathon the team gained a lot of confidence and the synergy between the mentors was very natural," Miguel concludes.
Sol Alvarado Quijano, our UX Designer from the Buenos Aires studio, also debuted as a mentor. She worked next to Vital Voices on an initiative to reinforce the connection between mentors and mentees. "The Adathon is a great opportunity to connect with other future professional women and also do it by helping each other. I'm glad to see how the industry is growing into equality," she points out.
Choosing the winner was not an easy challenge for the Softvisionsers who took part as judges. The task was to evaluate every project on three major categories: functionality, relevance and potential. "Personally, I also pay special attention to how they outlined the solution, organized the work, and more importantly, how they presented the functionality to the jury," adds our VP of Technology, Mauro González. After much deliberation, an initiative by Mujeres 2000 to improve the experience of women entrepreneurs took home the trophy. 
For Cintia Argain, Software Architect at Cognizant Softvision, the experience of serving as a juror was challenging, intense, exhilarating and rewarding. "A hackathon is a team competition, and as such, the most important thing is to be able to work as a team and I believe the women succeed in that. They were able not just to build great solutions within a small time frame, but also to work in a cohesive way and overcome all the challenges presented to them," Cintia says.
Our R&D Director Alejandro Becerra was Cognizant Softvision's third jury member. "Meeting a group of people committed to helping out the NGOs and working relentlessly to get to the goal was simply great. I think Ada did a tremendous job as organizers; I have participated in many hackathons and this one looked as if it wasn't the first one. Kudos to them and the team!" he concluded.
This is not Cognizant Softvision's first positive experience with Ada. Thanks to a job placement program led by Ada, we gained two talented programmers in our Buenos Aires studio in October 2019, Carolina Soria and Paula Illanes. We are happy to continue our relationship with Ada by taking part in their first hackathon.