Drawing a Timeline of Next
Video Webinar, July 28, 2021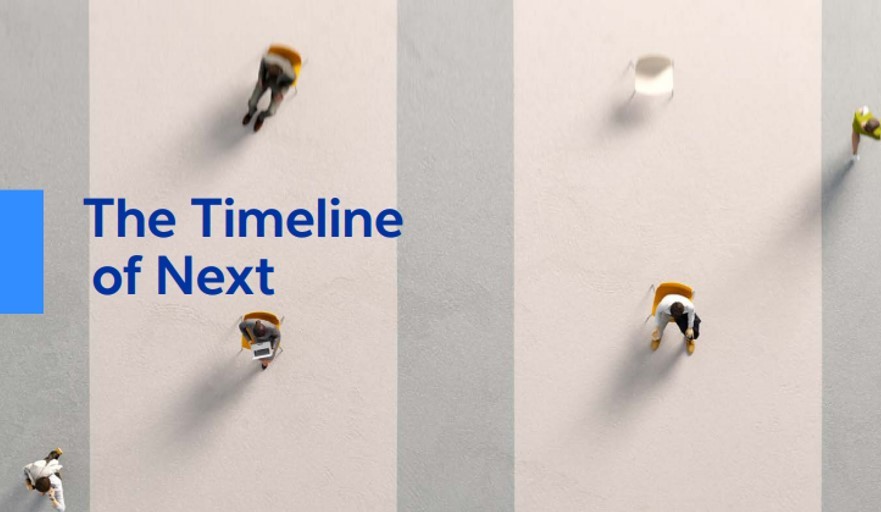 In the upcoming decade, the world will be a much different place, with some surprising new additions. Call it "the perpetually new normal" — always changing in reaction to whatever came just before. To prepare for what's ahead, we must consider not just the changes we see now but also the new realities these changes will spawn deeper into the future.

How will we live and work with technology all around? How will we design cities in the future? How will a year of home-schooling reshape the feelings of this generation and the next about red-throated capitalism?
Amid the global pandemic, we asked a group of visionaries from Cognizant and our partners to share their view on the world of tomorrow. Our resulting Timeline of Next  explores the impact of "now" on the future of education, work, economies and life itself. This special report offers a hopeful outlook on personal wellness, new models for physical workspace and realistic projections for emerging societal challenges, such as identity tracking and safety nets.
Join Vinnie Mirchandani, acclaimed author, blogger and tech watcher on July 28 at 11 AM ET for a discussion on how the future is taking hold all around us. Vinnie will be joined by Beth Porter, CEO of Riff Analytics and Managing Partner of Esme Learning, Manish Bahl, AVP of the Cognizant Center for the Future of Work and Clay Griffith, Director of Product Marketing, Cognizant Softvision.
Attend and learn:
16 intriguing ideas that will shape the future of work and society
How machine-learning based software, artificial intelligence and big data will transform our lives
What digital fail-safes will become commonplace as we emerge from the pandemic
How the future of mental health services and personal wellness will be more accessible and effective than ever before
The purpose of the office when work can be done from anywhere

Drawing a Timeline of Next
When: July 28, 2021, 11 AM ET
Where: Online
Register Here