Designing for all: Accessibility and the "nice-to-have" myth
UX Designer Lula Diaz discusses inclusion in the digital world at Programmers' Week 2021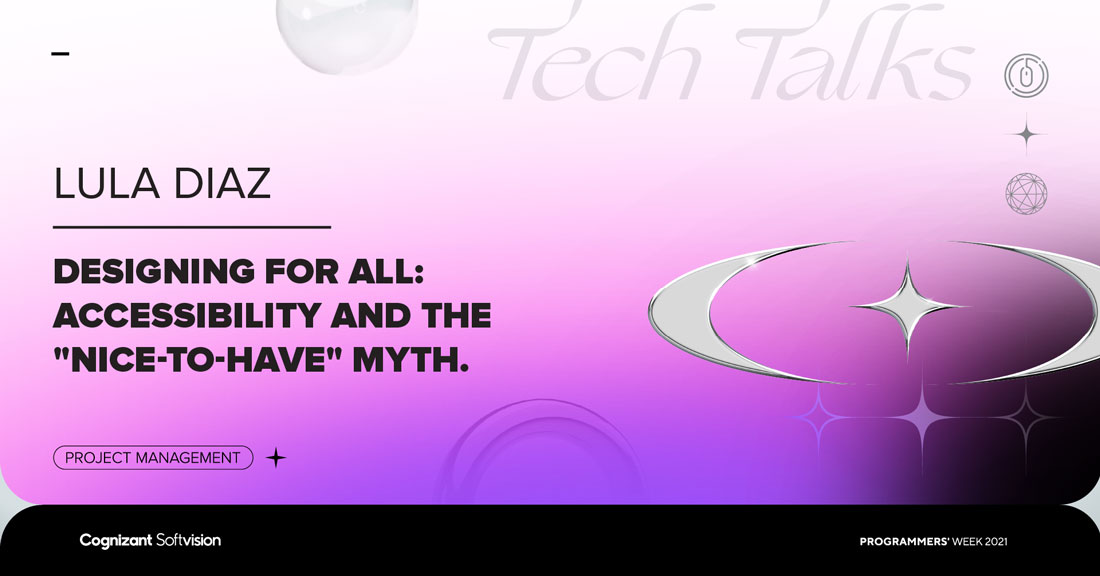 This September, Cognizant Softvision went beyond with our 7th-annual, week-long event dedicated to developers and software engineers from around the world. Programmers' Week 2021 was filled with inspiring keynotes, tech talks and discussions led by Cognizant Softvision experts, including UX designer, Lula Diaz. Below, she shares her experience and reveals the top takeaways from her speech, "Designing for all: Accessibility and the 'nice-to-have' myth."
Programmers' Week was the first time I ever presented a talk I created in front of an audience. I was both nervous and excited– I was a bit scared of speaking, but I was also very motivated to challenge myself and participate in our first-ever Product Day. 
When I signed up to be a speaker, I knew I wanted to talk about accessibility. I also knew I wanted to help people from different backgrounds understand what it was all about and to have them leave my talk with enough information to go apply accessibility in their day-to-day work. That's when I realized that the best way to tell this story was through a very well-known process called Design Thinking.
I spent several weeks polishing the concept and developing the key points and the goal of my presentation. This experience helped me learn about organizing my time and resources, as well as the importance of storytelling, writing a good script and rehearsing. I relied on my mentor and my design team for feedback and it was wonderful to know that here at Cognizant Softvision we have so much talent willing to help everybody achieve their goals. 
During the talk, a lot of the members of the XD community reached out to me to consult about accessibility in their work and how they could apply it. They were motivated by what they heard and were glad to have someone on the team share their expertise on the subject.
Lula's presentation covers:
What is accessibility?
Who uses accessibility features?
Where does accessibility fit?
Phases of design thinking
Tips for developers
Watch Lula's Programmers' Week 2021 presentation here: