Cognizant Softvision's official podcast, Visioning explores the ins and outs of software product engineering with leaders in design, development and beyond. Hosted by Cognizant Softvision Senior UX Designer, Jim Barrett, Visioning features a special guest each episode.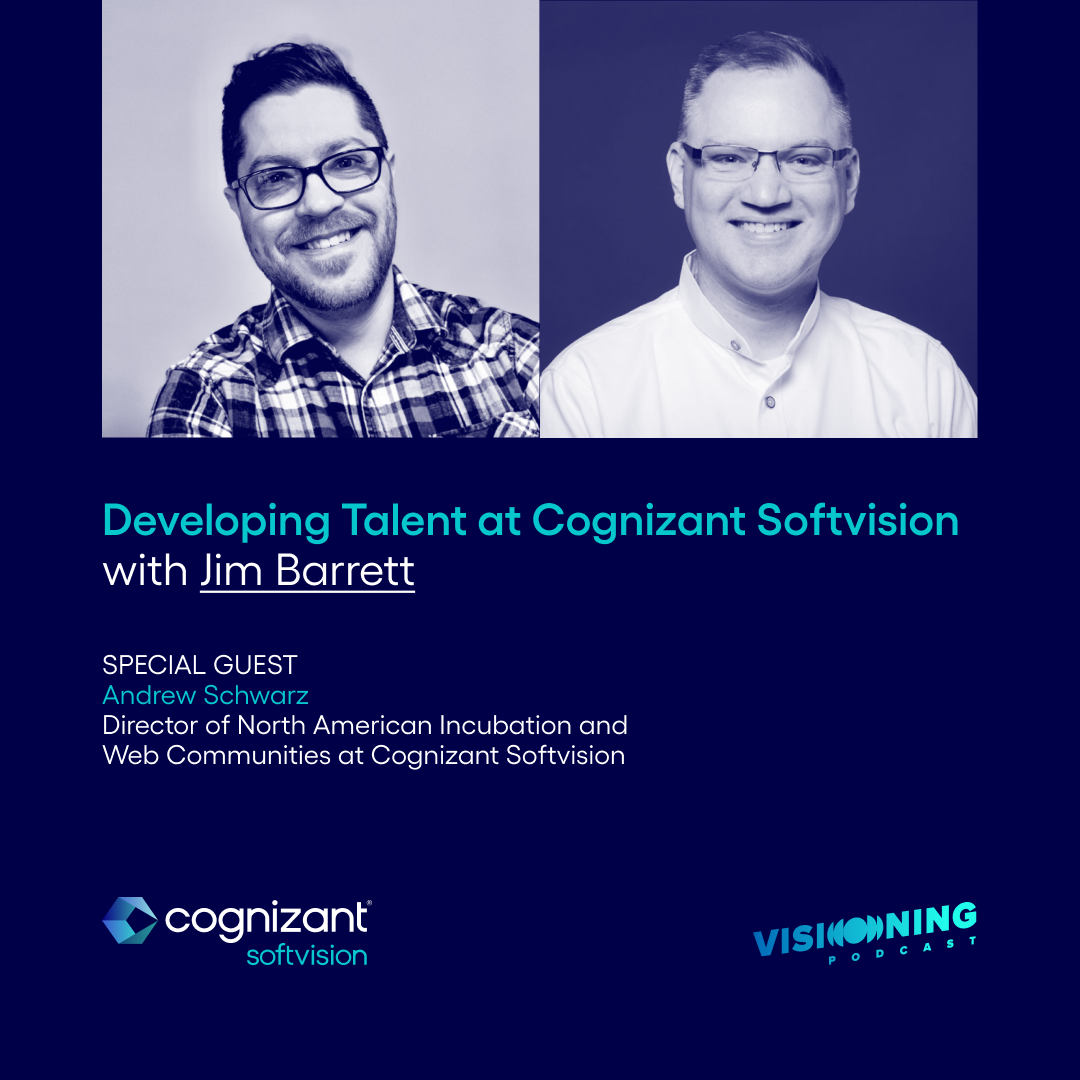 The latest episode, "Developing Talent at Cognizant Softvision," features Andrew Schwarz, Cognizant Softvision's Director of North American Incubation and Web Communities. Andrew (Andy) and Jim discuss the many facets of talent development, such as onboarding and continuous improvement, and how talent impacts solutions and our clients' businesses.  
Andy has decades of experience in creating the next generation of software product engineers. In his role at Cognizant Softvision, Andy focuses on bringing in new talent, not just new to the company but also to the industry, as well. 
Andy revealed that when candidates have a non-tech background, their past work experience "makes them more adaptable."
"It's one of the elements that we can make really great use of in building out that culture that looks not just at technology, but at process, and the consulting soft skills side of the world," said Andy.
The two also discussed the importance of soft skills, and how the Cognizant Softvision process is unique, from recruiting to onboarding to continuous development. 
"We start at the very beginning. During the recruiting process, we're looking for some of these traits and aptitudes…we're looking for good communication skills, a collaborative attitude…we look for that right away," Andy shared. 
Another key responsibility for Andy is helping to create a culture that encourages and develops a software engineer mindset, versus that of a traditional developer. During the discussion, he shared the key differentiator between a traditional developer or coder role and the notion of a software product engineer. 
"The traditional view of software development is you get a bunch of people who have tech knowledge…and they pound out code until the solution is built and deployed…But [having] that collaboration, that real partnership means you get, in most cases, more than what you asked for but definitely what you need. It's the difference between creating a straightforward software product and making a market disruption."
Andy continued, sharing that Cognizant Softvision's culture of continuous improvement and development allows us to work with our customers on a "whole new level," giving them more than what they asked for. 
"Continuous development is one of the key elements of talent development. It's not a 'one-and-done.' The culture of continuous improvement…learning and growing, is baked into everything," Andy said.
Toward the end of the interview, Jim asked Andy where he thinks the future of talent development is heading at Cognizant Softvision. Andy responded, saying that he's already seeing increased awareness around the importance of talent development.
"Building that awareness of knowing what [the team members] have at their disposal to continue their own personal and career growth by leveraging some of these patterns and practices…I think that's only going to get better with time."
Listen to Andy and Jim's conversation in this episode of Visioning, and don't forget to subscribe and leave a review!