As a cross-functional, flexible, dedicated and experienced testing team working for a leading healthcare communication company, our team contributed to the achievement of an important life support tool for COVID patients in one of the most significant hospitals on the US' West coast. 
Throughout the early days of the pandemic, everyone expected that the IT world would make some sort of impact, but the only question was "how?" For our client, there was a simple answer. One of the main areas that was in high demand during these times is communications. We had two very valuable assets now on our sides: the healthcare and the communications fields. It was our time to help make a difference! 
Opportunity arises
It all started, paradoxically, on a sad day for the US when they encountered the largest number of new cases to-date and hit 500k confirmed cases of COVID-19. Boston Hope Medical Center, one of our client's regular partners, pointed out that the homeless community fell into a very vulnerable category of people, due to precarious living conditions. Because of this, they decided to set-up a thousand-bed care section inside the recently constructed Boston Convention and Exhibition Center, where the homeless community and the post-acute Coronavirus patients could be taken care of— an undertaking with many challenges.
Boston Hope Medical Center sought out our client to properly ensure effective communication and handle any emergencies in the freshly-improvised medical center. After several rounds of consultations, it was decided that a system should be developed that would allow any device with a SIM card in our client's system to be used as an alert tool. The idea was to generate Nurse Call (NNC) alerts via an iOS, Android or Web-based application via a simple SMS. The alert system was to be called "SINC," for SMIS Initiated Nurse Call.  
Forming a plan
First, we needed a web page (developed in AngularJS and JavaScript) where the healthcare staff could easily assign a phone number to a specific NNC (Nurse Call) location, such as a patient's bed number. This was done using our newly-developed SINC web page by inserting the phone number into a specific field in the NNC database. This way the NNC users would be able to match a specific patient with a phone number that could  be edited or removed. 
The web application was designed to also support "parent-children" locations, such as Hospital -> Unit -> Room and then a specific bed in order to accommodate more complex sites' set-up.  For example, Boston COVID -> Intensive Care Unit -> Room101 -> Bed A. These locations would be fetched on the web page's main screen using "GET" REST calls right when the user accesses the page.
Because the site had no room for desktop stations, the website's main compatibility requirement was to be supported on the hospital's Android devices with Nougat and above OS and on 5S and newer iPhones with 12.4.6 and above iOS. The device's compatibility was made based on our client's matrix and Analytics data that would reflect the devices present in their hospitals. 
A special request for this enrollment page was that it should also support a patient admit and discharge. For this, an "Add Patient" option and a "Remove Patient" option was implemented on the detail view for each bed. The patient admission or removal was done by using PostgresQL queries in Nurse Call application's DB.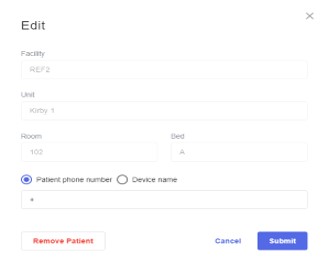 Now that they had a UI for patients and doctors they needed a back-end solution to help them integrate with the patient's phone. "Twilio" was used to allow the software developers to programmatically make and receive phone calls, send and receive text messages, and perform other communication functions using its web service APIs.
In order to integrate it, the Cognizant Softvision team used Twilio Studio flow, connecting a set of Twilio UI lambda functions that make calls into the SINC Backend Service, which itself is a façade for two NurseCall interfaces: the RESTful ClinicalInterface and the WCF (Windows Communication Foundation) PatientStaff interface. These functions were copied and pasted from Twilio's webapp editor, where they edit the live source. In the near future, the functions will be cleaned up and migrated to use the Twilio Functions API, which supports multiple environments and deployments and is built with version control in mind.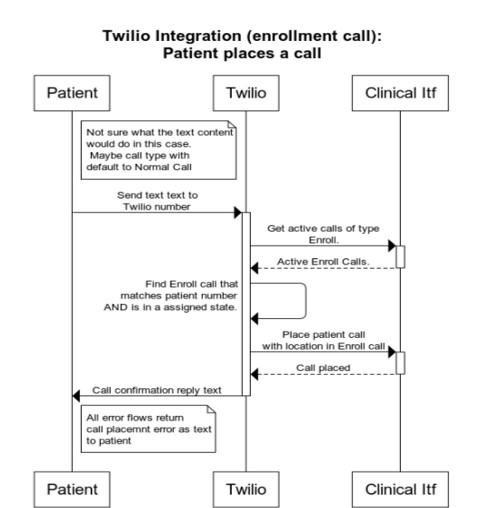 Having the patient-caregiver communication back-end, the next step was to decide what requests a patient could make through a simple SMS. In order to keep everything as simple as possible the flow was quite simple:
The patient receives an enrollment confirmation SMS where he/she is able to text "Stop" to opt out. –

Sending a

"POST"

request to Twilio

After the enrollment SMS the patient is able to generate a Nurse Call alert by typing any text message (except

"Stop"

) – In order to achieve this, each hospital has a middleware system that sends alerts into wctpgw services on a Data server. Wireless Communications Transfer Protocol (WCTP) is used to send messages to wireless devices, such as pagers on NPCS (Narrowband PCS) networks. It uses HTTP as a transport layer over the World Wide Web.

Once the request is successfully generated a confirmation SMS is received on the patient's side – Sending a

"POST"

request to Twilio. Each Twilio request contains a "data-urlencode" that is composed of unique data, the patient's phone number and the hospital's name. 

At this point the patient's request is in process of being fulfilled. At this point the patient has the ability to cancel the request by simply sending an SMS with "Stop" (case insensitive).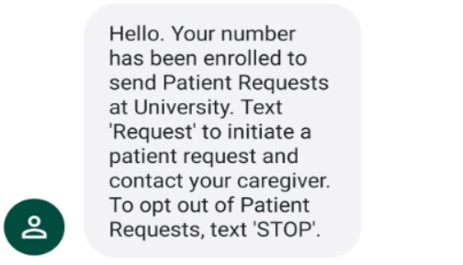 At this point, everything was ready to be developed, but then we were presented with some news. The good news was that with the Department of Defense's support (led largely by Gov. Charlie Baker and the office of Boston Mayor, Martin J. Walsh) and with the help of Massachusetts Medical Association the hospital was ready to be staffed with new volunteers and nurses. On the other hand, the bad news was that it was impossible to set up a real hospital physical environment in an improvised location in such a short period of time; and due to the fact that 80% of our client's users needed to be connected to a hospital network in order to access their application, a fast solution was required. After much consideration, our client made the brave decision to accelerate the prototype of moving an entire server to the Cloud. This whole movement was called "Kirby." 
The next step was for the Cloud movements of a non-HA (standalone server) to be calculated, and after all the HIPAA and safety measurements were taken, the environment was ready to be set.
With the environment up and running, the product was in process of being developed. Cognizant Softvision's QAs jumped into action. With deep knowledge of the project and our client's products, the team set to work to properly configure our testing environment with Azure VPN, proxy and RDP on specific desktops in order to set up the Enrollment environment.
Solution Context
The solution utilizes Azure to host a set of servers for a customer in such a way that the system software does not need to know how they are run. Each site is isolated from each and runs in their server and network environment. 
This new approach had to be done in a race against time because everything needed to be functional in order to be able to create the testing strategies and the Test Cases by the time the testing started.
After many discussions, brainstorming sessions, trainings and environmental problem-solving meetings, the Cognizant Softvision team gathered all the information and created and finished the testing strategy and Test Cases for the entire SINC system. The test cases were created in order to match a full System Test requirements and were meant to test both the system itself and also the integration with the "Kirby" system or other Server/Twilio use cases validations. All test cases were developed in Adaptavist, a JIRA based testing manager tool. In order to fully test the application and all its integrations, an entire test cycle was run twice. The first was one the system was functional (first touch), as was the second one (including a deep regression testing) after bug fixing.
A New Challenge to Solve
After making this ready to be released the medical staff ascertained that they're dealing with a real problem. That problem was that most of the COVID-19 patients that were to be admitted at the Boston Convention and Exhibition Center had no mobile phones or devices with a SIM card, as most of these patients were from the homeless community. This was a difficult realization after all the effort everyone put into this product. 
Discussions, meetings, brainstorming, repeat! 
A few days later, a new product idea was born. The idea was to replace a mobile device with a SIM card with 300 Samsung tablets that were donated. This time an Android application was to be developed and its name was "VEPR," an abbreviation of our client's name and Extended Patient Request.
The principle of this application was pretty simple: to replace the options that could be sent via an SMS with a "single button" application. Now that the new approach was settled they needed another way to enroll a tablet on the Enrollment page because they were not equipped with SIM cards. The tablets' serial numbers were unique to each device, so these were used just asin the "enrollment for bed" process. 
In order to do this, a new "Device Name" option was added in the SINC web application to be selected when a serial number was enrolled and not a phone number. In this case, on the "POST" request sent to Twilio the serial number was included in the "data-urlencoded" body.
The VEPR application had the same configuration in the back-end to send the request based on what the patient selects to the Twilio virtual number. As via the SMS enrollment, the patients should now be able to request assistance or cancel the request, via an intuitive and user-friendly "single buttoned" interface.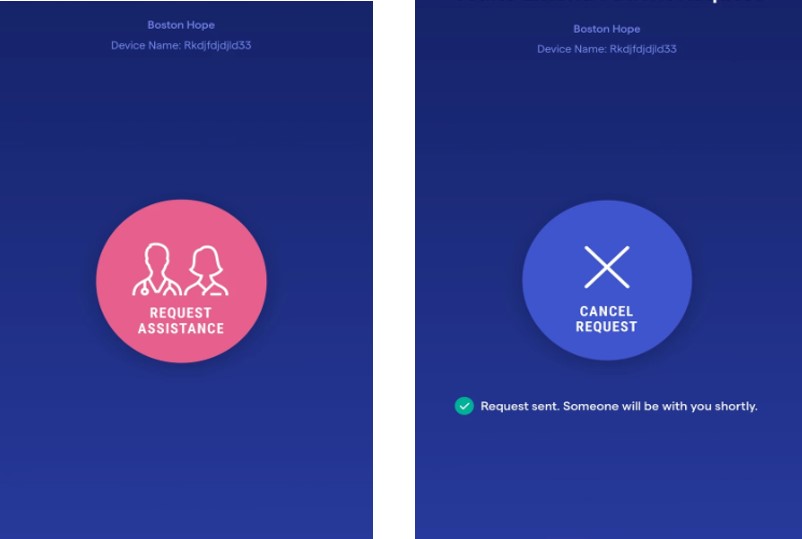 With a brand new application, the process of creating a complex testing strategy and test cases for it proved to be quite difficult. Because of HIPAA compliance the application had to be deployed via an MDM (Mobile Device Manager) support application, therefore requiring an application that was already in the Play Store. 
After numerous discussions and working closely with our client's developers, we finally had
all the configuration information and were able to make everything work on our side using a new Kirby (Azure Cloud) environment. From this point on, the Cognizant Softvision team successfully delivered everything that was required. 
Post-release news & accolades
"Awesome work team! Super impressed with everyone working on this project." – Angela Kauffman, Lead Product Manager
"Piling on the good news. I received the below feedback from nursing (Chief Nurse and Charge) on my touch-point call. They are deeply appreciative of the team broadly as they finally have a way to connect with their patients better." – Lewin Edwards, QA Manager and Project Manager
"The number of newly reported positive COVID-19 cases in Boston dropped significantly this week, under 750, and the first time below 1,000 since March. And of those, 5.3% went to the hospital, down from a peak of over 11% in early April." – North End Waterfront News
COVID evolution in Boston (VEPR successfully deployed on May 13, 2020)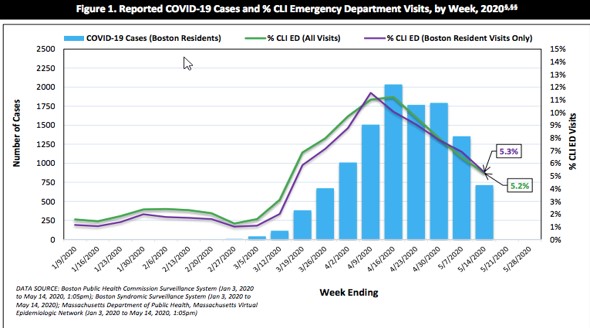 As we watch the Coronavirus pandemic play out on a global scale, it's easy to feel helpless. But no matter who you are or what your situation is, every one of us can make a difference.
____________________
For further information, please check the links below to see detailed accounts of this medical success story in a world surrounded by Informatics: