One of Cognizant Softvision's clients is a company that has its foundation in epidemiology and international field science. The company is recognized for leading innovation in the prevention and mitigation of epidemic disease risk. Their data helps countries and multinational organizations manage and mitigate epidemic risk before outbreaks occur.
The company partners with governments and businesses around the globe to identify infectious disease risks, minimize the effects of outbreaks and contain the economic impact of epidemics.
At-A-Glance:
Created the largest infectious disease catalog in the industry

Leader in innovation in the prevention and mitigation of epidemic disease risk
CHALLENGE
The company identifies epidemics by monitoring diverse reporting sources and captures data from significant events in a database. If an epidemic is detected, the characteristics of the event are evaluated to determine if the event will be included in the database. The objective is to identify high-priority events that pose a significant risk to health, and/or societal, economic, or political stability.
Our client aims to stay current on which infectious diseases are emerging and to gain insights about them. As we had previously developed a premium app for the company, our client came to us for an application that could be used publicly in order to monitor infectious disease threats and current outbreaks around the globe.

COGNIZANT SOFTVISION'S SOLUTION
A team from our Cluj-Napoca and Timisoara Studios in Romania set to work developing the app from scratch. The design phase began in early winter of 2018, and the solution was implemented, tested and deployed between January and April 2019.
Cognizant Softvision Guilds:
Our practice areas, called Guilds, pull the right experts to build high-performing teams for our partners. Those agile delivery teams, or Pods, work as cross-functional teams to "Transform while they Perform." Each Guild is a world-class community of expert talent in an area of expertise. For this partnership, the following Guilds led the delivery success:
RESULTS
The platform created by Cognizant Softvision offers detailed information for over 120 distinct pathogens, including a profile, history and up-to-date disease statistics. The intuitive platform, which is free to the public, allows users to view, analyze and understand events that could impact human and economic health.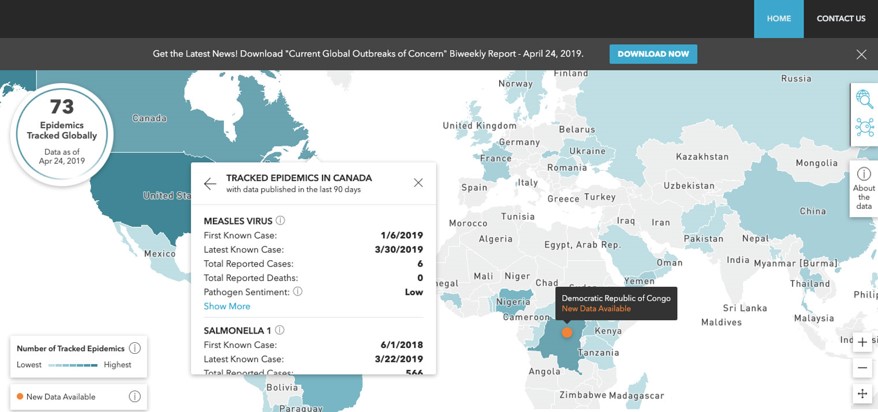 As the solution was open to the public more visibility was achieved for our partner, and the company's CEO remarked on his thoughts and experience at the close of the project.
"I'm really impressed that we took this from concept to release in very short order. It seems like yesterday we were discussing this idea and [the team] took charge and made it happen. I'm very happy with the end product and proud to show it to my friends and colleagues. Thanks again for the hard work and quality mindset to release a product that makes us all proud."
Cognizant Softvision values this important partnership and will continue with improving this free platform.