Cognizant Softvision to Sponsor NDR – The Artificial Intelligence Conference in Romania
Kavitha Lokesh, Vice President of Cognizant Business & Technology, will be joining the event's speakers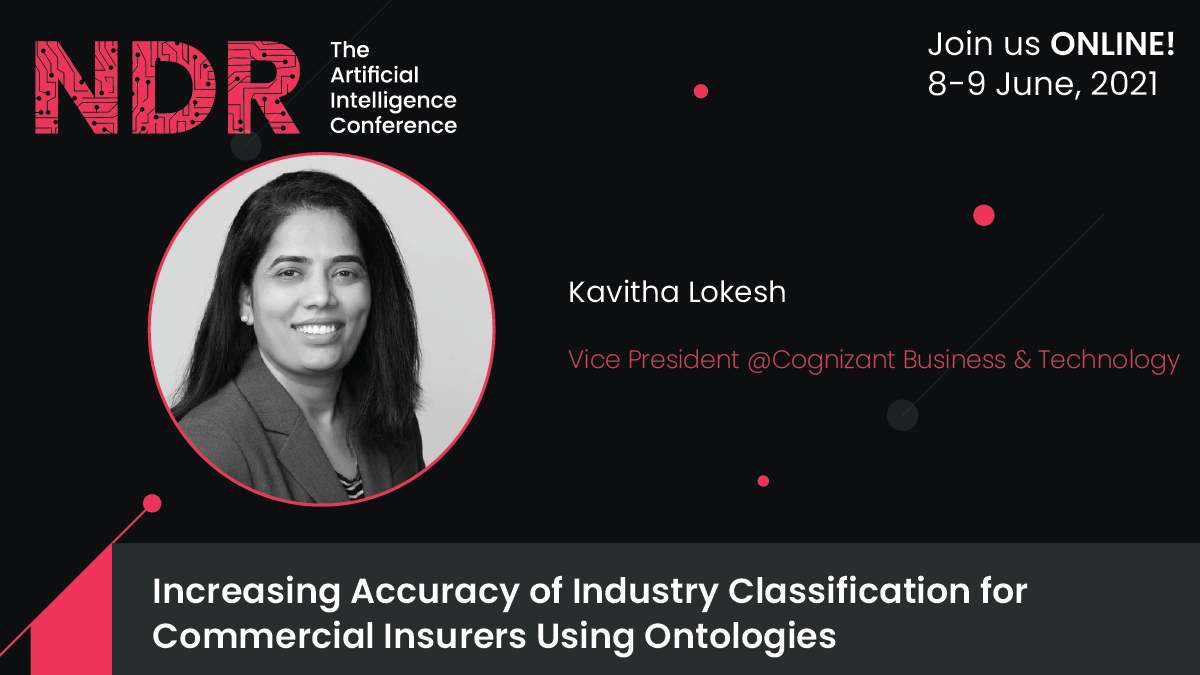 Cognizant Softvision is the principal partner at this edition of NDR – The Artificial Intelligence Conference in Romania, which will take place on 8-9 June 2021. The conference aims to bring together data science practitioners of machine and deep learning during two days and eleven discussion sessions. Cognizant Softvision will be represented at the virtual stage on June 8  by Kavitha Lokesh, Vice President at Cognizant Business & Technology. She will be sharing a talk titled "Increasing Accuracy of Industry Classification for Commercial Insurers Using Ontologies." 
Kavitha is a Data & Intelligence leader with 25 years of experience in the Life Sciences and Insurance industries. With over two decades of global experience with Cognizant technology solutions, her focus as the Global Offerings and Products leader in Data and Intelligence is to drive rapid business growth through Data Modernization and Intelligent Decisioning offerings. 
An excerpt from Kavitha's talk:
"A goal of commercial insurers is to accurately classify small businesses according to the risks they face and thereby determine the correct insurance premiums. Setting the proper compensation is essential because charging too much or too little can harm insurers and their customers. 50% of the business applications required the industry classification code correction. This mainly was a manual exercise of looking up business details on the internet or purchasing business classification codes from 3rd party providers. 
The recent advancements in computational power and machine learning have led to vast improvements. However, the accuracy level was still less than the industry norm until the Cognizant team experimented with business ontology. 
The Cognizant team coded the ontology model for restaurant business using the NAICS and ISO industry manual. With details around the business name, address, and URL, the Cognizant team extracted the data about the company from its corresponding website and 3rd party data providers. It was able to classify the restaurant business with over 90% accuracy."
This session describes ontologies and their use in computational reasoning to support the precise classification of small businesses for insurance applications.
WHEN: Tuesday, June 8, starting at 3:40 PM EEST
WHERE: www.ndrconf.ai
See you online on June 8-9, 2021!